Facebook wants to make phone cameras the 'first mainstream augmented-reality platform'
The social networking site is again going after Snapchat with the move.
FACEBOOK HAS LAUNCHED a mission to make smartphone cameras windows to augmented reality, focusing on what people have in hand instead of waiting for high-tech eyewear.
While kicking off the leading social network's annual developers conference in the heart of Silicon Valley, chief executive Mark Zuckerberg called smartphone cameras an initial and promising platform for augmented-reality features in applications tailored to sync with the social network.
"I am confident now we are going to push this augmented-reality platform forward," Zuckerberg said, predicting the technology would eventually be incorporated into eyeglasses.
"We are going to make the camera the first mainstream augmented-reality platform."
He noted an array of things that could easily fill their roles virtually, such as game boards or television screens, with users being able to easily play or view without need for physical versions.
An upbeat Zuckerberg, who fired off jokes, also showed how digital plants, animals, masks and more could be added to real scenes viewed through smartphone cameras in the same manner that games such as Pokemon Go let people catch animated creatures in the world around them.
"Augmented reality will help us mix the digital and the physical in new ways," Zuckerberg said during a keynote presentation.
"We are all about extending the physical world online."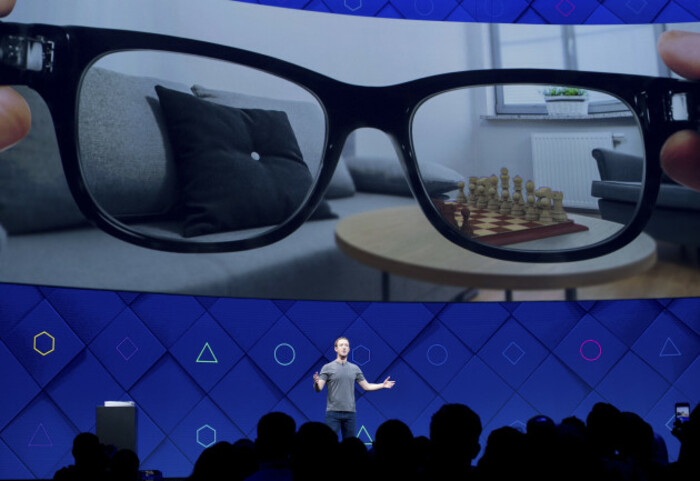 Source: Noah Berger
The next big thing
Previously, Facebook had been focused strongly on virtual reality as the next big computing platform, particularly using Rift headgear made by its Oculus unit.
Augmented reality tools unveiled by Facebook were impressive, but unlikely to reach the hands of users soon, according to Jackdaw Research analyst Jan Dawson.
"Facebook has been slow to get into augmented reality and related technologies, focusing instead on the more mature but less mainstream virtual reality," Dawson said in a blog post.
"This year's keynote shows Facebook is serious about catching up in this area and competing with Snapchat and others."
Vanishing message application Snapchat more than a year ago began letting users add digital decorations to real-world photos with a 'lenses' feature.
On Tuesday Snapchat add the ability to add ability to "paint the world around you in 3-D" with taps of smartphone camera screens, parent company Snap said in a blog post. Facebook has a habit of cloning successful Snapchat features in its applications.
Facebook also used the developers conference to introduce a test version of a virtual-reality (VR) application that lets people in different locations socialise in virtual worlds using Oculus Rift headgear.
Facebook Spaces lets Rift users "hang out" with friends in virtual worlds as if they were in the same room in the real world, according to a demonstration by Rachel Franklin, who heads the social VR team at the California-based firm.
"We have only just scratched the surface of social virtual reality technology," she said.
Sign up to our newsletter to receive a regular digest of Fora's top articles delivered to your inbox.
read more on