Executive assistants' salaries have shot up because too few aides have 'global' skills
The average wage for a corporate aide in the capital stands at €45,000.
THERE HAS BEEN a sharp uptick in the average salaries commanded by executive assistants, with a newfound demand for helping hands at global firms driving the increase.
That's according to an analysis by recruitment firm Morgan McKinley, which shows the salaries of executive assistants in permanent roles have seen a "significant change" over the last 12 months, with average pay rates now in the €50,000 to €60,000 bracket.
Morgan McKinley surveyed 3,700 workers in a variety of roles and outlined the lower and higher end of the pay scales for hundreds of roles in the Irish economy. 
The top salary rates for executive assistants here remained largely the same compared to the results of the previous survey, but there was a sharp increase at the lower end of the scale.
The lower-end pay rate for an executive assistant in a permanent position in Dublin rose by €5,000 to €37,000 over the past 12 months, while the average salary for the same role in Cork increased by €7,000 to €35,000.
Similar increases were recorded in Limerick and Galway, where the lower-band pay rate for assistants increased by €8,000 to €33,000.
A large bump was registered in Waterford, where assistants can also expect a salary of at least €33,000 after a €9,000 bump.
Unsurprisingly, Dublin workers in these positions command the highest rate of pay, with experienced assistants earning up to €60,000. There is a significant gap between the capital and Cork, where the upper end of the pay scale peaks at €45,000.
Morgan McKinley global foreign direct investment director Trayc Keevans told Fora there is a direct correlation between the increase in salaries of executive assistants and the influx of FDI in Ireland.
Traditionally, a corporate aide in the Irish market would have worked for a domestic business, but due to the rise in multinational businesses in Ireland, the responsibilities of an executive assistant have changed, according to Keevans.
"It's a much more global skill set (that) employers are looking for, and as a result of that, there is a supply and demand issue. What we've had is a lot of executive assistants on the marketplace; they haven't had that exposure to a global organisation and don't have the relevant experience."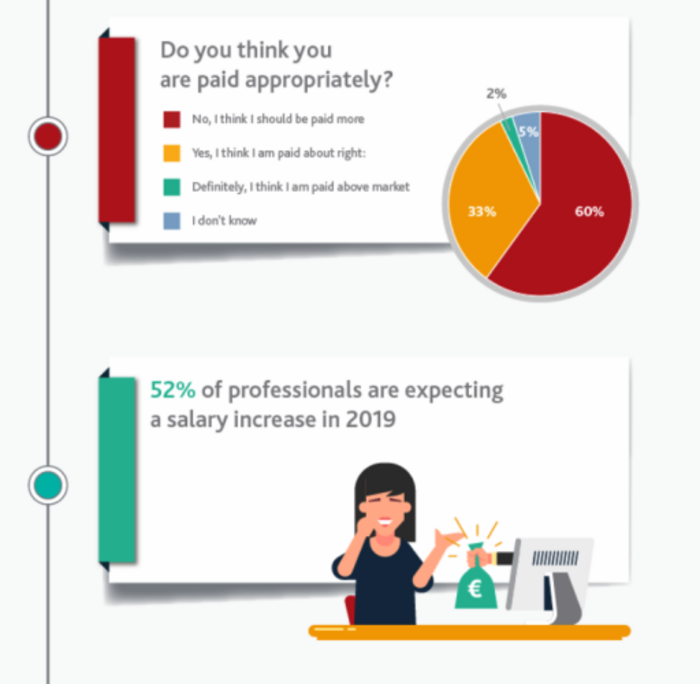 Source: Morgan McKinley
Keevans noted that last year saw the largest regional employment growth in 17 years in multinational companies and these global firms want highly skilled executive assistants, who are in short supply.
"There is definitely not enough (talent), not with the global experience required. We are seeing the salaries at a premium, and they are high salaries for what would be seen as an administrative role," she said.
Keevans said client companies are looking for workers with experience in travel management and who have an understanding of cultural difference in business.
"Somebody with just local experience won't have that," she said.
Research
As part of the research for its salary guide, Morgan McKinley contacted 3,723 workers across a range of roles and sectors.
The findings of its survey show that there has been an increase in salary expectations across the board as workers wise up to the success of the market. Three-fifths of employees in Ireland think they are underpaid and deserve higher salaries.
Just over half of those surveyed by Morgan McKinley said they expected a salary increase before the end of this year, while a quarter of respondents said there were unsure if they will see a bump in pay.
Morgan McKinley's analysis noted that salaries have continued to increase at a "significant pace" due to the ongoing war for talent, which has been caused by the country moving towards near-full employment.
In December 2018, Ireland's rate of unemployment stood at 5.3% and the ESRI has predicted that this rate will fall to 5.1% by the end of 2019 – provided Britain exits the EU with a Brexit deal.
"In this climate, candidates know that they can raise their salary expectations and that employers will need to accommodate this in so far as possible," the report said.
Morgan McKinley's analysis added that counter offers and retention bonuses have become "increasingly prevalent", with employers scrambling to keep their workers. 
Get our NEW Daily Briefing with the morning's most important headlines for innovative Irish businesses.