The euro could be headed to parity with the dollar after a near two-year low
The common currency bottomed out after the Italian referendum result.
THE EURO HIT a 20-month low this morning as a fresh wave of uncertainty hit markets after Italy's prime minister resigned following a heavy referendum defeat.
Analysts warned the single currency could soon hit parity with the dollar because investors are spooked by a long-running banking crisis in Italy and the possibility of elections that could usher in anti-EU parties.
Matteo Renzi stood by his promise to resign after his attempt to change the constitution was overwhelmingly rejected in Sunday's poll, leading to fears about the future of one of the eurozone's biggest economies.
"His defeat in the face of populist moves will spawn concerns over the rest of Europe," said Yunosuke Ikeda, chief currency strategist at Nomura Securities in Tokyo.
Anti-establishment populist movements are gaining ground globally, fanning worries about the world order.
Yannick Naud, head of fixed income at Banque Audi (Suisse) SA in Geneva, told Bloomberg News: "There is now a possibility of the euro reaching parity to the dollar. Maybe not right away, but it is a possibility if there is certainty regarding new elections."
The news sent the euro tumbling to $1.0506 at one point, its weakest since March last year, before it edged back up to above $1.075 – a two-week high.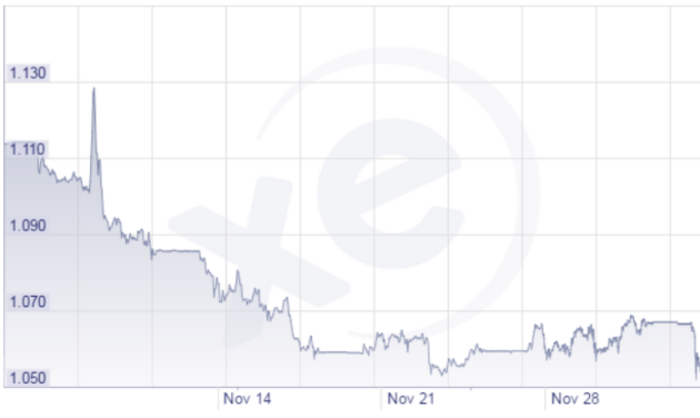 No more bad news
Commenting on Italy's referendum, Nomura's Ikeda said the result was less of a surprise than the Brexit vote or Trump's election victory.
"As Prime Minister Renzi has now resigned, some investors might think all the bad news is out now."
The result also sent the yield on Italy's 10-year government bonds surging above 2% as traders shift out of the country. The yields on Irish bonds are also predicted to rise, pushing up borrowing costs after record lows earlier this year.
Many analysts, however, have said that the Italian referendum outcome was largely priced into the markets as the vote result wasn't unexpected.
Regional equity investors turned negative after a recent run-up fuelled by Trump's win, which many say could lead to stronger growth in the world's top economy.
With reporting from Peter Bodkin
read more on