Etihad's boss says the top threats to European airlines are war, terrorism - and strikes
James Hogan told an aviation conference in Dublin that the industry faces 'significant challenges' in 2017.
THE CHIEF EXECUTIVE of the Etihad Aviation Group has warned that a rise in industrial action will exacerbate problems facing the European air travel sector in 2017.
Speaking at the Airfinance Conference in Dublin, James Hogan said the aviation industry faces "significant challenges in the year ahead".
"Any airline CEO will tell you they've had to respond to a wide range of external pressures: oil, geopolitical issues, wars, terrorism, pandemics and economic crises," he told the gathering of aviation professionals.
"2017 will bring us all those challenges and more."
Etihad Aviation was founded in May 2016 following a restructure of Etihad Airways. As well as operating the main Gulf carrier and its Etihad Region subsidiary, the group owns minority shares in its partners airlines: Airberlin, Alitalia, Jet Airways, Virgin Australia, Air Serbia and Air Seychelles.
Hogan said a combination of "excess capacity", or low demand, on long-haul routes and "continuing pressure in short-haul, low-cost, point-to-point markets" in Europe will put pressure on carriers.
He added: "Over the last few months, we've seen waves of industrial action across European airlines.
"In almost every case, that action has been about resistance to change: employees choosing to fight rather than embrace the inevitable," he claimed.
Last year saw widespread disruption to European air travel. In France alone, air traffic controllers held 22 strike days.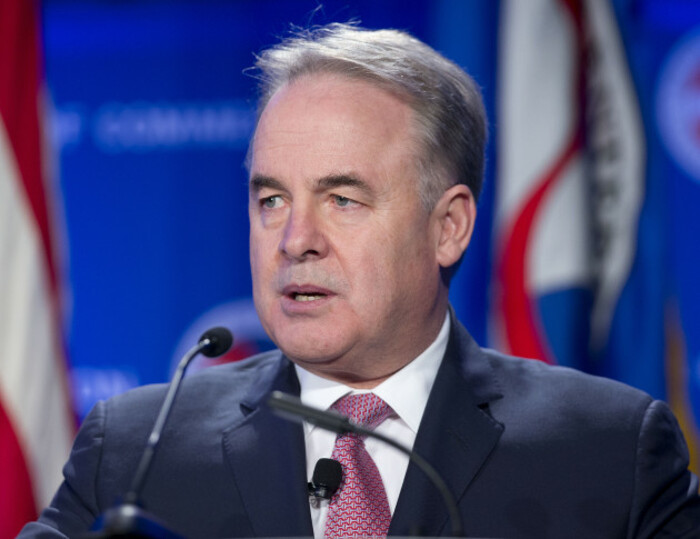 Source: AP/Press Association Images
Regulations
Hogan described the air travel industry as a "paradox".
"At its heart lies innovation, the technologies that get us into the air with ever-increasing speed and efficiency," he said. "Yet, much of the industry has been built by outdated business practices and regulations."
He called for a relaxation of rules that cap foreign ownership of EU airlines at 49%, particularly in the case of Airberlin and Alitalia, which have both faced financial difficulties in recent years.
"In the case of both Airberlin and Alitalia, we've only ever been a minority investor – that's all the European regulation allows," Hogan said.
"Over time, I believe there has to be some relaxation of these rules or many airlines will simply not be able to access the capital that they need."
In 2014, Etihad bought a 49% stake in Alitalia as part of a €1.8 billion rescue plan.
Hogan claimed that without Etihad's investment, many of its equity partner airlines "would no longer exist".
"Thousands of jobs would have been lost and competitive choice would've been diminished," he said.
On Dublin's route to Abu Dhabi, which will fly a twice daily from 1 April, Hogan described the decision to fly eastward as "pioneering".
"As we come up to our 10th anniversary of the route, I'm delighted to see the long term competitive benefits our flights have brought for Irish travellers, but more importantly, the positive impact that we've had on Irish tourism and the employment of Irish nationals."
read more on