A huge boost in software sales is driving record exports by Irish companies
Enterprise Ireland's clients cracked €20 billion in trade last year for the first time.
SALES TO SOFTWARE and construction companies helped drive a record year for Irish exporters as sales topped €20 billion for the first time.
Figures published by Enterprise Ireland today show that exports by the agency's client companies, which are mostly made up of indigenous Irish businesses, hit an all-time high of €20.6 billion in 2015, up from just under €19 billion the year before.
The export figure is now almost double what it was a decade ago in 2005 when it stood at €10.7 billion.
Sales to all of Ireland's major trading partners, including the UK and northern Europe, grew strongly. Exports to the US and Canada performed particularly well, surging by a quarter to almost €3 billion.
However, exports to central and eastern Europe, and Latin America, fell slightly, while growth in the food sector, traditionally one of Ireland's strongest performers, lagged behind other industries.
Software star
All five of the main sectors that Enterprise Ireland measures saw growth. Software was the best performer, with exports shooting up by almost a third to €1.8 billion.
The 'construction and consumer' industry was the next best performer, up by a fifth to €2.9 billion.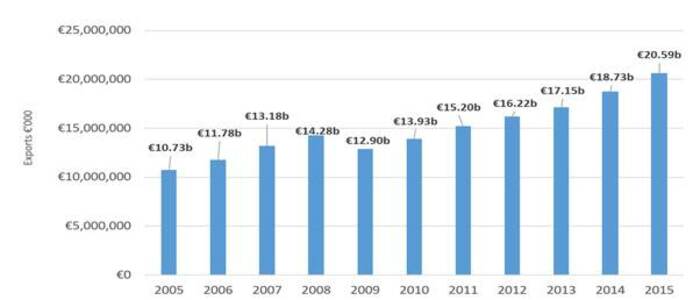 Source: Enterprise Ireland
Food had the slowest growth, increasing by just 3%, however it is still the single largest sector for Enterprise Ireland clients and accounted for €10.6 billion in sales – just over half of all exports.
Enterprise Ireland chief executive Julie Sinnamon said the weaker growth in the food industry was mainly due to the recent global fall in prices for dairy products as demand from Chinese consumers stalled.
"Prices have probably stayed down longer than a lot of people would have expected," she said.
"I can't tell you when they're going to turn around but I've never seen a curve that continues to go down, so at some stage it will turn around. I was in China two weeks ago and we are the market leader in the premium sector of the market.
"Over the last couple of years it has moved to a growing recognition that Ireland is a really good source of quality infant milk formula and with the one-child policy changing there is growth projected in that market. I can't give you a date, but I am very confident that it will turn around."
Emerging markets
Sinnamon was also bullish about the agency's performance in 'high-growth markets'. These are areas, such as Latin America and Asia, which are considered prime candidates for strong economic growth and are therefore good targets for exports.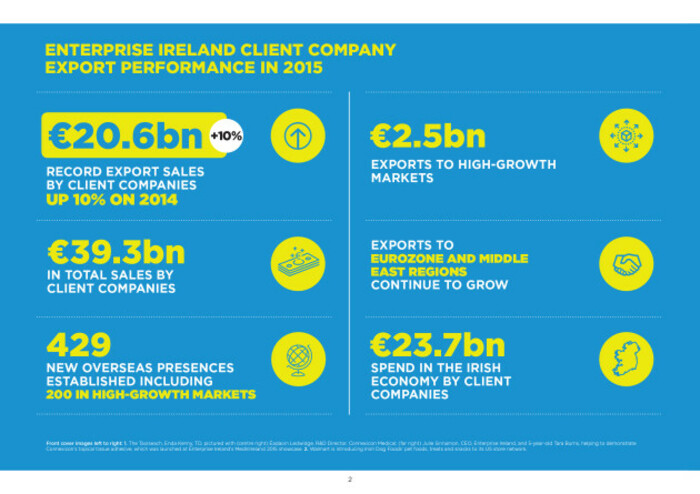 Source: Enterprise Ireland
Enterprise Ireland clients saw sales to the Asia-Pacific region grow strongly, jumping by 11% to €1.6 billion. However, while they make up the smallest markets for Irish exporters, sales to Latin America, central and eastern Europe, and Russia fell.
"We have had issues in the Russian market, because of sanctions, and that has put pressure on some of the other markets," Sinnamon said.
"But we are working closely with companies that are getting a foothold into high growth markets. There will always be some markets which are difficult but overall I think we are having success."
read more on