The government is warning companies to brace for a hard Brexit
Enterprise Ireland also announced that more than 200,000 people are employed by its client firms.
THE HEAD OF Enterprise Ireland and the jobs minister have warned companies to prepare to grow their exports outside the UK as the threat of a 'hard Brexit' looms.
The comments came as Enterprise Ireland, the state agency which focuses on developing indigenous Irish businesses, announced that 19,244 new full- and part-time jobs were created at Enterprise Ireland-supported companies in 2016.
Almost two-thirds of the new jobs were outside Dublin, and all regions recorded increases in employment.
After taking account of job losses, the figures translate to a net increase of 9,117 jobs. This is down from the net increase of just over 10,000 new jobs created at the agency's client companies in 2015, although it is slightly more than the 8,500 recorded in 2014.
There are now 201,108 people employed at Enterprise Ireland-backed companies. 2016 was the first year that the agency broke the 200,000 barrier.
Enterprise Ireland has now set out its aims for the period from 2017 to 2020. The agency's CEO Julie Sinnamon said that the agency wants to grow exports from its client companies s by €5 billion to €26 billion a year by 2020.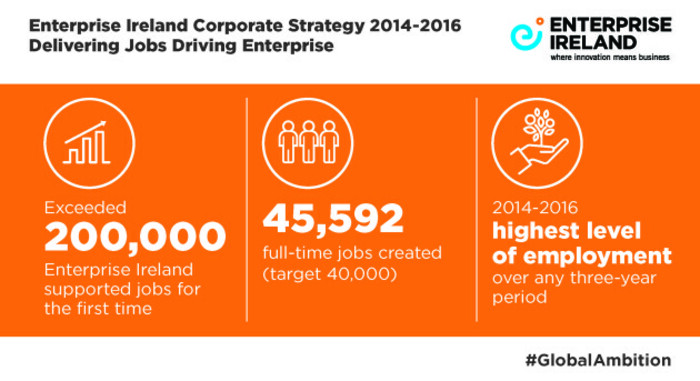 Source: Enterprise Irelad
She added that two-thirds of the extra €5 billion will come from growth outside the UK market.
"(We will focus on) expanding our global reach, and that's that global footprint outside the UK in particular," she said.
"Companies are developing strategies to reduce their exposure, in terms of hedging and exchange rates. Long-term, what we are seeing is a strategic shift."
Hard Brexit
Sinnamon also confirmed that the agency is taking an attitude of "preparing for the worst, and hoping for the best" in relation to Brexit.
UK Prime Minister Theresa May hinted yesterday that the UK is considering a 'hard' Brexit, where the region would have reduced access to the EU market but would have to abide by fewer of the bloc's laws.
"What we have to do is plan for a hard Brexit," Sinnamon said.
"If it turns out to be better than that, so be it, but we are telling our companies you have to plan for a hard Brexit and put in place the building blocks today to be able to deal with whatever Brexit throws up".
Jobs Minister Mary Mitchell O'Connor echoed Sinnamon's comments.
Asked if the government has been preparing for a 'hard Brexit, she said: "Yes. We have been in preparation for the last year. We are making sure that Ireland will get the best deal whether it's a hard or soft Brexit.
"I listened to Theresa May last night and heard her say what she feels will be the best deal for the UK. My department is working to make sure that we can combat whatever happens."
UK move
Sinnamon also confirmed that UK agencies are trying to tempt some Irish firms to move across the Irish in the wake of Brexit, but added that Enterprise Ireland has not witnessed any significant exodus.
"Obviously, the UK is keen to use the opportunity to attract companies into the UK; (but) no companies have said to us that they are moving to the UK market. We haven't seen companies closing up shop."
read more on