Ear surgery, Oscar Wilde and 'smart pebbles': Inside Enterprise Ireland's 'Big Ideas'
The startups showcase is in its 11th year.
IN THE BLUE-GREEN glow of the Printworks building at Dublin Castle, journalist Matt Cooper – emceeing the Enterprise Ireland Big Ideas event – threatens to cut off any speaker who goes over the allotted three minutes in their pitch. 
Now in its 11th year, Big Ideas is Enterprise Ireland's showcase of investor-ready startups with tech solutions to current problems. The 12 selected 'idea' representatives come from third-level spin-outs – and have just a few minutes to grab their audience. 
The haul for the 2019 edition comes from the worlds of ag-tech, medtech – and the brainchild of one fairy tale-inspired firefighter. 
As Cooper finishes his introductions, a hush descends and patiently waiting investors and researchers turn their attention to the stage.
'Digital pebbles'
With 16 years' experience as a firefighter, Martin Traynor takes to the stage about halfway through the event to present Pathfinder – a solution for locating firefighters lost in burning buildings.
"Imagine this room went into complete darkness. The temperature is elevated to a point where it becomes unbearable. Now you have to find your way out – but you only have a limited number of breaths before you run out of air," he says. 
Three years ago, Traynor was reading the story of Hansel and Gretel to his young son when he got the idea for "digital pebbles" that are 'smart' and can interact. 
The industry has been trying to solve the issue for years, he says. Triangulation techniques used at the moment aren't cutting it. 
The company has filed an international patent and has international validation from the New York Fire Department, as well as working partnerships with Dublin and Northern Irish rescue services. 
Medtech innovators
Of the 12 companies waiting below the stage, six are from the medtech sector. 
Liz McGloughlin, co-founder of Tympany Medical begins her pitch by quoting Oscar Wilde. 
She makes the point that the playwright's father was an ear surgeon and he himself died of a mastoidectomy – a hole drilled into the skull for ear surgery – gone wrong.
Microscopes used for ear surgeries today are state of the art, she says – so what's the problem? 
"Our device is the world's first endoscope for two-handed ear surgery," McGloughlin proclaims.
Current endoscopes still have a limited field of vision and using them is "learning to tie your shoelaces with one hand". 
Kevin O'Sullivan is representing Solopep, a company that has made a disposable airway clearing device for people with lung diseases like cystic fibrosis. 
"The standard of care for these patients calls for the daily use of a reusable airway clearance device – even though these devices have been shown to be a potential harbour for pathogenic bacteria," he says. 
He holds up a small, clear plastic device – difficult to see from the back of a large room. 
Later that day, the company went on the win the 'one to watch' award. 
In 2017, Travis Davis quit his job in Nasa to move to Ireland and "change the world in how it closes wounds". The result is Starling Surgical, a Trinity College spin-out. 
"There are 230 million surgeries done every year. That's 450 per second," he adds, snapping his fingers three times for effect. 
Davis, along with his business partner – aptly named Cyrus Doctor – are the makers of the Quickstitch – a wound closure device that's as fast as surgical staples with the reduced infection rate and pain of suturing. 
[embed id="embed_2"]
The technology is still patent-pending but the startup has already raised €1 million in funding from Enterprise Ireland and private investors.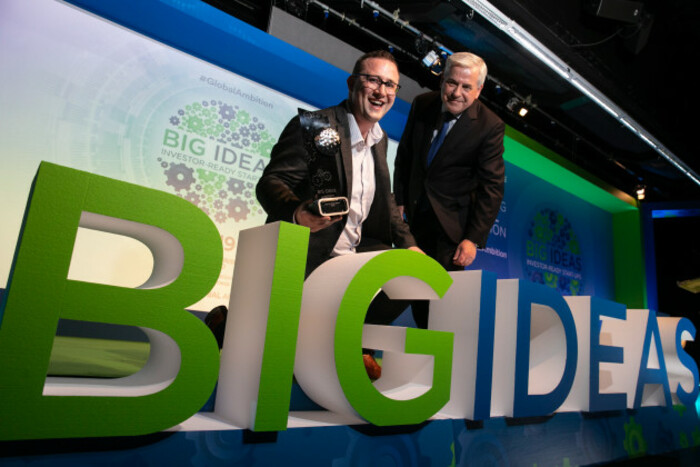 Source: SON Photographic Ltd
Other solutions
For Stephen Creaner, executive director of Enterprise Ireland, it's not surprising that medtech companies came out in full force today. 
On the fringes of the Big Ideas showcase, while the hum of coffee break networking takes place next door, Creaner takes a moment to pause. 
Having started in 2018, it's his first Big Ideas event – though he knows the sectors well. 
"If you look closely, some of the pitches were more ag-tech, or one or two that were more ICT. When you dig down, there's more diversity," he says. 
As the pitches come to a close, the event winds down and the packed-out auditorium floods into the foyer for coffee and biscuits. 
At the end of the day, some companies will go on to apply for further funding from  Enterprise Ireland – and some will go on to the organisation's High Potential Startup scheme.  
"It's to encourage the research and development community who are not on the stage today to maybe come along next year or the year after," says Creaner. 
"It's to show there's an infrastructural outreach, that we can support them and provide the networking, the investment, the mentoring that they might need for the development of their companies."
Get our Daily Briefing with the morning's most important headlines for innovative Irish businesses.