Meet the Galway woman behind the music for World of Warcraft
Composer Eimear Noone wants Ireland to develop a stronger gaming industry.
IF YOU WANT to get Eimear Noone riled up, ask her if Ireland is doing enough to develop its video game industry.
The Galway native is usually pretty soft-spoken, preferring to talk about positively about her work on some of the biggest games in the industry, such as World of Warcraft.
Right now she's espousing the virtues of virtual reality, touted by many in gaming as the next big thing.
Noone says that if Ireland can get its act in gear, it can become a hub for developers looking to make big strides in this new area.
"There's a window where studios aren't producing enough content (to satisfy consumer demand of) virtual reality," she says.
"There's a two-year window where developers in Los Angeles could swallow it up, but there's a chance that Ireland could take advantage of this burgeoning business.
"Government needs to realise games are a serious business. There's basically nothing, no state funding, for video games or paltry amounts.
"We could create work for Irish graduates in the arts and tech and keep them at home so we don't have a brain drain. I know what it's like to leave. I love where I live but I also love home."
Noone is mainly based in Malibu and has lived in the US for years. It was where she had to go if she wanted to really develop a profession she was introduced to during college: composing and conducting the musical scores for video games.
While studying classical music in Trinity College Dublin, Noone and a bunch of friends were asked to help out in the choir for a new, exciting game called Metal Gear Solid.
"It was a credit that didn't lead to anything straight away, it was just a fun experience. It made no major difference except I got £40 extra to spend on beer," she says.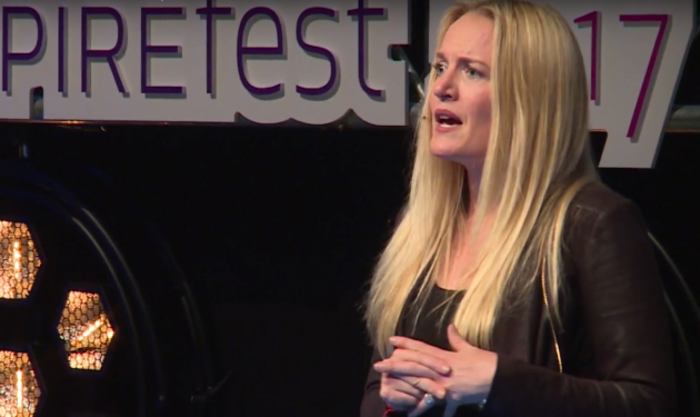 While that experience gave Noone a taste of the industry, it wasn't until later that she realised it could be a viable career. That moment came when she was invited to teach a six-hour conducting seminar in Los Angeles, where Russell Brower was in the audience.
Brower is an Emmy award-winning composer and one of the main musical forces behind Blizzard, an industry giant behind many blockbuster titles, including World of Warcraft – the world's most-subscribed online multiplayer game.
He took a shine to Noone and asked her to help him with his work.
"We went off a few weeks later and recorded the music for Starcraft 2, and I've been doing it ever since," she says.
Big business
Noone had a chat with Fora in advance of the Dublin International Game Music Festival, an event she co-founded that focuses on playing retro video game music live which is being held in Dublin's Convention Centre next weekend.
The Galway native technically operates on a freelance basis, but she's done a huge amount of work for Blizzard and is closely associated with the company's games.
If you've ever climbed the mountains of Azeroth in World of Warcraft or hacked and slashed your way through a dungeon in Diablo, you're likely to be familiar with her work.
With the video game industry worth tens of billions each year, new titles can command budgets that rival Hollywood blockbusters.
Music is especially important to a fantasy game, and Blizzard doesn't scrimp when it comes to creating a memorable soundtrack, often hiring a live orchestra.
"We usually have about 60-plus people in a choir and 90-plus people doing other work as well. You could have a band, soloists, several composers, a music prep team and a conductor – that's usually me," she says.
"It's a huge operation, and there could be a few hundred people involved throughout all stages. It's a massive undertaking."
She adds: "The orchestra and choir record a full script in a matter of days, the orchestra is contracted in for the recording dates, but it takes months to prepare.
"I was a composer on (World of Warcraft expansion) Warlords of Draenor and it took seven of us to write it all. The length is based on how many minds you have and the required amount of music."
The process differs from scoring a film in that composers usually only begin working on a movie soundtrack when the movie is edited and almost finished. In gaming, they get in at the start, usually at the stage where concept art is still being developed.
"It's much more of a collaborative process. We give music to the animators as they create artwork, or they could create something and feed it to us (for inspiration)," Noone says.
"The deadlines aren't as scary as they are for film, you can luxuriate a bit."
Blizzard's games, all of which have millions of players, have music at the core of the experience they offer, according to Noone. The score often elevates the game.
"I've met people who tell me about a scene from World of Warcraft where they were playing with a relative who is no longer alive, and whenever they hear the music they think of them," she says.
"When people play these games, and are immersed in them for a long time, they become part of the soundtrack of their life. It helps people cast off their daily life and get into the fantasy realm."
Ireland's game industry
Despite her base in the US, Noone's ambition is for developers in Ireland to produce games of a similar quality and scale to those being made overseas.
The country has a burgeoning indigenous industry, including the likes of Digit Game Studios and 'middleware' outfits like Havok.
However, Noone thinks that Ireland is just starting to realise its potential in the games sector.
"As someone who left Ireland 12 years ago, and is back about four or five times a year, (the games industry) seems like a perfect fit for the country," she says.
"It is tertiary skill-level based. It brings together all the arts; writers, directors, musicians, along with the tech side of things. We don't need to compete with factories in China.
"I feel that we haven't made a concentrated approach to taking a swipe at that business."
The composer says that there are many talented Irish people working in the industry, but they are too dispersed.
"Talented people here can't know what it's like to work in a triple-A environment (on blockbuster games) unless there is the infrastructure," she says.
Ireland doesn't need to spend big on developing giant studios. According to Noone, we can develop a "boutique" industry – with some state support – that would still be able to compete with the major players.
However, despite a 2011 government plan to make Ireland a hub for the games industry, there has been little support to back up the rhetoric since.
Comparing the games industry to film, Noone pointed to the millions of euro in taxpayer funding that filmmakers get through the Irish Film Board.
She says that the government should look at providing funding to games companies to help them attract and retain skilled workers.
"I don't want to take away anything from film, but there is basically nothing for video games. It seems illogical as there are skills crossovers with the film industry.
"In the end, it's about having the money to bring some guys home, set up some studios and help indigenous studios."
Sign up to our newsletter to receive a regular digest of Fora's top articles delivered to your inbox.
read more on