There's been a spike in Irish firms being hit with multimillion-euro frauds
A new survey found cybercrime against local companies was generally on the rise.
THERE HAS BEEN a growing trend of Irish businesses falling prey to multimillion-euro economic crimes over the last two years.
According to an international survey by PwC, most economic crime and fraud cases in Ireland cost firms in the tens of thousands – but there has been a notable increase in cases running into the millions.
Around 11% of survey participants has suffered losses of more than €4 million, which the survey said is higher than the global average. It suggests that Irish firms may be more vulnerable or "even a softer target" for criminals and fraudsters.
At the same time, a "worrying" 18% of those surveyed were unable to put a figure on the loss they suffered. This figure was up from 6% in 2016.
The incidence of cybercrime has also increased, with nearly two-thirds of firms saying they have experienced some kind of related incident during the past two years – double the global figure.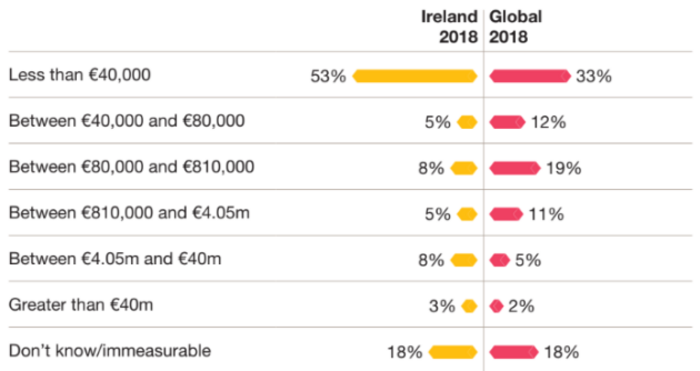 Source: PwC
Awareness
The survey's authors added that they expected cybercrime to become the most disruptive economic crime in the future.
"Actual crime could well be higher than reported crime which makes the findings from this survey even more concerning," Pat Moran, PwC Ireland's cyber leader, said.
The fact that more than half of organisations said they have not – or do not know if they have – experienced economic crime over the last two years "suggests blind spots still exist in many organisations", he said.
The survey goes on to suggest that Irish businesses do not fully appreciate the non-financial impact of these crimes, such as relations with regulators.
It added that clean-up costs for firms after an economic crime are substantial with companies often spending equal or greater figures on the clean-up compared to the crime itself.
PwC urged Irish firms to explore new technologies like data analytics and artificial intelligence to detect fraud or cybercrime activity. It said Ireland is lagging behind in adoption of these new tools.
"There is a real opportunity to make the business case for robust new investments in fraud prevention and detection through the use of emerging technologies," Moran said.
"Leading global companies are leveraging innovative and cloud-based techniques to identify suspicious patterns and pre-empt economic crime and fraud."
The Irish PwC survey was conducted as part of a wider global survey conducted every two years. Some 77 organisations in various sectors participated in the local version.
Sign up to our newsletter to receive a regular digest of Fora's top articles delivered to your inbox.