Hewlett Packard Enterprise spin-out DXC is cutting jobs in Ireland as part of a global shift
The company has opened a voluntary redundancy programme in its Irish and UK operations.
HEWLETT PACKARD ENTERPRISE spin-out DXC Technology has opened a voluntary redundancy programme that includes Irish staff as part of its efforts to scale back its global workforce.
The American IT services company provides cloud computing, security and analytics services to businesses. Its Ireland headquarters are in Leixlip and it has an office in Galway.
It is not known how many redundancies the company is planning. DXC Technology didn't directly respond to a query from Fora.
It is also seeking cuts in the UK, where it has offices in London and several other locations dotted around the country.
A memo was sent to staff in Ireland and the UK saying it is introducing what it calls a Work Force Reduction (WFR) programme and making a "number of redundancies". The memo was first reported by tech publication The Register.
"Automation is having a profound impact on the scale and skill of the workforce that we need to build for the future," the memo said. "It is clear that we cannot rely solely on training our staff with new skills to facilitate this change while continuing to drive growth."
Departures are expected to take place around July. Some employees are exempt from the cuts, including graduates, apprentices and some sales staff.
In a statement sent to Fora, a DXC Technology spokesperson said: "At times we are required to make changes to ensure that we continue to operate effectively for our clients and staff.
"Any staff affected by these changes will be fully consulted, and DXC Technology takes seriously its obligation to redeploy or reskill staff where possible. DXC continues to invest in our people and the capabilities required to best serve our clients."
It is not clear whether DXC will seek compulsory cuts if a certain number of voluntary redundancies aren't reached.
The company declined to comment on the number of employees it currently has in Ireland.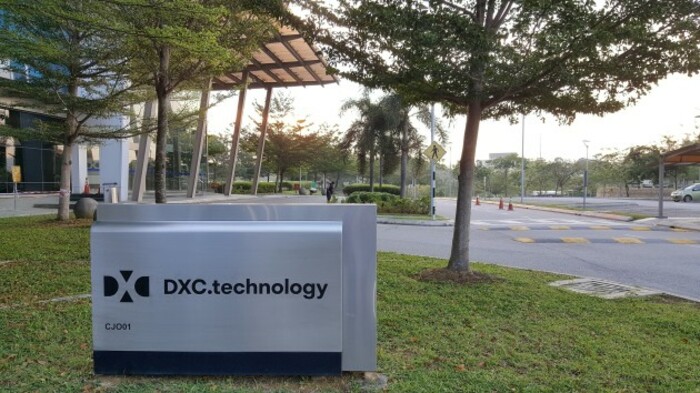 Source: Shutterstock/Air Elegant
DXC was formed in 2017 as a spin-off from Hewlett Packard Enterprise and its merger with two firms called Computer Sciences Corporation (CSC) and Electronic Data Systems (EDS).
It booked a drop in annual revenues for the year ended 31 March 2019 where it brought in $20.7 billion – compared to $21.7 billion the year prior. It has around 130,000 employees globally, according to its website.
During a recent earnings call, chief financial officer Paul Saleh said that the company has reduced its workforce by "roughly 10,000 people" while it continues to "shift the balance of our workforce to digital capabilities".
In January, it announced it was acquiring Swiss software development company Luxoft for around $2 billion.
Get our NEW Daily Briefing with the morning's most important headlines for innovative Irish businesses.