'Our work is on the assumption something awful happens' - Dublin Port has plans for a 'hard Brexit'
Work is underway to add new customs checks and upgrade infrastructure at the port.
IRELAND'S LARGEST PORT is making preparations for a hard Brexit and the divergence of customs and trade rules from those of the European Union.
Speaking on Morning Ireland, Dublin Port chief executive Eamon O'Reilly said that he had been told by a senior EU official the 'Brexit backstop', which guarantees "regulatory alignment" between the EU and the UK in the event of no other solution, does not extend to Ireland's ports.
Because of this there has been "a lot of background work" going on for the past couple of months to prepare for Brexit, he said.
"If we work on the assumption that something awful will happen on the 29 March next year, we will have built in Dublin Port the primary inspections facilities needed which aren't there today, when trucks come off past through these primary facilities, and be diverted for secondary checks or straight out.
"That physical infrastructure is being prepared," he said.
He said he didn't have much concern "on the Revenue side of the inspections" because the type of inspections necessary were already happening to 200,000 units from the Far East.
"The key thing is the processes and procedures exist, now it's about scaling up what's there already."
When asked how many more customs officers he expected would be needed to carry out additional checks on goods coming from the UK, O'Reilly said that although it wasn't his job to staff customs officers, he would estimate that it would be in the "tens, maybe low hundreds".
He said he took "great solace" from what the Taoiseach Leo Varadkar said in relation to the number of custom staff he would hire in preparation for a hard Brexit.
Yesterday the Taoiseach and his ministers met for a special discussion on Brexit preparations in Derrynane House in Co Kerry. Among the topics discussed, the Cabinet agreed to hire 700 extra customs officials for ports and airports, and 300 extra staff to check agri-foods and animals.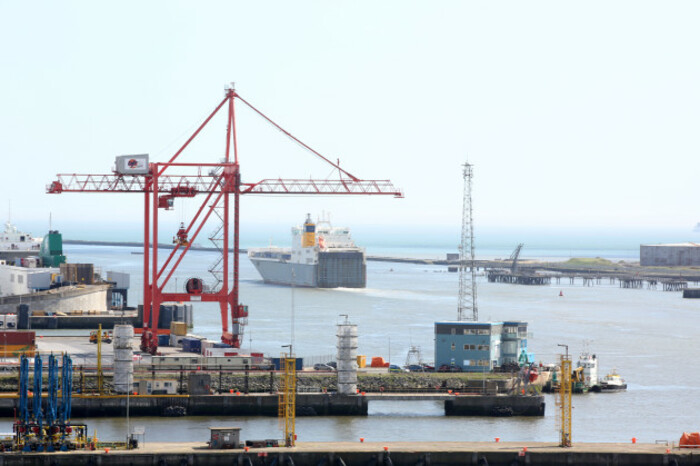 Source: Sam Boal/RollingNews.ie
Investment
Dublin Port and Rosslare Europort will also need significant investment to update its infrastructure.
Speaking about the volume of trade that travels through Dublin Port, O'Reilly said that it runs on a 24/7 basis, with trailers "rolling-on and rolling-off" ferries.
Each year, around 850,000 units of freight are transferred between Dublin and Britain, and a further 100,000 units of freight between Rosslare and south Wales.
"The best way to understand Dublin Port – the example we give is at 5am, four ferries come in – two from Liverpool, two from Holyhead in about an hour. In those ferries is about 13km of vehicles, and they come off very quickly. Half of those go straight out the Dublin Port tunnel."
"The trade on Dublin Port is import-led, we're an island economy. One of four waves of activity during the day," he said.
The government is currently exploring the possibilities of expanding operations at Rosslare Port to take advantage of opportunities that could be created by Brexit.
But efforts to do so could be hampered by legal complications arising from the complex ownership structure of the port, which is the second largest in Ireland.
Written by Gráinne Ní Aodha and posted on TheJournal.ie
Sign up to our newsletter to receive a regular digest of Fora's top articles delivered to your inbox.