It's now more expensive to live in Dublin than Abu Dhabi or Silicon Valley
The Irish capital has re-entered the top-100 list of the most expensive cities for expat workers.
IRELAND'S CAPITAL IS now a more expensive place to live than some of the most notoriously pricey cities on the planet.
A new survey shows that Dublin has jumped 48 places to enter the top-100 list of the most expensive places to live in the world at number 72.
That places the city above Abu Dhabi, Silicon Valley in California and even central London.
The cost of living survey, commissioned by ECA International, investigates the varying level of household expenses in cities around the globe.
It does so by comparing a basket of like-for-like consumer goods and services in 475 worldwide locations. Rental accommodation prices are not factored into the survey.
ECA said that this data can be used by businesses to calculate the cost of living for employees sent on international assignments.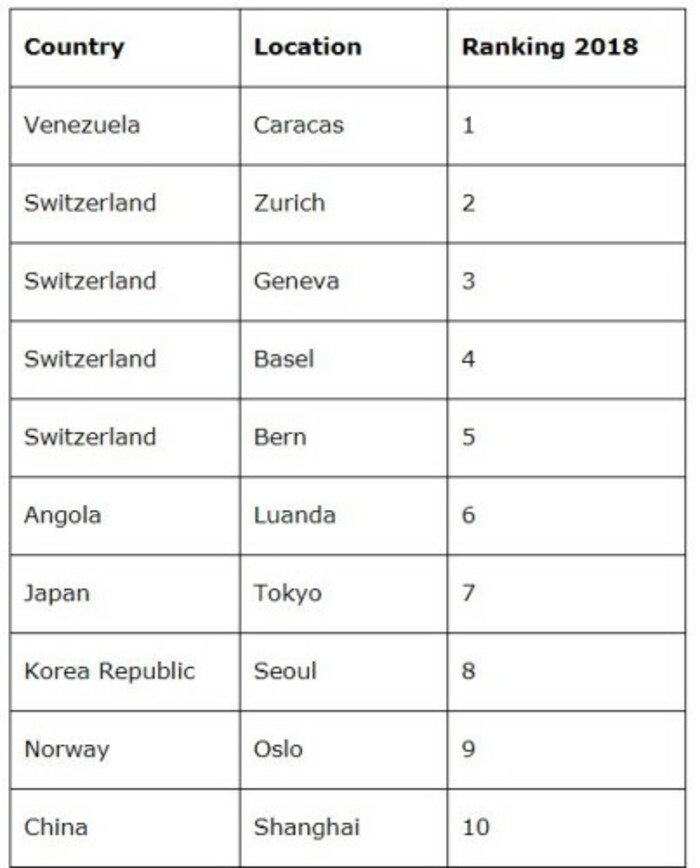 Strong euro
ECA, which has been running the survey for the past 45 years, said that a strong euro is the main reason for the rise on the list of so many European cities.
"Thanks to the strength of the euro, Dublin is one of 18 European cities to enter the top 100 most expensive cities in the world this year," said Steven Kilfedder, production manager with ECA.
"This is the first time Dublin has been in the top 100 since 2014, making it more expensive for expats and visitors travelling to Ireland."
Switzerland has four out of the top five most expensive cities to live – Zurich, Geneva, Basel, and Bern.
The European nation misses out on top spot though – that dubious honour goes to Caracas in Venezuela, due to the hyperinflation (1,800% in the last 18 months alone) seen in the South American country.
London, often seen as one of the world's most expensive cities, placed 109th in this year's survey, while Belfast is the cheapest city in which to live in the UK.
The cost of living in US cities has dropped significantly due to the relative decline in the value of the dollar.
Written by Cianan Brennan and posted on TheJournal.ie.
Sign up to our newsletter to receive a regular digest of Fora's top articles delivered to your inbox.