It's now more expensive to live in Dublin than London
The Economist's cost of living index ranked Ireland's capital 19th out of 133 cities.
IT'S MORE EXPENSIVE to live in Dublin than London according to a new global study.
The Economist magazine's business intelligence unit ranked Ireland's capital 19th out of 133 cities in its latest cost of living report, up six places on 2017′s index.
Meanwhile London was considered the 30th most expensive place to live, dropping six notches to its lowest ranking in two decades.
According to the Economist's analysis – which compares the prices of hundreds of items like rent, food, clothing and transport – the UK capital is now 9% cheaper than Dublin.
The researchers attributed London's decline to the sharp drop in the value of the pound and economic uncertainty following 2016′s Brexit referendum.
It's worth noting that the results are heavily skewed towards currency fluctuation and don't necessarily take into consideration local purchasing power.
For the fifth year in a row, Singapore was declared the world's most expensive city. Paris and and Zurich were joint second while Hong Kong and Oslo completed the top five.
The French capital is the only eurozone country to feature in the top 10.
The Economist said French capital "remains structurally extremely expensive to live in, with only alcohol, transport and tobacco offering value for money compared with other European cities".
Copenhagen also featured in the 10 priciest cities "largely owing to relatively high transport, recreation and personal care costs".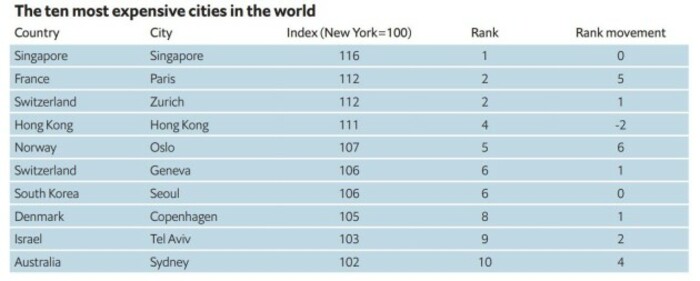 Source: The Economist Intelligence Unit
Click here to view a larger version
'Encouraging' year
The report's authors said the weakening of the dollar against other currencies meant that no North American city ranked in the top 10, although New York and Los Angeles rank highly in 13th and 14th position respectively.
Syria's capital Damascus was the cheapest city surveyed. Also at the bottom of the table were Caracas in Venezuela, Almaty in Kazakhstan, Lagos in Nigeria and Bangalore in India.
The Economist's business intelligence unit said 2017 was an "encouraging" year because the rate of economic growth was at its fastest since 2011.
This year is expected to "proceed along similar lines, with the US economy and the euro area motoring along, the Chinese government managing its economic slowdown carefully, and Japan growing again by more than 1%".
However, the authors of the report added that 2018 could see "fallout from a number of political and economic shocks taking deeper effect".
They said the UK has seen sharp declines in the cost of living thanks to Brexit and the related currency weaknesses, which has already hurt the pockets of British consumers.
"In 2018 these are expected to translate into further price rises as supply chains become more complicated and import costs rise."
Sign up to our newsletter to receive a regular digest of Fora's top articles delivered to your inbox.