Dublin's sky-high rents have made it one of Europe's most expensive cities to live in
The cost of living in the capital for expats is now second only to Paris in the eurozone.
BALLOONING DUBLIN RENTS have further pushed the Irish capital up the ranks of the most expensive cities in the world for professionals to live in.
Ireland's largest city is now the second most pricey location for expats in the eurozone behind only Paris, according to an annual cost-of-living survey from consultants Mercer.
However, Dublin rated just inside the top-50 locations worldwide and below several other locations in Europe, where it was the seventh most expensive city after London, Copenhagen and the usual Swiss entrants.
Mercer Ireland principal Noel O'Connor said it was the third year running that Dublin had increased its ranking with the high cost of rental accommodation keeping it above many other eurozone cities.
"As the economy has improved, greater foreign direct investment has put increased pressure on the availability of rental accommodation for expatriates in Dublin," he said.

The local heads of several multinationals' operations have raised the housing shortage in Dublin as an issue for their staff, while similar concerns are emerging in Cork.
Average Dublin rents were up nearly 9% annually in the first quarter of the year after increasing more than 13% between 2013 and 2015, according to figures from the Residential Tenancies Board.

Source: Residential Tenancies Board
It comes as a report from Property Industry Ireland today predicted only 11,000 housing units would be completed nationwide this year – less than half the estimated 25,000 needed annually to keep pace with demand.
Doing the sums
The Mercer survey is intended for multinationals to work out how much to compensate their employees to work in different locations.
It compares prices for more than 200 goods and services in each city based on workers maintaining the same standard of living in different locations.
Overall, Dublin placed 47th on this year's cost-of-living index, up two places from its 2015 ranking. It has been one of the few euro-area cities to move up the rankings in recent years with the decline in the currency's value against the US dollar, which is used for all the cost calculations.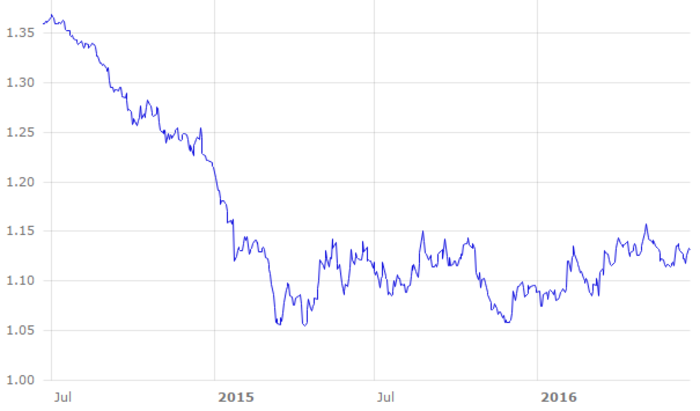 The survey put expenses in the Irish capital above those in many emigrant hot-spots as the declining value of currencies like the Australian and Canadian dollars pushed many cities down the scale.
Sydney was the only Australian city rated more expensive than Dublin, at 42nd on the list, while Auckland was 98th and Vancouver and Toronto came in at 142nd and 143rd respectively.
These were the top-10 most expensive locations across Europe, North America and Asia for expat workers:
1. Hong Kong
2. Zurich, Switzerland
3. Singapore
4. Tokyo, Japan
5. Shanghai, China
6. Geneva, Switzerland
7. Beijing, China
8. New York City, USA
9. Shenzhen, China
10. Bern, Switzerland