The amount of available office space in Dublin has dropped to 2002 levels
The crunch just got crunchier as demand continues to outpace supply.
THE AMOUNT OF available office space in Dublin has hit its lowest point since mid-2002.
New figures from real estate group Cushman & Wakefield show there was 329,450 sq m of immediately available space in the capital city during the July to September period, down almost a third on last year's tally. The vacancy rate fell to 5.1% during the three-month period.
There has been a major influx in tech office lettings in recent years, with Google, Facebook and LinkedIn taking up significant new space in 2018, putting pressure on supply.
Tech companies were considered the most active sector so far this year, accounting for 38% of office take-ups by the end of September, according to Cushman & Wakefield's data. The finance sector accounted for 13%, while flexible office providers accounted for 11%.
In Dublin's so-called central business district – where office rents averaged €673 per sq m – the shortage of available space was even more pronounced, with 58,000 sq m available to the market and the vacancy rate at 2.9%.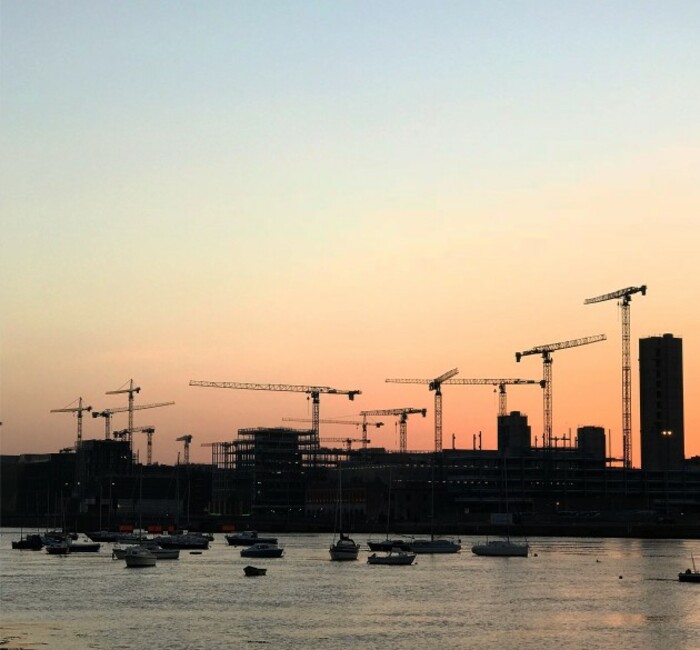 Source: Leon Farrell/RollingNews.ie
The level of demand for office space in Dublin has outpaced the level of supply in recent years.
According to Cushman & Wakefield analysts, since the economic recovery, the rate of office take-up has been on average 3.4 sq m to every 1 sq m delivered to the market, resulting in a "significant erosion of supply".
Some 500,000 sq m of office space was under construction by the end of September, however more than half of this was pre-let or reserved.
Ronan Corbett, head of offices at Cushman & Wakefield, said: "Demand remains very robust in the Dublin office market despite some concerns surrounding the international and occupier environment.
"It is evident that good quality space in the best locations is becoming a scarce resource and occupiers are fast moving on it when such space becomes available," he added.
Some 185,600 sq m of office space was leased in the first nine months of 2019, slightly ahead of the same period last year. Leasing activity is expected to remain strong till the end of the year.
One of the big deals during the third quarter was IDA Ireland's occupation of a 10,700 sq m office at Three Park Place on Upper Hatch Street. AIB occupied 5,250 sq m at Heuston South Quarter and Google occupied 4,500 sq m at Blackthorn House in Sandyford.
Get our Daily Briefing with the morning's most important headlines for innovative Irish businesses.