'A disservice to the nation': Pilots say Dublin Airport's new runway will be too short
The Irish Air Line Pilots' Association claims the length will stop DAA from developing new routes.
THE UNION THAT represents Irish pilots has complained that Dublin Airport's new runway will be too short and could limit the hub from developing future routes to Asia.
In a letter to Tánaiste and Foreign Affairs and Trade Minister Simon Coveney, the Irish Air Line Pilots' Association (Ialpa) claimed that the 3,110m runway, slated for completion in 2022, will be too short to handle a fully loaded, long-haul aircraft.
The letter, released to Fora following a freedom of information request, was penned by Ialpa safety director John Goss in response to a column the Tánaiste had written for the Sunday Independent newspaper.
The article was published before Cathay Pacific launched its Dublin-Hong Kong route and Hainan Airlines started its service to Beijing. In it, Coveney suggested the direct air connections would strengthen Ireland's trade links with China.
However Goss claimed that the new northern runway won't be able to fully cater for the type of long-haul aircraft typically operated by the Asian carriers.
"As a Corkonian, you understand that the length of an airport runway limits its connectivity," he said to Coveney, referring to low-cost carrier Norwegian's reluctance to fly Cork-New York over concerns that the runway may be too short.
Ialpa said that its preferred option for the length of Dublin's new runway is 3,660m, which Goss calculated could handle a maximum take-off weight of 242 tonnes – the same maximum weight as the aircraft operated by Hainan and Cathay Pacific from the hub.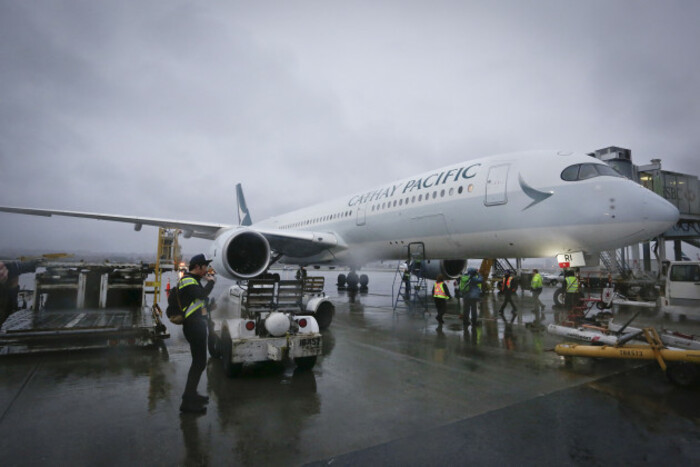 Source: Xinhua/SIPA USA/PA Images
Goss argued that a fully loaded, long-haul aircraft won't have enough room to complete a take-off on the new runway.
"The best that can be achieved from the sub-optimal 3,110m runway is approx. 230 tonnes," he said.
He claimed that airlines will have to choose between carrying fewer passengers or less cargo, or else be forced to fly shorter distances with less fuel.
"That's 12 tonnes of cargo/passengers or fuel … left on the apron at Dublin!" Goss wrote.
'Disservice'
Ialpa said that semi-state airport operator DAA was "doing a disservice to the nation" by proceeding with the 3,110m runway "as custodian of Ireland's premier gateway".
"Therefore, if as foreign minister you strive to export and develop tourism links to the Asian markets (without weight restriction), we respectfully advise that a circa-3,660m runway is required."
Goss said that DAA should submit a strategic infrastructure development application to revise the length of the runway. The planned northern runway has already been bogged down by the planning process.
DAA was previously locked in a court battle with local residents and an environmental group over Fingal council's decision to extend planning permission for the runway development by five years.
The planning extension was sought by the airport group because its initial 10-year permission was due to expire.
Residents nearby the development site claimed that the new project was illegal because it will make their houses uninhabitable.
Last November, three legal challenges against the new €320 million runway were thrown out by the High Court.
Coveney's private secretary, Clare Brosnan, responded to Ialpa's letter on behalf of the Tánaiste. She shared Goss's complaint with the Department of Transport, Tourism and Sport, and with DAA.
"I have been informed that DAA is satisfied that the new runway will facilitate aircraft operating to and from China and can facilitate any modern, long-range aircraft expected to operate from Dublin Airport," Brosnan wrote.
A spokesman for DAA confirmed that Brosnan's response reflects the semi-state's position on the matter.
Sign up to our newsletter to receive a regular digest of Fora's top articles delivered to your inbox.