The DAA is cleaning up its debts ahead of work on Dublin's new runway
The airport authority is refinancing €550 million in bonds as it prepares for the project.
THE DUBLIN AIRPORT Authority (DAA) is refinancing €550 million in debt as it looks to start work on a second runway at the capital's travel hub.
In an announcement today, a DAA subsidiary, DAA Finance called on anyone holding shares of its €600 million bond to sell their notes back to the company.
There is just under €550 million of the bond, which was due to be repaid in 2018, outstanding.
DAA Finance said that the restructuring is to "optimise the company's balance sheet structure". It said that the deal is conditional on the issuing of a new bond to finance the buyback and it expires at the end of the month.
The DAA, which owns both Dublin and Cork airports, plans to meet with investors this week to gauge the level of interest in a new bond.
New runway
The refinancing of its debt marks another step by the DAA towards the construction of a second runway at Dublin Airport.
The state-owned body previously flagged its intention to refinance its debt ahead of the construction of the runway, which will cost an about €320 million to build and is expected to be completed by 2020.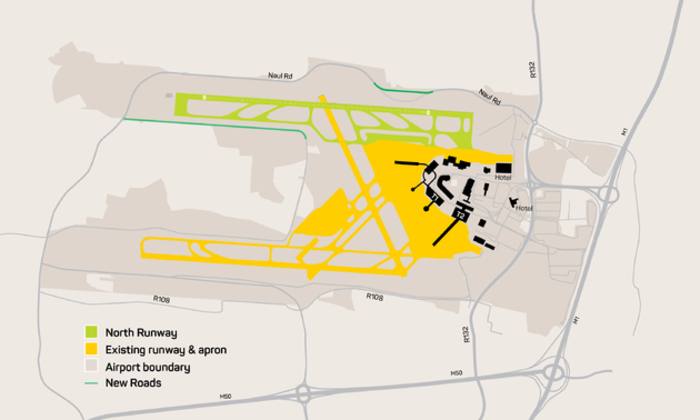 Source: DAA
Construction is expected to begin properly in 2017 after enabling works are carried out later this year.
Officials from the airport said a rise in passenger numbers and increased revenue meant that a new runway was needed to ensure it had enough capacity to meet future demand and continue the growth.
More passengers 
Passenger numbers at the hub hit a record 25 million in 2015, beating the previous record of 23 million set in 2008.
The airport initially received planning permission to build the runway from Fingal County Council almost 10 years ago in August 2007, but the plans were put on hold due to the fall in passenger numbers during the economic downturn.
The DAA's credit rating has increased over the last number of months. In November ratings agency Standard & Poor's upgraded the authority's scorecard to an A-, which means it believes lending to the agency carries very little risk.
The DAA also recently reported an improved financial performance for 2015. Net profits during the year rose to €61 million, up from €42 million in 2015.
read more on