This Donegal startup is working with a global drone giant to help search-and-rescue teams
Letterkenny-based DroneSAR wants to develop the 'go-to app' for rescue groups.
A SEARCH-AND-RESCUE app a Donegal firm designed in partnership with one of the world's biggest drone companies is set to go live in the next few weeks.
Letterkenny-based startup DroneSAR, which employs four people, has developed software to aid recovery teams.
The software is based on research carried out by Dajiang Innovation (DJI), a Hong-Kong based firm which has dominated the commercial drone industry and is estimated to account for more than half of all international sales.
DroneSAR initially announced its partnership with DJI in November. Speaking to Fora, the company's CEO Oisin McGrath said that his company is just weeks away from bringing its software to market – and is hopeful of further collaboration with DJI.
He said that the partnership with DJI "gives us great credibility and it also gives us instant access to a worldwide market".
"The software will only be compatible with DJI drones and we hope that they will sell our software bundled in their drones eventually," McGrath said.
"DJI wants to sell hardware, they want to sell drones. We hope that if our software is used by rescue teams then people who want the software will buy the drones. We aim to be the go-to search-and-rescue app in the world."
McGrath said that the firm is looking to raise €300,000 from investors "until we can get into big sales worldwide".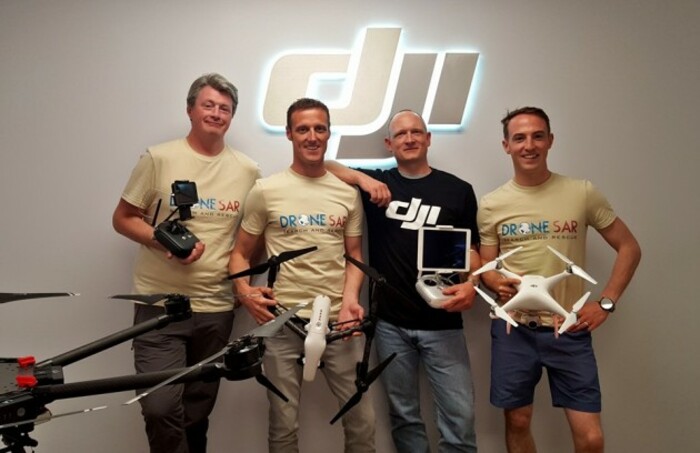 Source: DroneSAR
Software
DroneSAR's software handles a drone's flight from takeoff until landing, allowing search-and-rescue teams to focus on locating people in distress – rather than on piloting the craft.
It can stream live images and video to a central command center or to rescue teams on the ground. The software is also able to tag the GPS coordinates of a victim and automatically transmit the data by email or SMS, enabling ground crews to reach people more quickly.
The technology was developed in conjunction with several organisations in addition to DJI, including the Donegal Mountain Rescue Team.
The company's software has also been integrated into several other widely used search-and-rescue programs, such as outdoor navigation app ViewRanger and mobile maritime safety app SafeTrx.
Integration
SafeTrx,developed by Cork firm 8 West Consulting, is used by several prominent organisations including Royal Netherlands Sea Rescue Institution, the Australian Volunteer Coast Guard and the Irish Sailing Association.
Source: Vimeo
The integration with the other apps means that a DJI drone using DroneSAR can easily transmit important data, such as the victim's location, to one of the other apps used by a rescue team.
An annual subscription to the DroneSAR app will cost about €1,200. McGrath said the fact that the data easily integrates with other apps was key.
"From talking to team leaders they said that they didn't need another window on their screens, they want an app that will follow a team through the mountains," he said. "We want the drone to become another team member. If it saves one life then it will have been worth it."
read more on