Trump promises like a 'large border tax' among the biggest risks to Ireland this year
The US president-elect is also promising to go after the pharma industry.
PLANS FROM PRESIDENT-ELECT Donald Trump to introduce "a very large border tax" and make the US a more attractive place to do business are among the major risks facing Ireland in 2017.
That's according to Goodbody analysts, who said that changes to US tax policy could affect the flow of foreign direct investment into Ireland and even tempt American companies with existing operations abroad to bring jobs back across the Atlantic.
At the first press conference Trump has held since he won the US presidential election, he warned he is going to target companies that have shifted jobs away from America.
"You want to move your plant, and you think, as an example, you're going to build that plant in Mexico, and you're going to make your air conditioners or your cars, or whatever you're making, and you're going to sell them through what will be a very, very strong border. You're going to pay a very large border tax," he said.
Trump has previously stated he will introduce a penalty tax on big US corporations that have moved manufacturing plants out of America. The tax could be as high as 35% on products shipped back to the US market.
Last September, Trump also announced a tax reform plan that could see corporation tax in the US drop from 35% to 15%. Ireland's current tax rate for corporations is 12.5%.
The move to introduce such a tax could significantly weaken the IDA's hand when trying to tempt US firms to move to these shores in the future.
Around 70% of the 200,000 of the current IDA supported jobs are in US companies. Additionally, more than one-tenth of the revenue generated by the Irish government comes from corporation tax paid by businesses – a high proportion of which is paid by US firms in Ireland.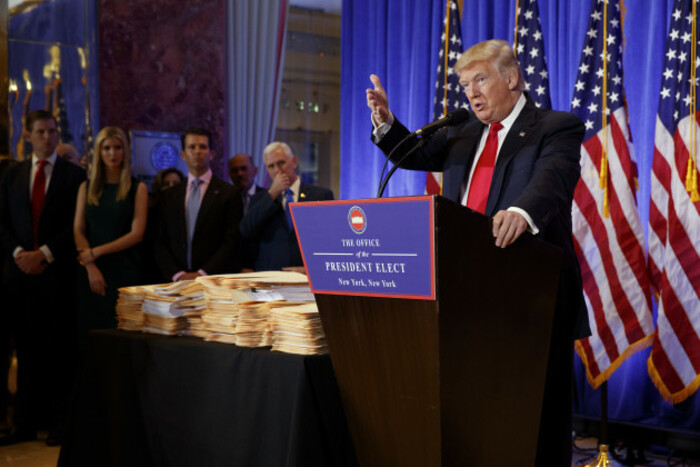 Source: Evan Vucci
Influential pharma
During his presidential campaign, Trump said he was going to encourage car manufacturers, many of which have moved a lot their operations out of America over the past few decades, to shift manufacturing facilities back to the US.
At yesterday's media briefing, he highlighted the pharma industry as his next big focus because it is "getting away with murder".
Several multinational drug and medical equipment developers have moved to Ireland and used a technique called corporate 'inversion' to benefit from lower tax rates on their profits. Many US pharma companies also have significant manufacturing centres to the Republic.
"We have to get our drug industry coming back. Our drug industry has been disastrous. They supply our drugs but they don't make them here to a large extent," Trump said.
"The other thing we have to do is create new bidding procedures for the drug industry because they are getting away with murder. Pharma has a lot of lobbyists and a lot of power and there is very little bidding on drugs.
"We're the largest buyer of drugs in the world and yet we don't bid properly and we're going to save billions of dollars over a period of time."
According to the IDA, roughly 50,000 people in Ireland are employed by pharma firms.
read more on