'My choice was to knuckle down and do something for myself - or emigrate'
As part of our How My Business Works series we profile Dublin-based Docklands Dental.
MONTHS INTO HIS search for a crucial piece of paper, Danny Collins was ready to call it quits.
He was looking for the lease for a building where he was planning to open a dental clinic. The builders were ready to go, terms were agreed with the landlord, but work couldn't start until the crucial document was found.
Further complicating the matter was that the building was owned by receivers appointed by state bad-bank Nama. This meant that there were almost half a dozen different parties involved, none of whom could find the paperwork.
While slightly farcical, it put a serious strain on the relationship between Collins and his business partner and friend Gregg Barry.
"Yes, I felt like quitting. There were numerous days that I would get disheartened and Gregg would pluck on and vice versa," Barry says.
"Any time we saw a different name on an email chain we would ask them where the lease was; I even went down to the Four Courts to find it.
"It culminated in an email sent to (then-finance minister) Michael Noonan and (Nama chair) Frank Daly. The lease was located within 24 hours. It had taken nine months (to find it)."
He adds: "The entire process, from when we wanted to start renting to when we started building, was 18 months. It was nine months to get the lease located, then nine months to get all the different affairs in order with all the parties.
"On the day we signed the lease, I was expecting balloons and champagne, but we just signed a piece of paper and that was it."
Knuckling down
Collins hoped that signing the deal would finally bring some stability to his professional life. The 35-year-old Dubliner finished his dentistry course about 10 years ago, just as the country was about to plunge into recession.
Once the state stopped supporting many types of dental work, business dried up for a lot of practises.
"You went from having a job in a clinic five days a week to working in multiple clinics," Collins tells Fora. "I worked in Bray, Dundalk, Wexford, Sutton…" The list goes on.
In his own words, the choice was either to "knuckle down and do something myself, or emigrate".
Many of his former classmates left the country, and Collins was tempted. "My parents suggested setting up my own clinic, but I couldn't see much light at the end of the tunnel."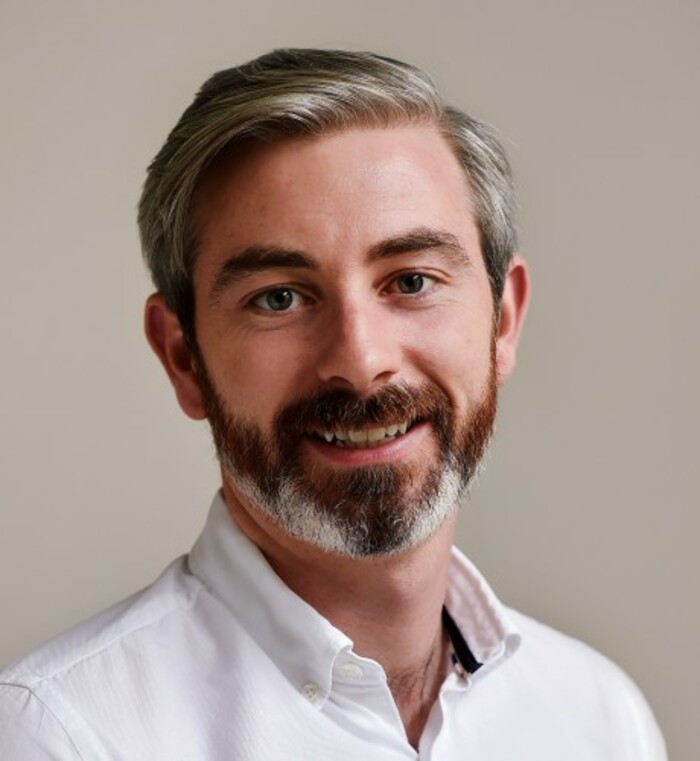 Source: Docklands Dental
However his then girlfriend, now his wife, Marie, had just secured a three-year position in Dublin, and Collins decided he couldn't leave.
"At that stage I made the decision that I wanted to be in control of my own destiny, but I knew I couldn't do it on my own so I approached Gregg."
After the protracted negotiations, Docklands Dental finally opened for business in Dublin city centre in 2013. However, the slow start continued.
"You might have two patients in a day. Me and Gregg worked part-time jobs and would do a full week in the clinic between us," he says.
"We were working about 60 hours a week. Any revenue that we generated we left in the company, and then we lived off the money from our part-time jobs."
At the end of 2013, after he and Marie married, he decided he would go into the clinic full-time. Gregg Barry soon followed him, and the pair extended the clinic's opening hours to facilitate working professionals. The move worked, and gradually business improved.
While he had poured countless hours of his life into dentistry, Collins first viewed it as a means to an end: a way of getting cash "so I could live my life".
A few different experiences changed that, including one where he treated a patient whose daughter was terminally ill.
"(The man) came in as a new patient. When he came in he looked distraught. I had a look at some of his teeth and saw that he had evidence of grinding and cracking," Collins says.
"I asked him if there was anything that was causing him stress, and it turned out that he had a terminally ill child. I decided he had enough going on in his life, and that the last thing he needed to worry about was dental bills. I saw him pro-bono, as did Gregg."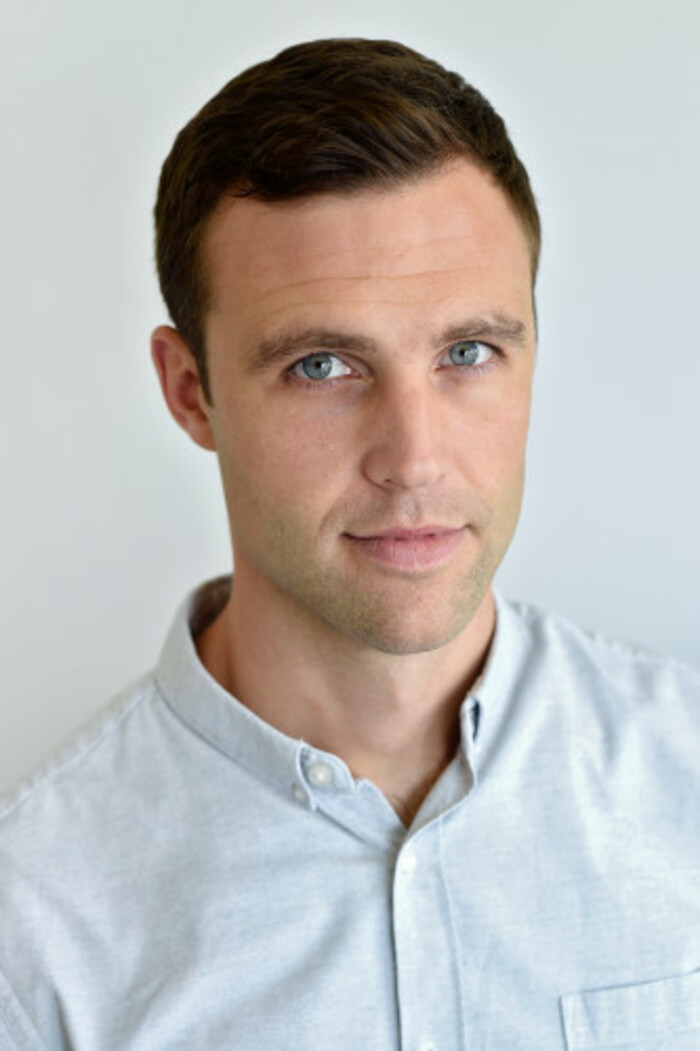 Source: Docklands Dental
The patient subsequently nominated Collins for Dublin dentist of the year, an award he went on to win, and the experience helped give him some perspective.
"I have my own young boy now, he's five weeks old. I can only imagine what that guy was going through," he says.
"I saw how the little things we do can help other people. I'm enjoying my work more now and can see the impact it's having, whereas before I was clocking in and clocking out."
Different areas
Docklands Dental has recently opened a second clinic and now employs over two dozen people.
While it's too early to know exactly how the new practise is doing, the company's main clinic turned over about €1.3 million last year and made a profit of around €100,000.
Docklands Dental is a general dental practise with a bit more of an emphasis on cosmetic work such as veneers.
"We have six general dentists, an oral surgeon for implants, root canal specialists and we've had an orthodontist start recently," Collins says.
As part of its offering, the firm makes a point of doing an hour-long first consultation for €40. This is a loss-leader for the business, which aims to get in patients and explain what work they may later need to get done.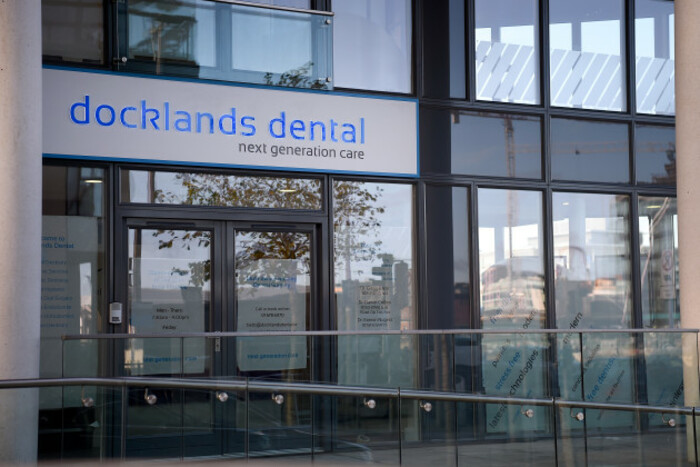 Source: Docklands Dental
"The idea is that we go through everything with a fine tooth comb, tooth and gum health, jaw joints, etc. If there are any issues we give treatment options and then they say what they want to do," he says.
[embed id="embed_2"]
"The price we set ourselves at is mid-range. A small filling could cost €80-€110, a crown could be €650-€850. We've seen a lot of chains try to sell dental treatments like disposable items, (but) the materials we use are all peer-reviewed."
Netflix during surgery
As the company's name suggests, both of its clinics are in Dublin's docklands, and this is also the area from which the business draws the vast majority of its customers.
"About 85% of our patients live or work in the area (and they are) primarily young working professionals with disposable income from Facebook, Citi, multinationals around the area.
"We don't want to eliminate anyone based on budget, you alter things based on what they can afford. It's why you spend time with them at the start of a treatment."
Nevertheless, Collins concedes that it can be tough for Docklands Dental to set itself apart from the myriad of competing practises around the city.
"You had to look at what you can do different to the guy across the road because he can fix a tooth as well as me," he says.
"We brought in small things. We have Netflix on the TV for people who are getting longer surgeries. It gets people talking, they can say: 'I went in to get a crown during lunch and watched an episode of Stranger Things'. It's adding value."
As well as that, the firm has also extended its opening hours and put a focus on 3D printing. With the new technology, a patient can be fitted with a crown on the spot instead of waiting weeks for a mould to be sent off to be made.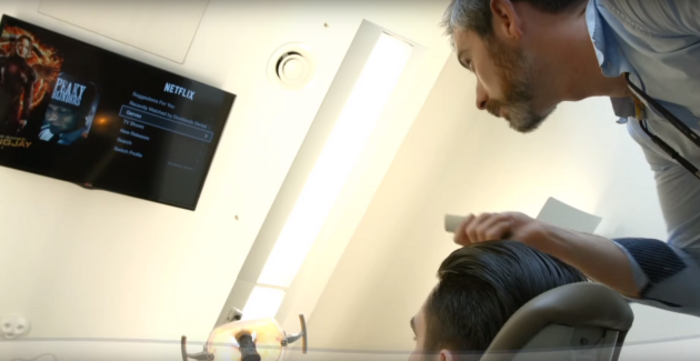 Move away from the coalface
The aim for the company is now to bed down its second clinic in the docklands, as well as setting up a new course for postgraduate dental students.
"This year the focus is on the orthodontist we've just added, we want orthodontics to be a strong area for us. We would be trying to turn the clinic, more from a popular clinic in the area to a destination clinic where people want to come here," Collins says.
"We want to set up a postgrad group, because when you come out of dental school you're a little wet behind the ears. It would give back a little."
With a newborn baby in the house, Collins is also looking to slightly pare back his own hours in the business.
"I will be trying to create more time with our new baby, and I will move the job around it. Me and Gregg are at the coalface at the moment, we will probably need to start doing one day a week where we step back and work out how we can grow the business."
However, the Dubliner is looking for other ventures and isn't ruling out moving beyond the world of dentistry.
"I have friends in different fields who have asked me about other projects from golf travel to fashion," he says.
"It's all up in the air and for me the focus is on my business at the moment, but if something viable comes along I won't urn away from it. I'm not averse to stepping back from dentistry, but it would have to fit around my family."
This article is part of our weekly series examining the nuts and bolts of businesses. If you would like to see your company featured please email news@fora.ie.
read more on