Digital advertising is growing faster in Ireland than anywhere else in Europe
The sector also overtook TV ads as the top earner for the first time.
IRELAND IS THE fastest-growing market in Europe for digital advertising as people increasingly turn to their mobile devices for entertainment.
The amount spent on digital ads across Ireland hit €340 million in 2015, up 29% on the previous year's tally, according to industry body the Interactive Advertising Bureau (IAB).
That rate of growth was faster than anywhere else in Europe, with the next-highest increases coming in Bulgaria and Poland, where spending was up around 22%.
Last year also marked the first time the European digital advertising market eclipsed the TV sector as the main target for the marketing money. The total online spend across Europe grew by just over 13% during the year to €36.2 billion, surpassing the €33.3 billion European TV ad market.
The UK was the single largest market in Europe, worth just under €12 billion. Spending in second-placed Germany was half of that at €5.8 billion.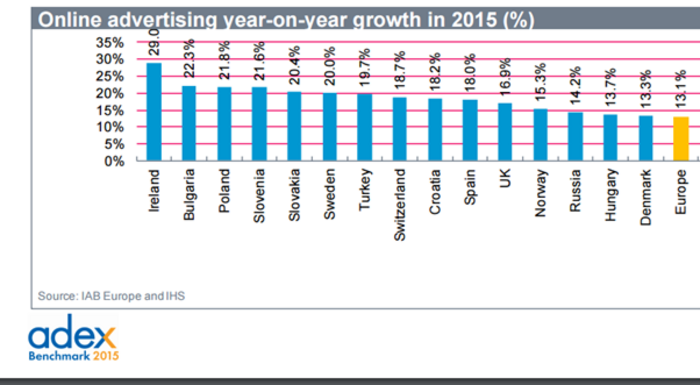 Click here for a larger version
Mobile growth
The IAB, an international organisation that develops standards for the online advertising industry, said mobile and video "continue to be the key growth drivers of the European online ad market".
It added that this becomes "increasingly apparent when looking at the more advanced mobile economies, like the UK and Ireland, where nearly 50% of online advertising is now generated on mobile."
In Ireland, the amount spent on mobile ads surged 78% last year on the 2014 total.
Daniel Knapp, director of advertising research at IHS Technology and author of the report, said that online advertising has "morphed from an afterthought in media buying into an indispensable set of channels for reaching and engaging consumers that now trumps TV."
Figures from media agency Carat released earlier this year noted that 2015 was the first time when the value of digital and mobile advertising significantly outstripped TV spending in Ireland.
It predicted digital ad expenditure would rise by a quarter in 2016, compared to small increases for TV and radio ads, and a minor decline in print advertising.
read more on