Delivery giant DHL must pay over €70,000 to an accident-prone driver it sacked
The former employee was dismissed after causing €2,500 worth of damage to a van.
THE IRISH ARM of international logistics giant DHL has been ordered to pay more than €72,000 to an accident-prone van driver in an unfair dismissal action.
This follows the Labour Court awarding ex-worker Michael Coughlan two years' pay when finding that he was unfairly dismissed by DHL Express Ireland Ltd after his company van collided with fencing at a depot in Cork, causing €2,500 worth of damage.
The accident in October 2015 followed Coughlan going on a refresher training course after he was involved in accidents in DHL vans in 2012 and 2013.
In its ruling, the Labour Court said that the summary dismissal imposed on Coughlan by DHL "was disproportionate and unwarranted in all the circumstances".
The court also found that the courier company did not give due consideration to imposing an alternative and more proportionate sanction on Coughlan or give him the option of contributing to the cost of the van repairs.
The court also found that DHL gave undue weight to Coughlan's previous accidents while driving its vans.
Coughlan received two separate 12-month written warnings for accidents in 2012 and 2013. The court found that the decision to dismiss him was informed to no small extent by those previous incidents, pointing that the warnings clearly provided for their expungement after the 12-month period.
The case was heard by the Labour Court after DHL Ireland appealed a ruling by a Workplace Relations Commission adjudication officer who found that Coughlan was unfairly dismissed and ordered his reinstatement.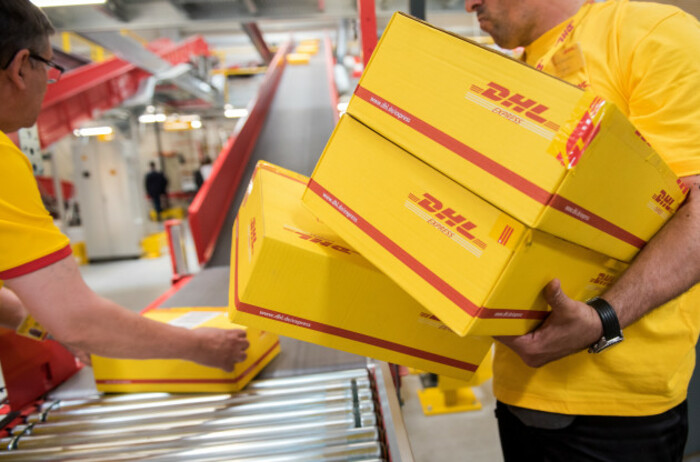 Source: Daniel Bockwoldt/DPA/PA Images
Gross misconduct
DHL sacked Coughlan for gross misconduct after a crash in October 2015.
In the dismissal letter, DHL told him: "The company has serious concerns about your ability to safely carry out your duties as a driver."
"(It) can't trust that you won't have a similar lapse in judgment which may result in further damage or potential injury to yourself or others," the letter said.
In the letter, DHL told Coughlan that it was the company's opinion that he was driving carelessly and that poor judgement had caused more than €2,500 worth of damage to the driver's side of the van when it collided with the fencing.
"This is an extremely serious issue in light of your history with causing damage to both the company van and customer property," it said. "The company has previously provided you with substantial training and has gone to extensive efforts to ensure that you were driving in a safe manner."
Retraining
Coughlan appealed the decision internally, pointing out that the October 2015 accident "was just an error of judgement".
However, upholding the decision to sack him, head of operations Michael O'Farrell told Coughlan: "I do not accept that we cannot and should not consider the other serious incidents that you have been involved in over recent years.
"As a responsible organisation we have made every effort to assist you through retraining in an effort to address any driving skills; however, we now need to recognise the duty of care we have to the public, other staff and to you, yourself."
Following an accident in 2013, Coughlan was offered a choice of redundancy, redeployment to a job in the warehouse, or a driver's retraining programme. He chose the retraining programme.
However, DHL stated that with the October 2015 accident, the company had lost trust in the driver.
Represented by trade union Siptu in the case, Coughlan said that since his dismissal, he had applied for as many as 24 jobs without success.
The ex-driver told the court that he commenced work on a community employment scheme in May of this year and receives an additional €22 on top of his welfare payment.
Sign up to our newsletter to receive a regular digest of Fora's top articles delivered to your inbox.
read more on