A plan to give tax breaks to developers looks dead in the water
New research indicates Ireland may need 50,000 extra houses a year.
NEW TAX BREAKS for developers are unlikely to be brought in as part of this year's Budget after Finance Minister Paschal Donohoe expressed "strong reservations" about the idea.
At a recent meeting with business groups, the minister said that such a move would be a repeat of past policy mistakes, and is understood to be against the proposal.
The plan was first raised by Fianna Fáil, whose housing spokesman Barry Cowen told the Sunday Business Post that VAT rates for developers should be reduced to 9% for three years.
He also said that levies should also be reduced for builders who start work on homes immediately.
The idea is to provide more incentive for developers to build homes in an effort to help address the country's ever-worsening housing shortage.
However, at a private pre-Budget meeting with several industry groups, including the Construction Industry Federation, Donohoe is understood to have expressed "strong reservations" about the plan.
The Irish Times reported today that the finance minister said that there is no guarantee that the move would result in more houses being built and added that he would prefer the state to focus on providing social housing.
It is understood that the minister said that more targeted measures can be used to aid the housing crisis instead of a VAT reduction. The VAT cut for builders would likely cost the exchequer about €240 million.
Criticism
Cowen's plans came in for some criticism earlier this week, with Sinn Fein's finance spokesperson Pearse Doherty claiming that they showed Fianna Fáil up as "the developer's party".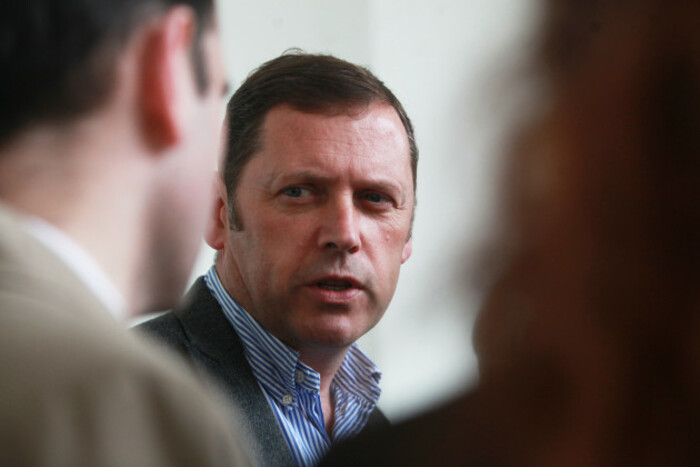 Source: Leah Farrell/RollingNews.ie
However, Cowen defended the move, telling RTÉ's Morning Ireland that the cost of construction is one of the major issues holding back builders.
"We are merely seeking to stimulate activity in order to be in a position to construct more homes and to allow more solutions," he said.
'More severe'
The reports come as new analysis from Davy Research suggests the scale of Ireland's problem may be even more severe than has been thought.
It has often been suggested that the Irish market needs about 25,000 new houses to be built a year to meet demand.
However, the Davy research note indicated that housing demand could be as high as 50,000 new units per year until 2021.
Davy's researchers added that the official figure for 2016 housing completions of 14,900 "probably overstates the true level of homebuilding by a factor of two".
"Furthermore, completions in Ireland have been heavily reliant on finished 'ghost estates', which have now been largely eroded. This means the housing demand/supply imbalance in Ireland is even more severe than we had thought," the note said.
Sign up to our newsletter to receive a regular digest of Fora's top articles delivered to your inbox.