Deliveroo is dropping sign-up fees as restaurants turn to delivery in the pandemic
Rivals Uber Eats and Just Eat have also introduced measures to get more food businesses on board.
DELIVEROO IS SUSPENDING its registration fees for new restaurants as more food businesses sign up to the platform amid the Covid-19 pandemic.
With chairs and tables empty in premises, many restaurants have had to shut up shop in a bid to delay the spread of the coronavirus.
On Wednesday, the Government issued a raft of new restrictions to address the pandemic, closing all non-essential businesses and placing stricter limits on any public movement.
While restaurants will close their regular operations, they will be allowed to continue providing take-away and delivery services and premises will not require planning permission to convert their functions to take-aways.
These will all be key factors in helping some restaurants to continue to operate during the crisis and keep employees on the books.
Deliveroo said it has seen 100 new restaurants sign up over the last two weeks with many businesses turning to delivery for the first time.
The company is dropping the on-boarding fee that it usually charges to restaurants that sign up to the platform and said that it is re-assigning staff to support the increase in onboarding applications.
Deliveroo is advising restaurants on enhanced packaging and hygiene practices. It and other delivery services have instituted limited contact delivery, allowing customers to arrange food drop-offs rather than it being handed directly to them.
Some restaurants in Dublin have introduced measures, over the last two weeks, to manage the number of delivery riders coming onto the premises, such as designated waiting areas that allow for the correct level of social distancing.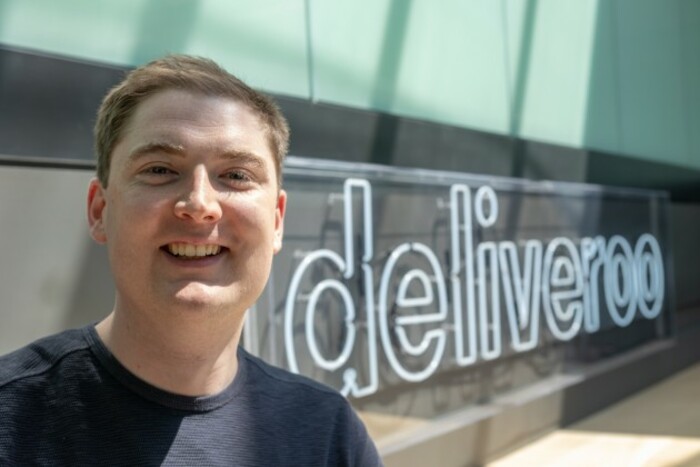 Source: Deliveroo
"We are working with restaurants to optimise their operations for delivery, and we are doing everything we can to make sure people still have access to the food they want and need," Michael Healy, Deliveroo's Ireland manager, said.
Earlier this month Deliveroo's chief executive Will Shu said in an email to customers that the company would be providing financial support to riders who are diagnosed with Covid-19.
Industry response
The increased pressure on food delivery during this pandemic has led to many delivery platform companies mobilising different supports to keep business flowing.
Deliveroo's latest moves follow an announcement by one of its chief rivals, Uber Eats, on Tuesday. It said it was waiving registration fees and offering free delivery for some independent restaurants until 31 March – at which point Uber Eats will review its measures.
Just Eat also announced a €1 million package of supports for Irish restaurants on its network that includes measures such as dropping registration fees as well as reducing commissions for independent restaurant businesses that have four premises or less. The measures will be in place for 30 days.
Meanwhile, Irish taxi app Lynk announced earlier this week that it would be rolling out a delivery service by using its fleet of drivers.
Get our Daily Briefing with the morning's most important headlines for innovative Irish businesses.