'We can be fooled into thinking that, in a moment of pressure, we have to react instantly'
Tools of the Trade: We spoke to Social Innovation Fund Ireland boss Deirdre Mortell about cash and Dr Seuss.
EVERY WEEK, FORA gets inside the heads of some of Ireland's top entrepreneurs to gain insights into what got them to the top of their trade. This week we spoke to Deirdre Mortell, CEO of Social Innovation Fund Ireland. 
Deirdre Mortell might now be running a €52 million social innovation fund, but her mission hasn't changed much since her mid-20s.  
Having dedicated her career to promoting philanthropy and supporting social innovations, Mortell's role as the first head of Social Innovation Fund Ireland is a perfect fit. 
In response to growing issues such as homelessness and poverty, the fund was established in 2015 upon the recommendation of a government task-force on philanthropy. 
Ultimately, the fund aims to become the 'Enterprise Ireland of non-profits' by promoting philanthropic projects across the country. Every euro raised by the fund is matched by the state through government departments.
Right now, it is a €52 million fund – Mortell is driving towards €200 million. 
As part of our weekly Tools of the Trade series, we spoke to Mortell about her love of Dr Seuss and why cash is king.  
Why are you running the company?/What drives you to keep going?
Social Innovation Fund Ireland is just four years old and I have been CEO since the very beginning. That means I am fundamentally committed to the mission, which is long-term. (The Mission) is to promote philanthropy in Ireland and through that to support the development of social innovations.
Coming out of the recession, there was a big fall in philanthropy in Ireland as the two largest foundations closed (Atlantic Philanthropies and the One Foundation).
At the same time, the government was cutting its budgets through the IMF bailout. So there was a huge need for philanthropy to support solutions to critical thought issues right at that moment.
Are you a specialist or a generalist?
Both. I am a specialist in philanthropy and the social change sector. I've worked in that for 25 plus years. But I'm a generalist because I've played loads of different roles within that. I've been in management, fundraising, marketing, advocacy, I've sat on boards. 
What makes you feel under pressure and how do you deal with it?
I get up, walk around, and breathe. I'm very careful about not jumping to decisions and not reacting too quickly. One of the things we can be fooled into thinking is that in a moment of pressure, we have to react instantly. That's a great way to make a bad decision. I have built into myself to press the pause button. 
One of the things about running a nonprofit organisation is you have a lot of different stakeholders. You need to keep a lot of plates spinning on lots of different agendas at the same time.
I find the pressure of that quite stimulating. It keeps me alive.  
What quality has helped you stand out?
I'm very results-driven and results-focused, but the contrasting quality is that I think I also am quite high on empathy. I'm able to move forward quickly in a laser-like way while also thinking about what it's like for the other people around me and walking in their shoes. So how can I make sure that other people are on board with where I think we need to go? I'm very good at finding the win-win.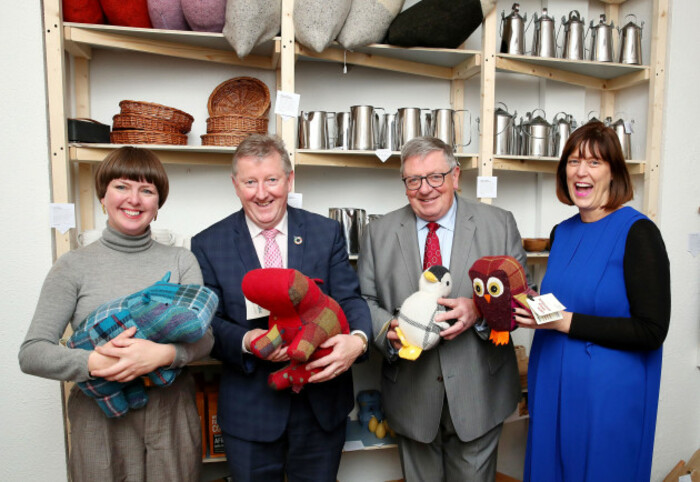 Source: Marc O'Sullivan
What helps you switch off?
Reading a novel – diving deep into a story that has nothing to do with my life. I'm an avid reader of novels, especially contemporary novels by women from all over the world.
Also, I spend a lot of time in West Cork out in nature, far away from the city and everything that I do in the daytime. That is my sanctuary.
What ambitions do you still have?
The same ambitions that I've had from the very beginning when I started working at the age of 24 in the sector. I want Ireland and the world to be a more equal and fair place to live.
I won't be satisfied until Social Innovation Fund is the Enterprise Ireland for the nonprofit sector, including having the kind of budgets that would reflect that. I see us as a €200 million fund. That's where we're heading.
What's one habit you would recommend people starting in your sector take up?
Find a mentor. Nobody had ever heard of mentors when I was starting out.
That's very common advice to young people in business and very uncommon advice to young people in the social change sector. I think it's equally applicable and equally important because in the social change sector career paths can be quite hard to find as they're not always clearly set out.
When I look back, I did have mentors. I just didn't know that's what they were. 
What is the most important question to ask?
Why. Every time anybody gave me something to do or said "this is our strategy", "this is where we're going", or "this is what I want you to do", or "this is where I want you to go"… I think asking the 'why' question doesn't have to be aggressive.
It can be an inquiry, it's a tremendous way to learn – and also to test whether there is a rationale to what you're being asked to do, particularly when you're young and in a junior position.
Is technology a friend or a foe in your sector?
It's indispensable. Slack is our virtual water cooler. 
Is there anything Irish businesses don't talk about that you think they should?
I think Irish business needs to talk much more about ethics, from large multinationals down to the corner shops. 
What was your biggest business wake-up call?
Cash is king. There was a moment when we had a lot of promises of money but none of it had actually come in the door. We had a very difficult, but thankfully short, time in which we solved it. That's not a feeling I want to have ever again. 
What book would you recommend the most?
Oh the Places that You'll Go, by Dr Seuss.  I give that as a gift to a lot of people who are starting new jobs, moving country or making a life transition. I love the way it paints the picture of the amazing high places, but also the tremendous lows you're going to go through all the way – how realistic it is, but also how hopeful it is. 
Get our Daily Briefing with the morning's most important headlines for innovative Irish businesses.