Deciphex wants to reduce pathologists' workload using artificial intelligence
As part of our weekly Startup Spotlight series, we profile the medtech company.
DONAL O'SHEA knows the ins and outs of the medical industry.
He started his career as a biotechnology academic in DCU before he founded and sold medtech firm Slidepath and moved on to work with conglomerate Danaher. Meanwhile he also sits on the board of startups including Oncomark.
During his tenure in these roles, he saw the emergence of artificial intelligence and its applications in health and medical research, which presented both opportunities and challenges.
O'Shea and chief operating officer Mairin Rafferty began building Deciphex in 2016 as a way to use AI to improve the workflow in pathology and diagnostics.
The examination of slides and scans still requires a lot of manual processes but AI techniques such as image recognition and pattern recognition could help makes sense of diagnoses faster by weeding out serious cases from the benign ones.
Deciphex's product Patholytix helps triage these cases and ease the workload of pathologists, O'Shea says.
He recalls a conversation with a pathologist in 2016 about bottlenecks in their workflow.
"We were just talking about the concept that a lot of diagnostic material reviewed by pathologists is actually normal, (or) if not normal, pretty benign or of low-interest," he explains.
"It's of great interest to the patient as you can understand, to find if they have negative or benign diagnosis. Ultimately the pathologist wants to concentrate on the more difficult and challenging cases."
O'Shea describes Deciphex's approach as a "bit of a flip on the logic".
Many medtech startups try to emulate key tasks whereas Deciphex is trying to automate the more mundane side of things so pathologists can focus on more critical patients.
Context
AI holds great promise for improving healthcare processes but is not a total panacea either, O'Shea says, as medical technology innovations are only as good as the context that they are created in.
This is particularly important when patients' health is at stake.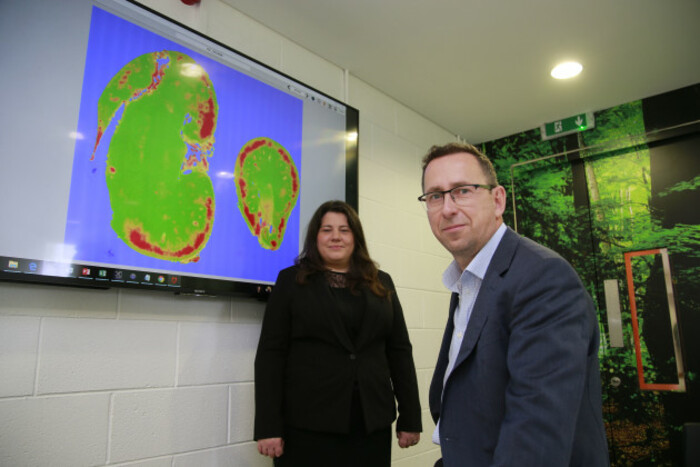 Source: Nick Bradshaw
"One of the interesting challenges of applying artificial intelligence to any product is the element of context," O'Shea says.
In other fields like driverless cars, AI specialists will likely have a strong sense of context for the problem they're solving.
"Someone that's working on a self-driving car probably drove to work that morning," he says. "They understand the problem, they understand the scope of the challenge that they're trying to resolve."
An AI developer most likely doesn't know how to read an MRI scan so any AI engine they build needs input from medical professionals to help interpret the imagery and train the AI.
"In medical disciplines, you often have technologists who understand the artificial intelligence side but unfortunately they don't have any context on the problem itself.
"That's the big challenge for the application of AI in healthcare – actually marrying the skills of the diagnostician itself with the artificial intelligence capabilities of the technologist."
He says that Deciphex's team of 14 is a mix of technologists and staff with medical backgrounds.
Customers
Patholytix is currently being used by clinical study groups and pharmaceutical development firms.
Rolling out the product is a gradual journey, O'Shea explains, given the regulatory standards that it must meet.
It is building more and more evidential data from areas like drug research to back up possible plans to expand into other areas of healthcare, such hospitals for day-to-day use.
Deciphex raised €2.3 million in funding earlier this month from US investors NextSteps Capital, Inova Personalised Health Accelerator and GI Partners of Illinois as well as a number of Irish backers.
The fresh injection of cash will fuel the company's customer acquisition strategy, US expansion plans and grow the team to 20 people by the end of the year.
The startup has also raised money through EU grants with its involvement in a programme with pharma giant Jannsen.
Last year it was part of a group with IBM and the Royal College of Surgeons that received €5.7 million from the Irish government's disruptive technologies innovation fund.
But medical technology is a costly business to fund and grow in.
"We see it likely that we will be raising further capital in the years ahead."
Get our NEW Daily Briefing with the morning's most important headlines for innovative Irish businesses.