Big ideas with small beginnings: How DCU is harnessing the power of nanotech
Have a bright idea for nanotechnology? The college's new 'open access' model is open for business.
THERE'S A TINY white dot in the centre of a petri dish in an upstairs lab of DCU's Nano Research Facility (NRF).
It's almost invisible to the eye but Robbie Sinnott, facilities manager, holds the glass dish over black A4 paper and the dot stands out.
With the help of a specialised electron microscope, it can be magnified to two million times its size to show a model of Sydney Harbour Bridge.
The miniature bridge has been created by a nanotech 3D printer, called a Nanoscribe 2-photon printer, that Sinnott said uses a laser to harden the liquid in the desired shape.
There's plenty of use cases for the equipment. Sinnott explained that when it comes to testing body fluids like saliva or blood, the printer allows you to create a tiny net-like instrument that can separate cells.
As Fora stood in the upstairs lab of the facility, different groups entered and exited the various rooms to view the equipment on offer. It has been four years since the nanotech facility officially opened and it's now very much open for business.
A group including funding agencies, researchers and business people attended an event, last week, that showcased all the 3,000 sq m facility has to offer.
While traditional funding for research in Ireland is awarded to a project that's overseen by a supervisor and has researchers working on it, NRF is experimenting with an "open access model".
"What makes this unique or to the forefront of what's going to happen is that all the vested research parties brought in equipment through various funding mechanisms – but it's managed away from the researchers," Sinnott explained.
The business model allows companies to use the facility for an hourly fee. "It's well-calibrated, top-end equipment and there's technical and consultancy support available too," he said.
The facility has received around €15 million in funding from the Higher Education Authority and €5 million from Science Foundation Ireland. 
In each of the rooms, a different researcher was showcasing equipment and explaining what some of the use cases are, including one machine that is analysing the hardness of an eggshell. 
Every external factor matters more when you're working with small measurements – and the research facility has tried to remedy that. Sinnott said the larger equipment has been placed on the basement level on bedrock based concrete plinths so not to interfere with results.
"When you walk around, you're on a wooden floor but the machines are on a concrete plinth," he explained.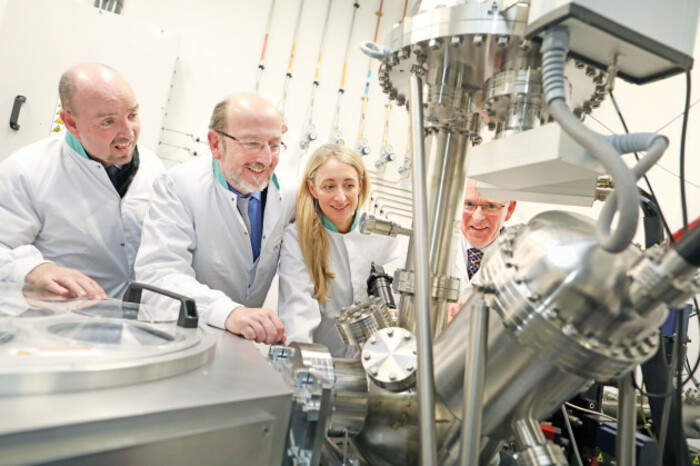 There's a facility in the basement that has piqued the interest of Intel, which it is using to develop the design of the wafers used in electronic chips but the machine has multiple use cases.
The custom-built facility combines two machines and is worth about €3.5 million and uses industrial tools to mimic what Intel and other multinationals would use in their manufacturing. 
Sinnott explained that it's not a machine that Intel would have access to because the company is more focused on mass production
"This machine is in the middle ground. So where Intel wants to produce lots of parts repeatedly of the same thing, they also have to be developing the next phase of what microchips are going to be in the future," he explained.
The machine can place atomic-sized particles for layering the wafers in a certain pattern. The combined machine speeds up the research and development process, doing in four hours what it would take Intel to do in two weeks if it used its own equipment and an external lab. 
Other companies the NRF has worked with include medical device company Abbott, pharmaceutical company Mallinckrodt and agribusiness firm Alltech, among others. It's also open to other academic institutes.
For DCU, this could be a future model that would benefit multiple researchers and members of industry across Ireland. 
"Ireland needs to stop duplicating funding for capital equipment that has low utilisation. Centres of excellence are needed – we have people from UCD and Trinity here today and they have used some of our facilities and likewise, we use theirs and we don't try to replicate," Sinnott said.
"Ideally (with replication of this model) we will end up in a situation where you have excellence facilities specialising in core areas," he explained.
Get our Daily Briefing with the morning's most important headlines for innovative Irish businesses.
Note: This article was updated to correct some descriptions around the technology.