Heavyweight contenders, streaming giants and sports rights
What does DAZN's Irish ring-walk mean for sports broadcasting rights?
CONSISTENCY IS WHAT fans of the sweet science have come to expect when Katie Taylor enters a ring.
Consistency is what they got last November when the unbeaten Bray Bomber dispatched Christina Linardatou by unanimous decision to leave the Manchester Arena as a two-weight world champion.
But the next time she ducks under the top rope – on May 2 to face Amanda Serrano – something will be different. That's because taking its very own ring-walk alongside Katie will be sports streaming company DAZN (pronounced 'Da Zone').
Owned by British-American billionaire Len Blavatnik's Access Industries, the so-called 'Netflix of sport' is about to enter phase one of its 'global' expansion, which will make the would-be streaming giant available in over 200 countries, including Ireland.
Thanks to a deal with Eddie Hearns' Matchroom Boxing USA, DAZN has acquired the broadcasting rights to Taylor's bouts.
Now that the likes of DAZN and even Amazon are sniffing around the Irish sports rights market, how will the ball bounce for rights holders as well as the fans and the sports themselves?
Tectonic plates
"If I were the likes of the Sky I'd be very worried", Maeve Buckley, managing director of sports agency Leading Sport, told Fora. "(The streaming model) has the potential to offer an awful lot more to the rights holder and probably offer an awful lot more to the consumer as well."
For those selling sports rights, the market's shifting tectonic plates have been a boon over the past half-decade. Once upon a time, the field was dominated by terrestrial broadcasters, RTÉ, ITV and the BBC, who were subsequently joined by telecoms giants, Sky Sports and BT Sports.
In the last five years, even those heavyweights have been rivalled by deep-pocketed contenders like Eir Sports, owned by French telecoms tycoon Xavier Niel, and Virgin Sports, a subsidiary of US billionaire John Malone's Liberty Global, who now scrap with one another for the most lucrative sporting events.
The Premier League, which will pocket close £4.5bn for the 2019-2022 period from foreign rights alone – an improvement of 35% on the previous broadcast cycle – is the shining example of how this increased competition has swelled rights holders' coffers.
The arrival onto the scene of streaming giants like Amazon, DAZN and even Facebook and YouTube —which also now compete for broadcasting rights — is only going to improve that situation in the short to medium term.
These cash-rich companies are just beginning to flex their muscles.
In 2018, for example, DAZN scooped the Italian broadcast rights to 114 Serie A games per season for three years, a deal worth around €600m, according to the Financial Times.
Around the same time, Blavatnik's outfit also inked a five-year, 11-fight deal with Canelo Alvarez worth €325m.
His first globally available fight will also be broadcast by DAZN on May 2 — the same night as Taylor vs Serrano — to inaugurate the company's expansion.
While the first phase of DAZN's move into the Irish market will focus solely on boxing content, the medium to long-term goal is to compete with the big boys like Sky and BT for the rights to major events like UEFA Champions League matches.
"DAZN has invested heavily in a lot of different sports rights in a lot of different markets. So it's got a sustainable business model there," which is appealing to rights holders, Rob Hartnett, chief executive of business network Sport for Business, said.
Bite-sized chunks
For Hartnett, the streaming model could add value for the rights holder by providing new ways to monetise content.
"If you look at (NBA League Pass), you can buy the final quarter (of a game) for 99c," he said.
"So if I'm watching the Celtics against the Lakers, and I'm out at work or I'm with the kids or something like that, and I come home, and it's, halftime or in the third quarter, I can actually go in and I can just buy in to watch that.
"That's the kind of micropayment that is probably where this is all going in the future," Hartnett said.
Buckley agreed that micropayments and chopping content up into "bite-sized chunks" could be very lucrative for rights holders.
"The (revenue) rights holder would stand to gain, could be much bigger than doing the traditional deals with Sky or whoever," she said.
But whether or not the 'Netflixification' of sports is a good thing for consumers is a matter of some controversy.
Where once Sky Sports on its own was enough for the average Premier League fan to follow their favourite team, consumers now have to navigate an increasingly Byzantine market of competing packages.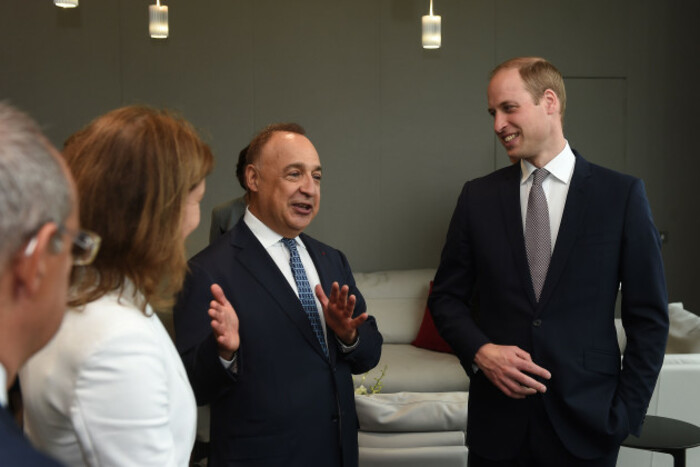 Source: PA
No surprise then that politicians and rugby players alike have been griping about the prospect of Amazon winning the rights for the Six Nations and putting it 'behind a paywall'.
Although subscription streaming services like DAZN are competitively priced, the fear is that in the short run, these companies entering the fray will simply further break up the market, making it even more difficult and expensive for fans.
This could, of course, negatively impact fan engagement with a particular sport and dilute its popularity.
There are, however, examples of the opposite happening, Hartnett told Fora.
"Netball was one of those sports which was played in sort of nice schools in England and players played until they were 16 and then they just stopped. Then, in Australia, TV investment went into this sport and all of a sudden the sport took off," he said.
"And then Sky did it the same in the UK. They brought on board a sponsor, all of a sudden netball as a sport has just blossomed."
But boxing isn't a sport that needs much of a boost in Ireland.
Subscribers to DAZN will have to fork out between €5 and €6 per month for the service, which will get them all of Canelo's and Gennady Golovkin's fights for the foreseeable future.
DAZN is also said to be in competition with BT for the rights to the upcoming Deontay Wilder vs Tyson Fury trilogy match.
Although May's much-anticipated scrap with seven-weight champ Serrano will also be available on Sky Box Office, Katie Taylor's future fights will increasingly be exclusive to the streaming company, meaning her legion of Irish supporters might have to sign up to the service.
But when it comes to the sometimes confusing business of broadcast rights, Irish fans are getting used to being thrown curveballs.
With these streaming giants poised to burst onto the crowded scene, they should be prepared for the landscape to change yet again.
Get our Daily Briefing with the morning's most important headlines for innovative Irish businesses.