This man has brought a concept that's shaking up London's property market to Ireland
As part of our weekly Startup Spotlight series, we profile Moove.
REAL ESTATE AGENT David Madden may have left Ireland during the downturn, but something he saw in London made him want to pack up again and come home.
Since the age of 17, Madden has dabbled in real estate after following his parents, who sold property overseas, into the sector.
After a failed tilt in 2007 at setting up a business, Honk, to rival Carzone in Ireland, he left the country and began working in sales in the UK.
As the property industry picked up, he moved back into work as a real estate agent and came across an idea that was turning the London property industry on its head.
"The estate agency market in London is saturated," Madden tells Fora. "So they started coming up with ways to get ahead of each other and the commissions were dropping.
"I saw companies like Purple Brick start coming up, offering no commission and set (real estate services) fees. They were getting a huge market share in a very short space of time, so I packed my bags and came back to Dublin."
Purple Brick, an online estate agent that charges set fees instead of commission, is the company Madden has tried to emulate with his own online-focused real estate agency, Moove.
The UK firm listed on the country's junior stock exchange in late 2015 and its market value has since soared to a peak of more than £1 billion.
Madden says his startup, which was launched last summer, does the same work as other estate agents, except it charges a set fee of €2,500 for bringing a property to market.
That sum includes a property valuation, handling viewings, producing 'for sale' signage and advertisements on the main listings websites.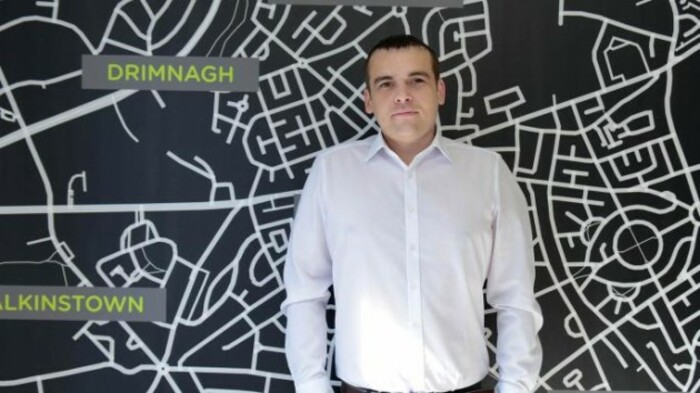 Source: Moove
Madden adds that sellers can opt for a lower, €1,800 fee if they are willing to show people around the property themselves.
"Most of the big real estate agents charge on commission. Realistically, on an average home, they would charge 1.5% to 2%.
"The saving average in Dublin at the moment that we're seeing is between €5,200 and €7,200. We literally just sold a house in Sutton, in the space of two weeks, where a homeowner saved €9,500 selling through us."
Another advantage of the online estate agency is the 24-hour nature of the business, according to Madden.
He says users have been putting in offers and contacting homeowners about viewings via the platform at "one, two and three o'clock in the morning".
While the business has pitched itself as an online service, it has also set up a brick-and-mortar presence in Dublin's Christchurch area.
"The reason we did that was we didn't want to enter the market as a solely online estate agent," he says.
"I find that when we sell properties our buyers are coming into us with a cheque, and there is no way they will fire that across as a bank transfer without sitting in an office.
"So we've approach this with a hybrid business model where we have a place people can come in, sit down and talk to us."
Proving the model
Madden says one of the biggest obstacles in the business had been overcoming people's assumptions that the low fee meant there "must be a catch".
He adds Irish people can be quite skeptical about new ideas and the key challenge in setting up Move was proving the model works.
Source: RollingNews.ie
Funding was another hurdle, until a pitch Madden posted on the Irish Investment Network website drew in some backers.
The investment was only €40,000, but that was enough to get the company to launch stage. Madden is now targeting a larger round to help the company secure a bigger share of the Dublin real estate market.
"We're just closing off a €200,000 raise now on Crowdcube. We're about 70% funded now and that funding is designed to get us through 2018.
"None of that will go on salary, that's designed to help us build the app which will work seamlessly with our back-end platform. People are viewing property on their phones these days and we want to be able to send push notifications about valuations and offers to them."
[embed id="embed_2"]
Crowdfunding
The startup opted for the crowdfunding approach to serve two needs: raising money and building up its property stocks.
Madden says people who invest €500 into the business can sell their property on Moove with full estate agency services. For €250, Moove will let any property for an investor.
"We're looking to have about 400 customers by the end of the year and at that point we are going into a third round of investment to raise between €2.5 million and €3 million," he says.
Nevertheless, Madden says the company needs more customers to stand a chance of getting the attention of venture capital firms.
He adds that focusing on the Dublin market is the company's best chance of increasing its stock.
"Dublin has about 50% of the revenue for property sales in the country and it will allow our marketing budget to go a lot further."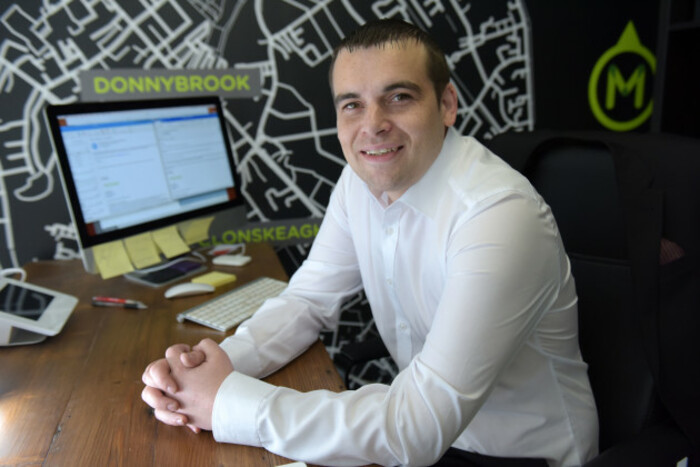 Source: Bryan Meade
Despite the Dublin focus, Madden adds that the company currently has properties for sale from Killarney to Malin Head.
"We will sell property anywhere, but in terms of expansion outside Ireland, we're not looking at that right now. It's definitely something for the future.
"Although we're doing the exact same as real estate agents, it's a completely new market we're entering into. So Ireland is our firm focus for the first three or four years."
Sign up to our newsletter to receive a regular digest of Fora's top articles delivered to your inbox.