Now out of stealth mode, DataEgg is bringing AR to the factory floor with VW and Huawei
The Kilkenny startup said it's now ready to move the major projects to their next stages.
AFTER MORE THAN a year in 'stealth mode', Kilkenny IoT and augmented reality startup DataEgg is gearing up for expansion through projects with global giants Volkswagen and Huawei.
DataEgg has been quietly working on technology that applies the internet of things (IoT) and augmented reality (AR) in industrial and retail settings.
"We're at that stage now where it's ready to kick off," chief executive Gary Sheedy told Fora.
It creates tools for maintenance alerts so that technicians can stay on top of faults and repairs, and technology for navigating large indoor spaces where GPS-powered systems don't work. 
For example, a maintenance engineer can receive an alert to their device, via an IoT connection, about a fault in some equipment.
The app will then show the engineer the fault through AR and provide a visual guide to help inspect the machinery and repair it. The engineer can log their reports digitally with a timestamp to create an audit trail of all repairs.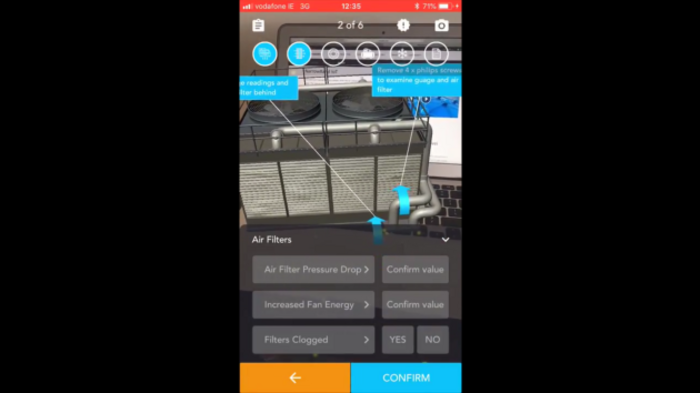 Source: YouTube/DataEgg
Earlier this year the company initiated projects with Volkswagen and Chinese telecoms giant Huawei, and after initial talks it's ready to advance these projects to the next stages.
"(Volkswagen is) looking at utilising our AR apps for locating and identifying faults," Sheedy said.
"We're using our inspection app, which allows the user, when they're inspecting a particular process or machinery, to identify any areas that need to be addressed. (It will) then notify any members, and you have an electronic trail of that."
The Kilkenny startup managed to get on the car-maker's radar after competing in a pitch contest.
It is now in the midst of developing the system for Volkswagen and will be launching a proof-of-concept in one of its factories in the coming months with a view to eventually deploying the technology in all its factories.
The Huawei partnership will "jointly go after new business in smart factories and smart retail", Sheedy added.
DataEgg's technology is integrating with Huawei's OceanConnect, a platform for managing IoT devices and their data.
It's using narrowband IoT, which refers to a connected network of devices spread over a relatively small area that only requires low amounts of bandwidth to transfer data.
This type of network is ideal in a factory or retail setting to transfer information across devices.
"We have a number of projects now with Huawei and their customers to provide tracking solutions for customers wanting to take advantage of narrowband IoT, and we're currently in trials."
Sheedy said DataEgg will be rolling out the next proof-of-concept with Huawei next month.
"We're currently looking at expanding that relationship. We're getting a lot of traction with them and customers and they're looking at exploring the value add of AR for their business."
Startup expertise
Sheedy said that big companies like Volkswagen were likely to turn to startups like DataEgg because of their ability to quickly deliver solutions.
Car-makers and pharma companies are highly regulated, so often their hands are tied when it comes to deploying new tech.
"For them to be able to use stuff on the factory floor or new technology, it has to be approved and getting those approvals is difficult, it takes a long time," Sheedy said.
"To take on new technologies they have to be able to prove it first, and what they're doing is getting startups to work with their teams internally to do what we're doing.
"Test it on a pilot, test it in a canned environment and then scale up slowly and see how it works before adopting the technology."
Funding
To date, the company has been largely self-funded, Sheedy said, however it is now "actively" looking for investors – and has been in touch with several interested parties.
The company has a team of 12 split between Kilkenny and Ukraine. The latter is where much of the software development happens. It's looking to close a round of funding and grow the team to 30 by the end of the year.
Sign up to our newsletter to receive a regular digest of Fora's top articles delivered to your inbox.