DataChemist wants to make sense of big-picture intelligence in the data analytics 'arms race'
As part of our weekly Startup Spotlight series, we profile the Dublin company.
IT'S ONE THING to describe your competition as fierce but to call it an "arms race" is something else.
That's how Kevin Feeney describes the data analytics field that his company, DataChemist, exists in.
The increased attention on the power – and pitfalls – of data and laws like Europe's stringent GDPR law may be creating problems for lawyers and CEOs, but the opportunity for companies like DataChemist is huge, the chief executive says.
"I think it did help to a certain extent. It helps to clarify everything and from our point of view, we provide tools which help our customers to manage their data.
"We give our customers greater control over data and people are more aware of the risks," he says.
"These are attractive selling points, people are much more aware of it."
DataChemist was born from data science research that Feeney was conducting for years at Trinity College Dublin and was officially spun out last year.
"We were working on two big research projects," he tells Fora. "One was called the global history data bank to build data sets describing every historical society that's existed since the Neolithic (age), trying to do big-picture analytics on those."
After years of research, which received EU funding, he says "it was obvious that we had something commercial".
"There's lots and lots of demand for the ability of technology that can quickly analyse large amounts of data and particularly searching through it for connections people haven't seen before."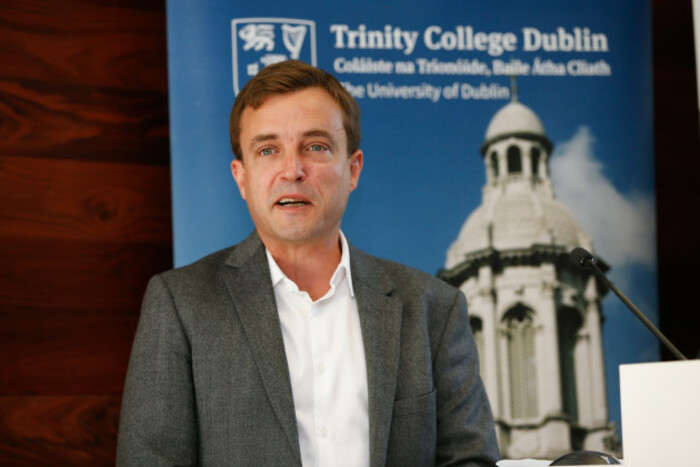 Source: DataChemist
DataChemist came out the gates fast, backed by a $1.2 million investment from Atlantic Bridge and Enterprise Ireland, to take on this arms race to make sense of the world's jumbled data.
"Since then we've basically been accelerating and growing and taking on board new customers and so on," Feeney says.
Access to analytics
DataChemist is creating expansive data analytics tools that help smaller companies utilise resources that were once the preserve of technology giants like Google.
More specifically, DataChemist is operating in an area referred to as 'knowledge graphs', where many data points are linked and interconnected.
"This is an idea where we try to build a really large single view of all the things in our world and all these relationships between them," he says.
"This was really pioneered by Google and Facebook. They built a very large knowledge graph where they can store really vast amounts of data about individuals and the relationships between one another so they can gain a really good view on the consumer market."
Companies that aren't your massive tech giants often struggle with that, he says: "That's where we come in."
DataChemist, which provides its data analytics via the cloud, helps put shape on data sets and visualise the interconnecting relationships in the data. In some cases, it builds an on-premises solution for companies that are sensitive about letting data out the door.
"There's such a volume of data that picking the signals out of the noise, which products are more popular, which products are more profitable, is very difficult," he says.
"That's the type of area that we can really help. We can integrate all that data and analyse correlations on an end-to-end basis."
The typical profile of one DataChemist customer is a retail chain with multiple stores and huge swathes of data that needs to be managed.
To date, the company has six paying customers under its belt and is also used by a number of research bodies, including groups at the University of Oxford, and NGOs.
US market
The US market is a "natural place" for DataChemist's product, Feeney says, particularly in the finance sector.
"The US is in many ways more culturally technology-forward than Europe. People tend to adopt stuff quicker. People tend to be a little bit more conservative here."
[embed id="embed_3"]
DataChemist is already making moves on the other side of the Atlantic to get the ball rolling with some staff working out of a small space in New York.
The company is now seeking a series A round of $20 million and is in talks with investors in New York and California as well as back home and in London and hopes to close the deal by the end of summer.
The money will be used to finance its big US push and open a commercial sales office in New York, but Feeney says it will be keeping its "core engineering and HQ" in Dublin, where it currently has 10 staff.
"We're asking people for $20 million. This is because we think we're in a particular arms race. This is a fast-growing market we're in, this knowledge graph technology, there's a bunch of other guys that got well-funded in the last year."
In the last few weeks alone, US analytics firm Databricks raised $250 million and Paris startup Shift Technology, which makes analytics software for detecting insurance fraud, raised $60 million.
"We are talking to investors on the basis of 'here's a huge opportunity'. You've got a chance of winning this arms race."
Get our NEW Daily Briefing with the morning's most important headlines for innovative Irish businesses.