Billion-dollar cybersecurity firm Darktrace has opened a base in Dublin
The UK company has been expanding its hefty global footprint in several offices.
BRITISH CYBERSECURITY GIANT Darktrace, valued at over $1 billion, opened an office in Dublin.
The firm incorporated in Ireland in January and has been hiring for its presence here over the last several months in roles around sales and marketing.
Founded in 2013, Darktrace is a cybersecurity company that uses artificial intelligence to detect and react to hacking threats and data breaches.
According to the company, its machine learning technology mimics the human immune system to fend off cyber-attacks and mitigate threats before they become problems.
It clients include the NHS, which is using the tech following the WannaCry attack in 2017 that crippled the healthcare system's networks. Darktrace has other contracts in various sectors including government, defence, pharmaceuticals, manufacturing and financial services.
A spokesperson for Darktrace confirmed to Fora that it set up an Irish entity "as part of our global expansion".
"With 40 offices around the world, we are recruiting in many locations, including Ireland," the spokesperson said. "Our growth reflects demand for Darktrace's cyber AI, which enables organisations across industries to fight back against today's evolving cyber-threat."
Darktrace hit a valuation of $1.65 billion last September after it raised a $50 million round led by private equity firm Vitruvian Partners.
To date, it has raised more than $230 million with investors including Japanese conglomerate Softbank.
Cybersecurity
Led by co-chief executives Poppy Gustafsson and Nicole Eagan, Darktrace is dual-headquartered in Cambridge and San Francisco with more than 40 offices dotted around the globe and more than 800 employees.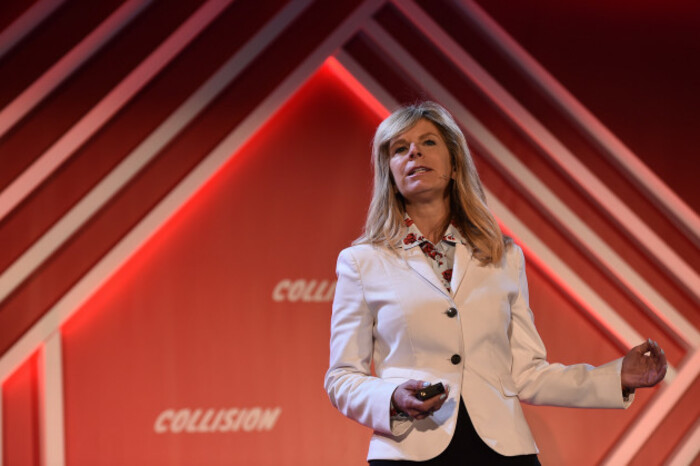 Source: Flickr/CollisionConf
According to the most recent accounts for Darktrace in the UK – its first set of financial results to be made public – it reported an operating loss of £24.4 million for the year ended June 2017.
Revenue during the 12-month period almost doubled from £17 million to £30.8 million.
Darktrace operates in a fiercely competitive cybersecurity environment, vying for big enterprise and corporate clients as threats and breach incidents like WannaCry have made headlines.
Last year, one of the company's investors, Mike Lynch, whose investment firm Invoke Capital holds a 41% stake in Darktrace, departed its board.
He previously co-founded UK software company Autonomy, which was bought by HP in 2011 for $11 billion – Darktrace CEOs Eagan and Gustafsson were former higher-ups in the company.
Lynch was charged with fraud in the US late last year, facing accusations of inflating numbers in the HP deal – an allegation he has denied.
He resigned from the board of Darktrace in December.
Update: This article was amended to clarify that Darktrace's office in Dublin is already open.
Get our NEW Daily Briefing with the morning's most important headlines for innovative Irish businesses.