Meet the frontman, turned lawyer, turned entrepreneur disrupting the legal business
Dan Fox swapped the stage for the law library, now he is transforming the legal trade with Johnson Hana.
AMONG IRELAND'S ENTREPRENEURIAL ranks, Dan Fox has a pretty unique CV. He might not be the only lawyer turned chief executive, but he is perhaps the only former barrister and erstwhile frontman of a rock band turned startup founder. 
In a previous life, the founder of legal startup Johnson Hana International was the lead singer for Lost in Flight, a band that found itself troubling the top of the charts almost a decade ago.
While stardom briefly beckoned, a record deal never quite worked out. Fox swapped the stage for a suit, treading the courtroom floor as a barrister, but his stint at the courts proved to be a brief enough sojourn. 
The suit soon was retired as Fox decided that instead of working in legal trade, he was better suited to disrupting it. Sitting back on a couch in the plush surrounds of WeWork's Dublin Landings location, Fox seems to have settled into life as a chief executive rather well. 
In an economy where the concept of everything-as-a-service is gaining traction, Johnson Hana is building a business that is disrupting the legal trade by providing 'on-demand' lawyers and managed legal consultancy services.
A hybrid provider of legal and tech services, the idea is to provide compelling alternatives to conventional legal models. 
"The model exists in other places and people are beginning to acknowledge that there are different ways of delivering legal services. Most other large industries have been disrupted with innovations like this," Fox says. 
First established in 2016, the company is using tech and top lawyers to effectively outsource a range of legal services. This can involved supporting in-house legal teams within big tech firms to helping SMEs. It is also looking to provide a more efficient, and cost effective, way of performing legal tasks that can be repetitive and process-driven.
For the lawyers the company works with, they get to work under more flexible conditions than the traditionally demanding environment of top law practices.
"The idea is to create a community of freelancers with a common purpose. Lawyers are burnt out, hiring legal consultancy firms is expensive, so we have created this two-sided marketplace. If you can cure issues on both sides of the marketplace, you are winning," Fox says.  
The company has already raised around €1 million from Enterprise Ireland and several angel investors, including Dan Kiely, the VoxPro founder who knows a thing or two about building an outsourcing business. Johnson Hana is also currently working with Dublin corporate finance firm IBI to complete a new €5 million funding round.  
The company has a core staff of 15, which is set to double over the next year, and has been working with about 150 lawyers over the past 18 months.  
"We are actively hiring, we want to put rocket fuel on this." 
A life's music
It is perhaps no surprise that Fox ended up in law, his father was among a few family members that worked in the legal trade. 
While it is hard to tell from Fox's native Dublin accent, he had an earlier brush with entrepreneurship as he spent a few of his early years living in Glencree, where his parents ran a small hotel nestled in the Wicklow mountains.
The hotel was sold after about a decade and the family moved back to Dublin, where Fox later studied at UCD.
Away from the books, he ended up "toying with music" for a while. It got a little more serious than just a few gigs. 
"We described it as anthemic rock, but it was kind of more popular rock and roll. We did it for about eight years and started taking it seriously for the last two. At one point we had a fairly successful single and an advertising deal, the first deal I ever closed," Fox says.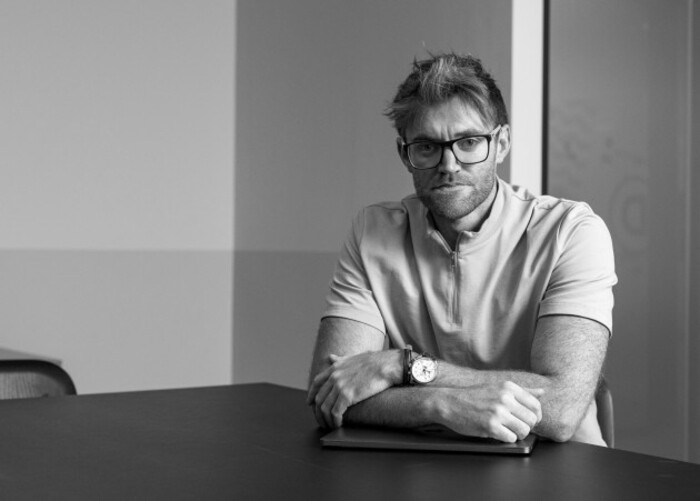 "I was kind of managing (the band) and we had this sort of half offer from a big label in the UK. They said 'look, don't touch anyone in Ireland because we want to do this and we want all the rights to everything'," Fox says.
"On the flip side, in Ireland we had publishers wanting to put the music into adverts and a couple of Irish labels were interested too. We thought, 'no, no, we're going to the UK'. In the end, we only got two votes (from the partners in) the label and we needed three. We were kind of broken at that point."
It was Fox's first foray into business: "Music is big business, we learned a lot around marketing and selling."
Concurrent to his music career, Fox was training to be a barrister and after qualifying around the beginning of the decade he began his apprenticeship around the time Lost in Flight disbanded, swapping one demanding audience for another. 
"The bar is an entrepreneurial environment. You have a lot of people who, while they may not know it, are kind of entrepreneurs, they are undertaking self-directed career paths. I was working for myself and had a lot of autonomy," Fox says. 
From early on in his legal career, however, Fox was thinking about setting up a business. 
"Even going back to music, I was interested in the commercial side," he says. 
"For me, business was kind of always calling." 
A period of discovery 
Fox's first foray into the business world was with Prime Legal Discovery, which he set up in late 2011 as to allow clients to outsource part of legal discovery in litigation. 
The company used tech such as keyword searching and AI to cull the amount of paperwork that needed to be reviewed to prevent businesses drowning in paper, while also using freelance lawyers to go through the review process. 
"If there was a limitation to that business it was that we hadn't understood that it could be far bigger and broader," he says. 
Around three and a half years in business, Prime Legal Discovery was bought by contracting business WMI. 
After a brief stint working as an adviser for an entrepreneur, Fox was keen to roll up his sleeves and get stuck back in. "We were thinking that there was so much more to be done in the area," he says. 
Fox initially set up the company in 2016, although he didn't really "kick it off" until a little bit later. The name of the company is a blend of Fox's mother's maiden name – Johnson – merged with Hana, a jungle spot in Maui, Hawaiian, that Fox visited a few years before which made a strong impression. 
Having been through the process of setting up a business already, Fox was armed with more knowledge for the new venture. 
"We hadn't raised enough external capital (in the previous business). With this business, I wanted to set it up properly from the start, have it well funded, have the right team in place," Fox said. 
Fox runs a tight-knit ship, his brother Alex is the chief commercial officer and has been on board from the start. He also began getting the band back together, literally, when Ivan, once the keyboard player for Lost in Flight, joined. 
The company is working with businesses both great and small. For large operations, Johnson Hana helps support in-house legal teams on tasks across the legal spectrum. On its website, the company lists some heavy-hitting customers including Twitter, Airbnb and AIB. 
The company also works with SMEs, which often don't have a legal team or in-house lawyer, to save on the costs of external counsel. "We will plug one of our people in who integrates with your team, work on-site for 15 hours a week or whatever meets your needs," he adds. 
The second part of the company's model is managed services, where the company is targeting volume heavy, document-heavy, repetitive work that doesn't require advisory services from someone at partner level. 
While the legal world may not have the reputation of being a great adopter of tech or innovation, Fox thinks this is a bit misplaced. 
"There might be the perception of law being antiquated, but a lot of people, particularly people working in-house, are really innovative and open to embracing change. We do a lot of work with big technology companies, blue-chip clients. There has been quick adoption."
The company is busy building its reach in Ireland, but it doesn't plan to stop there. Fox is looking to scale up the business in Britain and the US. 
"A lot of our big clients are technology companies, we are looking to further expand into Britain and the US to support them and convince them to outsource some of the services back here in Ireland. We have a unique opportunity in an Irish context and there are also big opportunities elsewhere," he says. 
Get our Daily Briefing with the morning's most important headlines for innovative Irish businesses.