'It's rubbish talk' – Dalata's chief has criticised claims that hotels are costing the exchequer
Pat McCann says room prices could go even higher if the sector's special VAT rate is cut.
THE HEAD OF Ireland's largest hotel group has said that anyone who thinks the special VAT rate for the tourism sector is costing the exchequer is talking "rubbish".
The rate for hotels, attractions, restaurants and other tourism businesses was cut from 13.5% to 9% six years ago in a bid to give a much-needed boost to the sector.
Last year, a report showed that the Irish tourism industry is in rude health and worth over €8 billion, with spending by international visitors in Ireland rising by 9% to reach €4.7 billion.
Despite the turnaround in the sector, Dalata chief executive Pat McCann said that the VAT rate for tourism needs to be preserved.
"Rubbish talk goes on that the exchequer lost x, y or z. In fact the exchequer lost nothing as the result of the massive increase both in terms of the VAT take but also increases in the employment level (in hotels)," he told Newstalk Breakfast.
"Everyone is making this assumption that if we increase the VAT rate that the volumes will remain the same and that is highly unlikely that will be the case."
The Department of Finance has estimated that restoring a 13.5% VAT rate for the tourism sector would yield around €500 million extra in tax for the state.
Meanwhile, revenue per room at Dalata's Maldron and Clayton hotel brands is up 10% since this time last year and the room rates in Ireland are back to pre-recession levels.
However, McCann said prices for hotel rooms could go even higher if the special VAT rate was revoked.
"We were very careful about how we handled the VAT rate when we got the reduction. It meant a reduction in prices for our consumer – that's really where it went.
"Even though we have seen increases in prices, the fact is they would be much higher if we had not had the VAT reduction."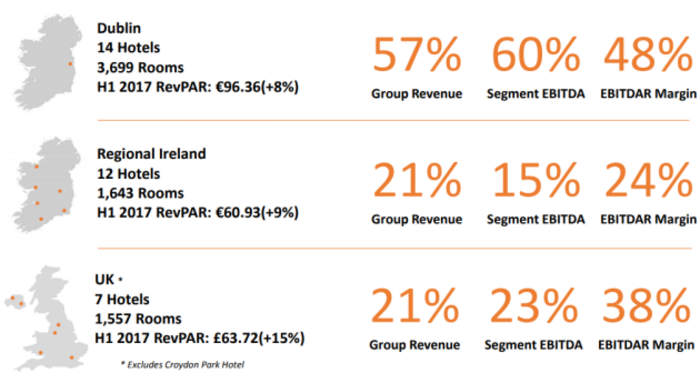 Source: Dalata
Results
Today, Dalata released its results for the first half of this year and posted a pre-tax profit of €32.7 million – an 80% increase on the same six-month period in 2016.
Revenue at the hotel group was also up by a quarter to nearly €162 million, while its revenues per average room increased by almost 10% to €82.27.
Dalata currently owns 5,112 hotel bedrooms in Ireland and the UK and leases a further 2,119 rooms. It has management agreements with three other hotels with a combined 308 rooms between them.
The company, which has roughly 1,800 new rooms coming on stream over the next two years, also announced plans for a new 300-room Clayton hotel in Manchester city centre.
McCann said he expected the new UK hotel to be open in late 2019 or the first few months of 2020.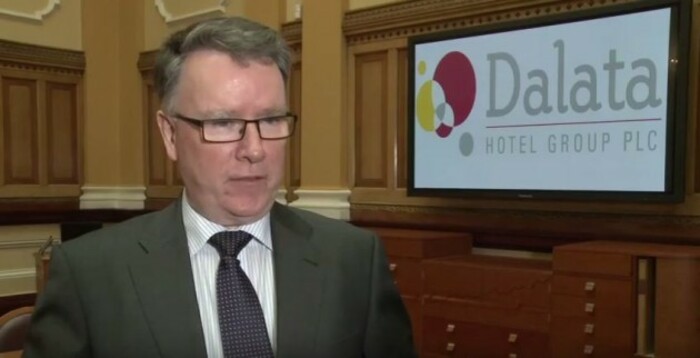 Source: YouTube
In Dublin, Dalata is building a 180-room Clayton hotel at Charlemont Place, scheduled for completion in mid-2018, and a 135-room hotel on Kevin Street under the Maldron brand.
Dalata is also adding a 140-room extension to the Clayton hotel at Dublin Airport.
Hotel crunch
A report last week highlighted that hotels in the Irish capital are now full 300 nights a year.
Occupancy levels in Dublin hotels topped 82% in 2016, a 2% increase on the figure for 2015, according to a survey by business advisory firm Crowe Horwath.
The crunch on accommodation drove up the average price for a room to €128, surpassing the pre-crash peak price of €120.
Crowe Horwath estimated that the capital needs more than 5,000 extra rooms to meet the demand.
It has been widely reported that Dublin's hotel crunch is set to ease when a number of extra rooms come on stream in 2019 and 2020 – but the room shortage and price problem will persist until then.
Sign up to our newsletter to receive a regular digest of Fora's top articles delivered to your inbox.
read more on