The UK's divorce from the EU is hurting Ireland's cross-border weddings trade
Northern Irish couples are the 'bread and butter' of some regional hoteliers.
THE DAY BRITAIN leaves the EU may be the happiest of UK foreign secretary Boris Johnson's life – but it's already upsetting regional hoteliers who are losing out on sales from cross-border weddings.
Each year, around 500 couples from Northern Ireland cross into the Republic to get hitched.
However, according to the Irish Hotels Federation, many border-county hoteliers have reported a decline in bookings and inquiries from the region thanks to the weaker sterling and possibility of a hard border.
Weddings are big business and couples spend an average of €24,000 on their big day. Such events require a significant amount of lead-in time, with many couples booking a venue two years in advance, according to a 2017 survey by Weddingsonline.
With the Brexit deadline just 12 months away, the economic uncertainty surrounding the UK's divorce from the EU has led to a slowdown in cross-border bookings for 2018 and 2019, the IHF says.
'Bread and butter'
Michael Naughton, general manager of the Clanree Hotel in Donegal, says wedding trade from Northern Ireland has for many years been "the bread and butter" for hoteliers in the county.
"We're probably one of the counties that will be affected most (by Brexit). 98% of our land border is with Northern Ireland, that's the reality of the situation," he says.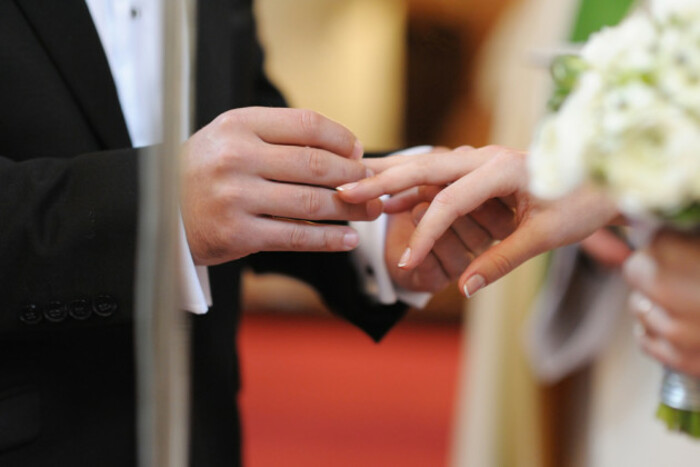 Source: Shutterstock
On average, the Clanree Hotel hosts up to 80 weddings a year. Based on the current rate of bookings, Naughton expects that figure to be closer to 65 or 70 by the end of 2018.
He believes the dramatically lower value of the pound has contributed to fewer Northern Irish couples booking their big day with the hotel.
A major attraction for those couples to tie the knot in the Republic was to get more bang for their buck than in the UK. However, the weaker exchange rate means that's often no longer the case.
"Couples are coming and asking to guarantee the rate of sterling," Naughton says. "We can maybe guarantee (a saving of) 10-15%, but you cannot guarantee the 30-40% they were getting two years ago."
The Hillgrove Hotel in Monaghan normally hosts between 90 and 100 weddings each year, 40% of which typically come from the North because of its close proximity to the border.
General manager Martin Daly says there has been a slowdown in cross-border bookings which he anticipates is "going to get tougher" as Brexit looms closer.
"The whole problem is the uncertainty of it. I'm getting that across all hotels in the area," he says.
A nightmare scenario for hoteliers like Daly would be the reintroduction of border checks, which he believes is also putting off engaged couples.
"You worry about how you're going to get weddings across the border. Are they going to bring their guests across checkpoints?" he says.
Naughton also shudders at the thought of a return to checkpoints.
"We've seen that down through the years. People don't like that and don't want to come out for that reason. You're putting your wedding guests under pressure. It's a special day for a bride and groom.
"We as hoteliers want to make sure their day runs as smoothly as possible. If there are borders, that can upset their day. We don't want to go back to them because it would kill our market."
Investment
Although there has been a definite decline in cross-border bookings for this year and next, the IHF's newly elected president, Michael Lennon, says he's confident the market will bounce back based on the level of investment within the industry.
"I think 90% of hoteliers in Ireland are planning to put more money into their properties," he says. "I think the message has got out that we just can't rely totally on the UK market."
Lennon says hoteliers are heeding the advice of tourism officials and seeking to attract more business from North America and Germany.
"Whether we're getting American and German weddings, I don't think so, but one thing I would say is that the amount of people that have emigrated over the last five or seven years, they're coming back to get married in Ireland," he says.
Source: IHF
Lennon, who owns and runs the Westport Woods Hotel in Mayo, says the industry should also wise up to changing consumer habits if it wants to hold to its share of the weddings trade.
"Drink sales haven't grown as much as the accommodation and the food element of weddings. People are really putting more emphasis on the wines and the good food and they're getting more localised in their menu planning," he says.
"Weddings have gone from the traditional 20 or 30 pints to bottles of wine or gin or cocktails."
Tony Walker, general manager at Cavan's Slieve Russell Hotel, agrees that there's a need for the sector as a whole to improve its wedding offering.
"We think (the decline in wedding bookings) is for other reasons. There's more competition in the marketplace," he says.
"The younger millennials, they seem to want to opt for more quirky venues or these exclusive venues that are springing up in every county.
"You get a lot of couples that want to get married in a barn or put a marquee at the back of the house. That's all fine – it's just extra competition."
Walker says hoteliers need to focus more on creating more attractive packages.
"A lot of us have the same offering but in a different venue at a different cost," he says. "It's just trying to be that bit different. Maybe we need to get away from the traditional wedding fare.
"Instead of the roast beef and turkey that we come up with something else – couples are more likely to be foodies nowadays. Maybe we need to come up with different offerings in that space."
Sign up to our newsletter to receive a regular digest of Fora's top articles delivered to your inbox.