Poll: Are you worried about cross-border shopping?
Halloween is over, but some retailers still expect to be in for a fright.
RETAIL'S BUSIEST TIME of the year kicks off this week.
Some outlets expect to make a third of their annual sales over the next month and a half as shoppers stock their trolleys with food, drink and gifts for the Christmas holidays.
However, with the pound sterling continuing to free fall against the euro, many retailers in the Republic anticipate a heave of bargain hunters crossing into Northern Ireland in search of a good deal.
Traditionally, prices up North have been cheaper anyway, especially for non-perishables like alcohol and electrical goods.
Christmas uplift
According to InterTradeIreland, the all-island body responsible for cross-border trade and business development, the end of 2008 saw the highest percentage of Irish registered cars in Northern shopping centres.
Every Christmas season since then has seen an uplift in the number of Irish registered cars, but not on the scale of the pre-crash peak.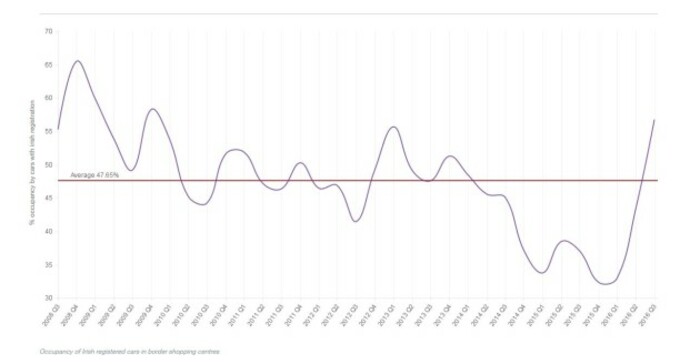 Click here to view a larger version
Since the start of 2014, the annual share of Irish-registered cars in Northern shopping centres has remained below 50%.
However, that figure is expected to increase in 2016 as the slide in value of the sterling since the end of June makes cross-border shopping more attractive.
Obviously, retailers in the border counties will fear a crunch the most, but shops in other parts of the island believe they can weather it out and won't be as badly stung – especially those in Munster that hope Christmas shoppers will be put off by eight hours of driving.
Other retailers are more worried about losing out to e-commerce, which has also become more attractive since the pound drop, and will feel more pressure to compete with online merchants than their peers in Northern Ireland.
With that in mind, we're asking Fora readers this week: Are you worried about cross-border shopping?

read more on