Your crash course in... the circular economy
A breakdown of the opportunities and challenges for businesses heading towards the circular economy.
NEXT WEEK, ABOUT 2,000 finance and sustainability experts will descend upon Helsinki to discuss the circular economy at the third annual World Circular Economy Forum. 
More than an EU buzzword, the circular economy has been gathering momentum, particularly with the 'green wave' during the recent European Parliamentary elections. 
In 2015, the European Commission brought in a series of legislative and non-legislative actions as part of the 'Circular Economy Package'. It set out targets covering production, consumption and waste management with a view to 'closing the loop' in the next few years. 
This not only effects individual member states, but will bring  changes to how businesses are required to operate in future, with targets on recycling and product design. 
What is the circular economy?
In a linear economy – the more common model – products are bought, used, and discarded. In a circular economy, the products are refurbished or upgraded so they can keep being used.  
According to Neil Walker, Ibec's head of Infrastructure, Energy and Environment, it's not just about increased efficiency. 
"It's designing things so that they keep their value longer, they can be reused at the end of their life, that they're easily recyclable and that taking things to bits doesn't expose you to toxic ingredients or components."
The idea is to maximise value in both products and finite raw materials, like elemental metals which are used in a lot of hardware – like in smartphones and tablets.  
In the next few weeks, Ibec will be publishing a report on how well businesses in different sectors understand the concept, the package and their obligations – and "more importantly, whether they see it as an opportunity", said Walker. 
How are businesses tackling it?
Earlier this year furniture giant IKEA announced plans to trial a furniture leasing scheme – with options to return for refurbishment and resale – in some countries. 
Per Stoltz, resource and waste manager with IKEA, said the company has been moving towards a more sustainable business model for years. That's accelerated recently because of customers' changing view of ownership and consumption. 
"We are having issues around climate and resource scarcity, and listening to customers, we can clearly see that they want to be part of the solution. They ask us, as a big company, to show them how," he told Fora.
"We are still a company that wants to grow. The idea around the circular economy is to not have a one-to-one link to growth and resource use," he said.
Larger companies such as IKEA are getting a better understanding of the model, while smaller ones are moving with the times too. 
Aisling Byrne, co-founder and CEO of The Nu Wardrobe, told Fora the company just raised £215,000 in a pre-seed round led by Sustainable Ventures, on top of previous investment from Bethnal Green.
The company is a platform for sharing clothing – inspired by the founders' love for fashion leasing giant Rent The Runway, which recently announced plans for a tech hub in Galway creating 150 jobs. 
In the next few months, The Nu Wardrobe is planning to test out a new membership-based business model which it hopes to launch in September.  
What are the challenges?
One of the biggest challenge of the circular economy is creating demand for secondary raw materials and upgraded products. Another challenge is our attachment to packaging, which can be difficult to recycle. 
Fast fashion – of lower grade materials – sold badly in earlier incarnations of The Nu Wardrobe, said Byrne, so the emphasis for the new phase is on quality.
"If people don't borrow it, we're not going to reduce the impact, and people are going to go and buy something new," she said. 
Items which contain potentially toxic materials – like fire retardants – also can't be reused in just anything, like a child's toy, so businesses have to become more creative in how products are designed in the first place.  
Electronic waste is one of the largest streams of waste in the world – producing about 50 million tonnes a year – according to Wisetek CEO Seán Sheehan. 
One of the concerns around a circular model is a reduction in turnover due to fewer goods being sold, but the businesses who have moved towards it have argued that it creates new jobs in maintenance, repair and leasing. 
Wisetek specialises in processing e-waste into reusable materials – and has processed about 100,000 tonnes of material so far, and $1 billion in components recovered for client internal use.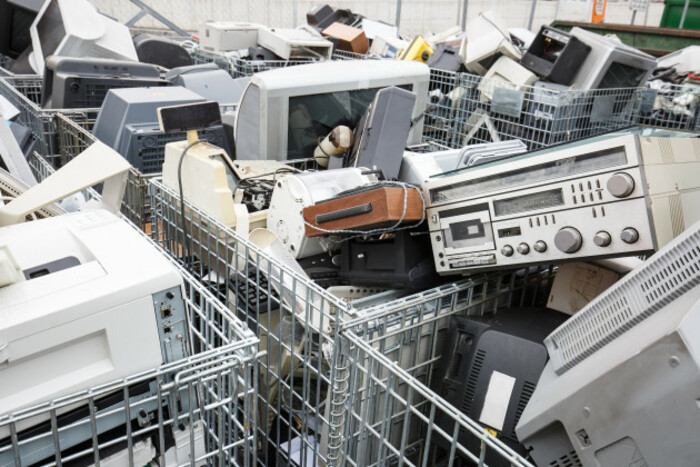 Source: Shutterstock/zlikovec
How is Ireland doing? 
The Government will shortly publish and start implementing the 'All of Government Climate Plan', which will include actions across all sectors to cut greenhouse gases and manage resources more efficiently. 
A spokesperson for the Department of Communications, Climate Action and Environment said that "the government is fully committed to the EU's Circular Economy legislative package and is on track to meet and indeed exceed the targets contained therein."
As a country, we have already beaten EU packaging targets for wood, ferrous materials, glass and paper for 2025 – and on track for 2030 – but have some way to go on plastics.
Byrne, the founder of Nu Wardrobe, recently moved to London, where she believes the opportunities are greater for companies wanting to work towards a circular economy – she thinks Ireland is still behind on circular thinking. 
"I didn't want to move away, but I had to because everywhere I went people didn't want to hear about it. When I was pitching, they would just tell me not to talk about the environmental impact," she said. 
"We're not going to have the jobs of the future if we don't bring the circular economy into our businesses now. " 
 Get our NEW Daily Briefing with the morning's most important headlines for innovative Irish businesses.