'This was to be a world premiere': How Covid-19 has hit the arts in Ireland
From opera to electricians, many involved in the entertainment trade have been affected by the Covid-19 outbreak.
STUDENTS AT THE Royal Irish Academy of Music were supposed to be in rehearsals at the Peacock Theatre earlier this week, getting ready for an opera debut on March 24. Last Thursday, everything changed. 
"Today, we should be in the peacock theatre doing hair and makeup trials for a brand new opera by Irish composer Kevin O'Connell," Kathleen Tynan, head of vocal studies and opera at the academy, said. 
"This was to be a world premiere, specially written for the Academy's singing students and orchestra students. We would have had our first stage and piano rehearsal this afternoon." 
The Covid-19 coronavirus outbreak has hit every sector in recent weeks, with the entertainment industry being affected, from opera, comedy and acting to lighting, makeup and venues.
According to Tynan, the academy is trying to keep positive and will find alternative dates to stage the opera "on the other side" of the outbreak. Although it's "hugely disappointing", she added that the academy isn't necessarily the worst hit as many of those affected are still students.
"Live performances have been cancelled all over the country and all over the world. It's a huge impact for people working in the entertainment industry, people who depend on it financially, whose livelihoods depend on it or who are self-employed."
Support
With months of uncertainty ahead in an already precarious industry, some public bodies and private businesses are offering help to those struggling in the arts as a result of the outbreak. 
In a letter to arts organisations this week, Arts Council finance director Martin O'Sullivan wrote that the council "will honour all funding commitments" made to organisations which have had to cancel events, allowing them to draw down up to 90% of funding commitment. 
O'Sullivan asked that artists be prioritised, as it's a "particularly challenging time for them".
There will also be no penalties for organisations that are unable to deliver key activities and services for the same reason. 
Tallaght's Civic Theatre also recently launched an Artist Emergency Relief Fund to support artists who have been financially hit by the outbreak, providing small loans of up to €500 on a first-come, first-served basis. 
The government also announced a Covid-19 Pandemic Unemployment Payment earlier this week, allowing employees or the self-employed to get a flat-rate of €203 per week for six weeks if they have lost income because of the virus outbreak. 
"At least the Irish government and the various arts organisations are acting in a really productive way just over the space of a few days, to try and just give people some kind of reassurance. If this is your main source or only source of income, it's very stressful," Tynan said.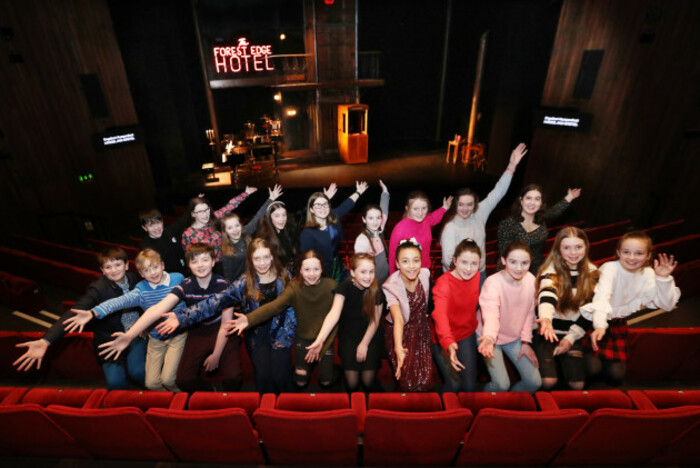 Source: Sasko Lazarov/Photocall Ireland
'Keep ticking over'
Philip Kedney, who owns Kedelec Exhibition Services, has seen a massive drop off in his business since the outbreak. The company supplies generator power to the events sector at the likes of conferences, exhibitions etc. 
"When the virus started snowballing, every single event and exhibition has been 100% cancelled practically up until the summer," Kedney said. 
"This is affecting ever electrical contractor that is involved in every generator company, every display printing contractor. You're running into thousands of people who are directly involved."
The industry is keeping an eye on the Ploughing Championships due in September, according to Kedney. "If that survives, that's our kick-start," he said, adding, "we won't be around unless we get support."
The company saw its work calendar completely wiped for the first half of this year, and by the summer Kedney is hoping that people will gain the confidence to go to events – and to put them on. 
In the coming weeks, Kedney will have to cut costs and his own wages to "keep the company ticking over even though it's not earning any money", he said.
Many of his colleagues in the industry "are ok for a month, but after that, there's no future", he said, adding that another issue for many businesses is the high rates they pay on properties. 
"I don't think anybody's expecting anything to be scrapped, just that it would be parked, or no penalties, no credit rating scores against you. Everybody needs to pull together otherwise when the economy does come back there will be no-one to do the work," he said. 
"You're talking everybody down to the security on the door, to the people behind the bar, to the cloakrooms – everybody."
TV and Film
Along with school and theatre closures last week, many television shows also stopped running while some about to air were delayed. 
"Some shows didn't get to finish, some didn't get to start. There was a lot of work put in by various people over the last months or years that came to a halt," Ciaran O'Grady, chair of Frontline Actors Agency, said. 
The same goes for the film industry, which saw projects suspended indefinitely and jobs due to come into the country put off as a result. 
For actors, in particular, many are used to being between jobs or having multiple revenue streams, but in a tightly knit industry it is not just those on-screen who are affected. 
"There's a lot of people out of work across the industry, actors included, but also make-up artists, costume designers, stunt crew, lighting crew," O'Grady said, who is himself an actor, stuntman and teacher, and had four jobs due to start in April called off indefinitely.
Get our Daily Briefing with the morning's most important headlines for innovative Irish businesses.