'Everything seems to be just day-by-day'
Construction-related businesses say they're seeing an increase in demand but worry about supply chains.
RICHARD SLOAN, THE managing director of Sonas Bathrooms, is trying to keep business ticking over. 
Although his company, which imports and distributes bathroom products, has had to adapt to the government's latest restrictions aimed at slowing the spread of Covid-19, Sonas is in the select group of retailers that have been allowed to stay open.
That's because the firm is adjacent to the construction industry, one of the 'essential' sectors allowed to continue operating under the latest round of measures.
Although Sonas decided to close its Ballycoolin, Dublin 15 product showroom to the public, it is keeping the lights on by continuing to provide materials to the construction and other sectors.
"We provide an essential supply chain service to healthcare facilities, nursing homes, commercial buildings, new home construction as well as domestic bathroom projects," Sloan told Fora.
"The official advice from government sources has (also) deemed essential retailers who provide sanitation products. As such, a reliable supply chain from sanitary-ware suppliers such as Sonas is crucial," he said.
In a sense, Sonas has been doubly lucky so far. As the construction industry and home improvement is still ticking over, Sloan said that there hasn't yet been a major decline in demand for its products. Crucially, there hasn't been much of a choke on the supply side either, Sloan said.
"If anything, we have noticed a ramp-up in demand as many construction companies and retailers 'forward-buy' to ensure availability of product," he said.
He explained, "Some of our supply chain involves China which might seem like a problem, but the timing of this, close to Chinese New Year, meant that we had forward bought and stocks are pretty well covered." 
However, he said the company was "realistic" that there could be "disruptions to supply, and possibly huge changes in demand" in the short term.
Founded in 1976 by John Usher as Usher Bathroom Furnishings, control of the company passed to his sons Dermot and Gerard upon his death in the early 1990s. The brothers hired Sloan as managing director in 2008, just as the economy started to turn, and he guided Sonas through the last recession.
In many ways, that experience might have prepared him for what could lie ahead.
"The shock we are expecting to the economy will be severe but temporary, and being in a position to bounce back is only possible when we maintain our best assets, our people," he said.
Person-to-person
One company that isn't closing its showrooms just yet is kitchen fitting and flooring supplier Noyeks Newman. Its outlets are still open to both members of the public looking to do some home improvement and industry buyers.
"We are doing all in our power to protect staff and customers," Mark Congdon, director of Noyeks, told Fora. "We believe we were one of the first, if not the first, in Ireland to introduce Perspex screens on all retail counters." 
According to Congdon, some 50% of the company's admin, sales and purchasing staff are now working from home and the company has adopted strict hygiene standards at all its outlets.
He explained that wholesale distribution represents about 70% of Noyeks' business, "which gives us strong protection from person-to-person interaction as trucks are loaded with drivers remaining in the CAB and then dispatched across the country."
As of yet, its supply chain has been unaffected, he said, and there has even been an increase in demand from certain sectors.
He said Noyeks is currently supplying Dublin's Mater Hospital with "anti-bacterial laminates and work surfaces" and also supplying the HSE with materials to convert a hotel into a Covid-19 test centre.
Massive spike
Like Sonas, John Sherry, director-owner of Sherry Garden Rooms, has also had to close down his showroom.
His Dublin 11-based company — which builds and installs fully-insulated garden units for its customers — is also currently juggling a potential up-tick in demand with the possibility that its supply chain could come under pressure.
"We're seeing a massive spike (in inquiries) on our website and email for home office, home studies, for multi-purpose rooms," he told Fora.
Sherry said he believed that this is because, with social distancing measures in place and many facing the prospect of an extended period of remote working, "the family home has become very important."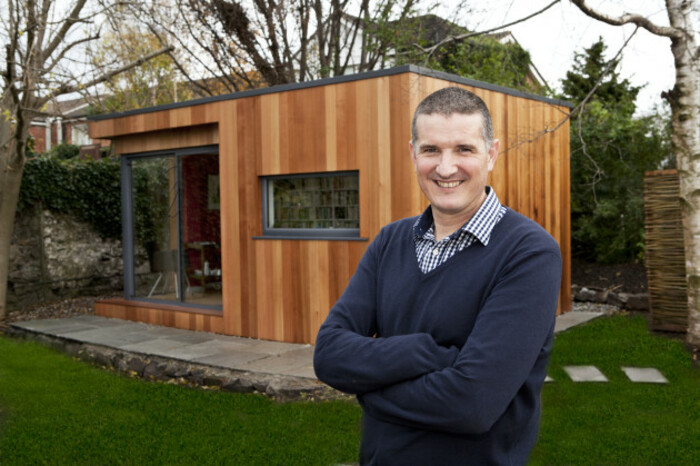 "People are feeling that pressure if they're trying to balance work life and home life under the one roof," he said.
Sherry's firm employs four people in its showroom and 16 contractors, who make and install the units. So far, no one has been laid off and construction has been able to continue on the company's projects.
That could all change, however, if his supply chain starts to seize up. Sherry explained that the company sources everything in Ireland but some of that material would have been originally sourced elsewhere. 
Worryingly, he said, the cedar the firm uses for its builds comes from British Columbia, Canada. "Supply of that is now is really starting to slow," he said. 
Sherry said that if the business loses anything in its supply chain, "construction will dry up". 
"Everything seems to be just day-by-day. Is your window manufacturer staying open or are they not staying open? Are their suppliers staying open, are they not staying open? A day seems like a week at the moment".
Get our Daily Briefing with the morning's most important headlines for innovative Irish businesses.