Cork locals are bringing their battle against the Ringaskiddy harbour incinerator to the High Court
Community groups are seeking a judicial review after raising over €60,000 in a GoFundMe campaign.
AN ALLIANCE OF community groups fighting plans for an incinerator in Cork Harbour have taken their battle to the High Court, seeking a judicial review of An Bord Pleanála's approval for the controversial incinerator.
The Cork Harbour Alliance for a Safe Environment (Chase) campaign has managed to raise – at the time of writing – over €68,000 through a GoFundMe campaign to launch the court proceedings that would block the construction of the incinerator.
In a statement, its chairperson Mary O'Leary said there was "palpable anger and disbelief" at An Bord Pleanála's decision to grant permission, given the evidence it gave at oral hearings on the topic.
Waste company Indaver was finally granted planning permission for the waste-to-energy incinerator in the harbour in May of this year, two years after these hearings on the matter were heard in April and May 2016.
The facility will treat household, commercial, industrial, non-hazardous and suitable hazardous waste, generating approximately 18.5MW of electricity for export to the national grid.
Permission for it came after a long battle stretching back 17 years. Three applications had been made to build the incinerator in the Ringaskiddy harbour since 2001.
An application to build the plant was rejected by An Bord Pleanala in 2011 on the grounds that the plan did not adequately plan for flooding or coastal erosion.
Previous hearings took place in 2003 and 2009, and inspectors at both recommended refusal for the project, with the 2009 inspector's recommendation being carried by the board, and a planning refusal issued in 2011.
Fine Gael Cork Senator Jerry Buttimer said in May that the "case [Chase] made against the incinerator at the oral hearing of An Bord Pleanála was compelling".
While a considerable amount of money has been raised to date by Chase, it recently said that judicial review action would cost in the region of €150,000 to €200,000.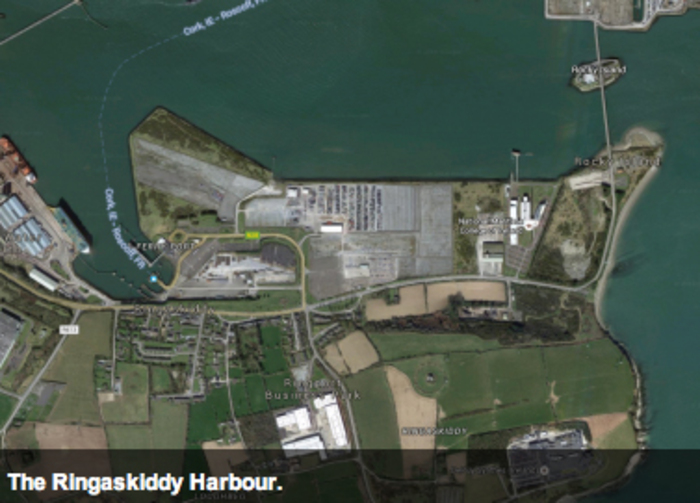 Source: Google Maps
Speaking on Morning Ireland last month, Indaver managing director John Ahern reiterated his contention that both Ireland and the Cork area desperately needs a new waste facility in order to reduce quantity being exported abroad.
He said the population will continue to grow in the region and the waste levels will rise in tandem.
"Unfortunately there is an awful lot of waste. We're getting a bit better at our recycling rates but even with the best recycling rates in Europe, if we match those there will still be over 300,000 tonnes available."
He added that Ringaskiddy was chosen as the location for the incinerator because the land was zoned for industry and it wasn't located near the port so waste can be imported for processing.
Funding drive
In a statement, it said that an "incredible fundraising drive" has enabled this initial application for a judicial review.
O'Leary said: "We are grateful to the thousands of individuals and organisations who have raised and donated funds to make this application possible and who have rallied so strongly to support the Chase campaign over the last eight weeks."
While the judicial review cannot overturn the decision, it can examine whether the decision was made in a lawful manner.
The matter was mentioned in the High Court in Dublin yesterday, and has been scheduled to be heard next Tuesday 24 July.
Written by Sean Murray and posted on TheJournal.ie. Additional reporting by Killian Woods.
Sign up to our newsletter to receive a regular digest of Fora's top articles delivered to your inbox.