With no convention centre, Cork is losing out on millions from large-scale events
The average visitor spends more than €1,500 on accommodation and other needs.
THE GROUP RESPONSIBLE for promoting Cork as a conference destination says the lack of a dedicated facility has stifled the city's chances of attracting major events.
Cork Convention Bureau (CCB) chairman Seamus Heaney told Fora that having a purpose-built conference venue in Ireland's second-largest city is now "an absolute must".
"With that, everything else would fall in place," he said. "I think you'd get more (hotel) room stock because it would create more demand. The same with the airport – you'd get better access to routes because you'd have more demand."
Heaney's comments come the same week that planning minister Simon Coveney said final plans for the long-delayed Cork Events Centre will be brought to government "within days".
In late 2014, Heineken Ireland and construction giant BAM won a tender to develop the historic Beamish and Crawford factory into a 6,000-capacity events centre. Heineken has since pulled out of the project and BAM has teamed up with events operator Live Nation.
However, little has happened on the site – even after a high-profile sod-turning event before the general election last year.
Some parts of the old building have been demolished but construction is yet to begin, which puts in doubt the centre's targeted 2018 opening date.
Some €20 million in government funding has been earmarked for the project, however BAM has requested a further €12 million in funding – which would bring the total cost of the development to €65 million, according to numerous media reports, with the balance coming from private sources.
Coveney told the Evening Echo newspaper this week that BAM will soon bring to government the final costings and design plan.
A spokesman for BAM declined to comment when contacted by Fora.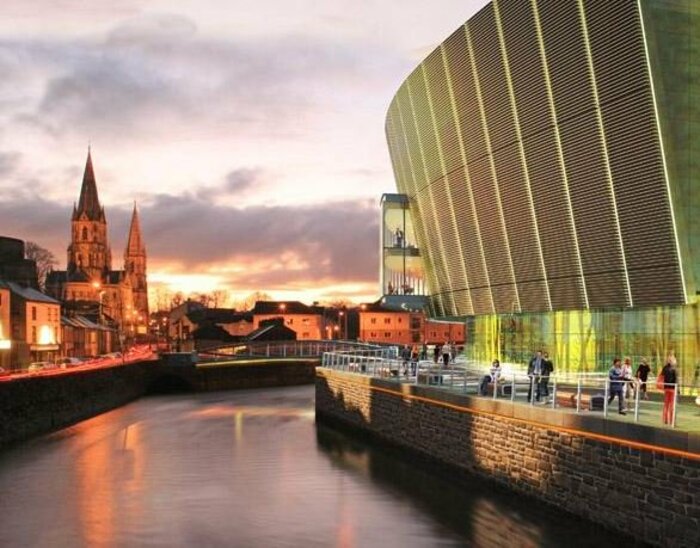 Heaney told Fora that "it is a little bit more difficult" for Cork to attract conferences compared to Dublin as "we don't have the capacity" that the capital enjoys. At the moment, the city can only cater for events with up to 1,000 delegates.
"We don't bid for 2,000- or 3,000-person conferences because we wouldn't have a hope of staging them in Cork," Heaney said.
Last year, a total of 8,000 conference delegates came to Cork. According to data compiled by Fáilte Ireland, that was worth about €11.5 million for the local economy.
There will be 20 events in the city this year and each visitor is estimated to spend roughly €1,645 on accommodation, food and drink, and souvenirs. That would generate €12 million for the region, according to CCB.
To put the figures in context, Fáilte Ireland says business tourism in 2015 was worth about €669 million for the entire island of Ireland.
Heaney added that "a business tourist is worth two to three times that of a leisure tourist" and will "always come back" for a holiday.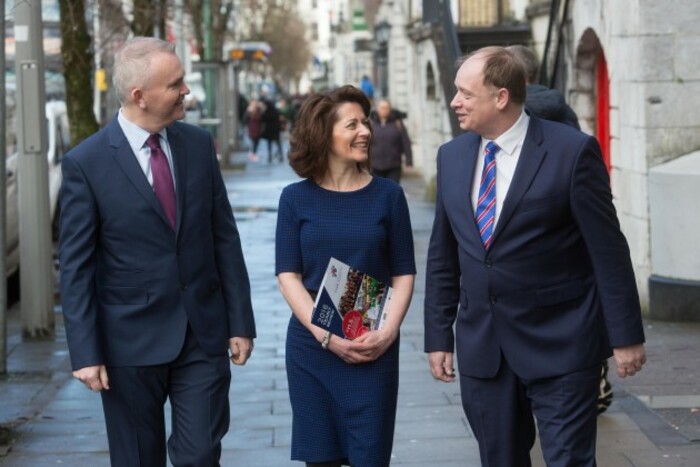 Source: Darragh Kane/CCB
'Walking city'
When asked what assets Cork has over other European cities, Heaney said one of the key messages CCB promotes is that it is "a walking city".
Road and rail access to Dublin is also crucial, especially when it comes to attracting visitors from the US.
Cork attracts a lot of 'incentive travel' from the states, Heaney said, which is when companies reward employees for reaching certain targets by taking them on trips abroad.
"A lot of incentive business suits us because they might be looking for two cities," he said. "If we can get them into Dublin, make it three nights in Dublin and two nights in Cork, then they will come down on the train."
Heaney said convention travel is "very different to a lot of other businesses" because conference locations are often rotated each year.
"Once the event happens, it's gone," he said. "We can't increase our turnover. We have to start from the very beginning of the year and try to win new business.
"The €11.5 million we did last year, that's gone and won't be repeated for three to four years," he said. "All you can hope for is the legacy."
However, he said timelines for booking conferences have become shorter in recent years.
"One time they were booked five years in advance. Now they're down to two or three years, which is good."
Heaney added that demand for sufficient exhibition space at venues has spiked in the last five years or so.
"A couple of years ago it was break-out rooms," he said. "Now it is about making sure they have exhibition space, because a lot of conferences are funded by the amount of exhibitors they can have."