How contactless payments are building a head of steam to help reduce the spread of Covid-19
Some banks have been shelving fees to encourage the use of the payment method.
IF YOU WALKED into your favourite local café last week, other than the empty seats, you may have noticed that the barista wasn't accepting cash.
Since the Covid-19 outbreak reached a tumultuous phase over the last week and social distancing became the norm, businesses have been looking at ways of reducing physical contact.
Several weeks ago, the World Health Organisation recommended using contactless payments to keep transactions a little more hygienic.
It's one small step in a much wider effort to curtail the spreading of the coronavirus and as a result, banks have had to respond.
AIB shelved its plans to introduce a 1c per transaction charge on contactless payments that was due to come into effect at the end of May.
The same day, Bank of Ireland announced that it was waiving its contactless fees. John O'Beirne, director of products said that "contactless transactions are the safest and most practical solution for customers in the current climate".
Fora understands that Ulster Bank's contactless fees of 1c per transaction will remain as is while a spokesperson for KBC said its contactless payments will continue to be free for domestic and eurozone transactions.
While banks are making efforts to make contactless more accessible, the method of payment has long been restricted to a €30 limit on a transaction. Cards by fintech outfits like Revolut are also limited to €30 per transaction.
On the other hand, services like Apple Pay and Google Pay, which can be used similarly to tapping bank cards, aren't subject to the €30 limit.
"The contactless card payment limit is set at industry level and we are continuing to work with the sector/BPFI (Banking & Payments Federation Ireland) on increasing this limit to support customers," a spokesperson for KBC said.
The main retail banks met yesterday with the BPFI and the Minister for Finance Paschal Donohoe to devise a strategy of response to the coronavirus crisis.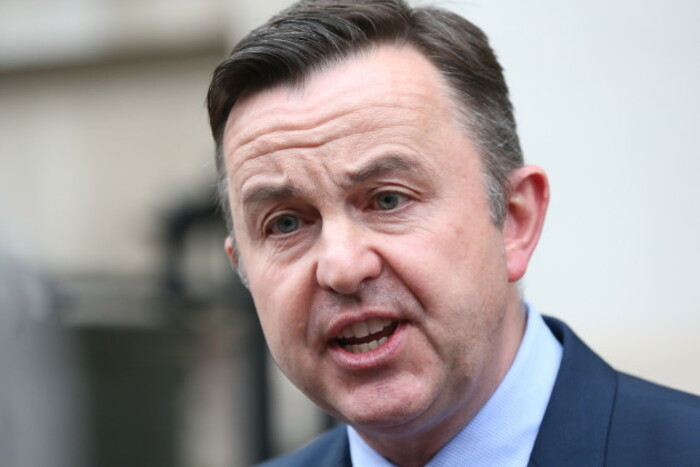 Source: RollingNews.ie
The banner announcement was a suspension for three months on repayments for business and personal customers that are affected by Covid-19. Another talking point was raising the limit on contactless transactions to €50.
"Heretofore contactless was set at €30 because there was no consumer demand, with an average transaction amount of around €11 or €12," Gill Murphy, head of payments schemes at BPFI, told Fora.
"In light of the current situation, industry believes it is beneficial from a consumer perspective to push it as far as we can go within the current regulatory obligations, and that's to bring this to €50."
The limit change is within the remit of banks to implement themselves and will not require any particular approval from regulators.
On a technical level, the transition shouldn't be too difficult. A spokesperson for Bank of Ireland said its debit and credit cards are already capable of €50, meaning no action will be needed by customers.
"As soon as point of sale terminals in retail outlets have been adapted by merchants, expected 1 April, customers will be able to avail of €50 contactless transactions," the spokesperson said in a statement.
However, BPFI's Murphy added that while there is consensus among the banks to raise this limit, it will not happen on the "flick of a switch".
"We are going to coordinate as a group and plan that migration," she said. "It is not the flick of a switch, there are many parties to a card payment transaction to bring together and bring around the table, that includes the issuers, banks, the acquirers, the merchant, the retailers themselves and the card schemes. That conversation is progressing at pace."
Get our Daily Briefing with the morning's most important headlines for innovative Irish businesses.