Irish builders are commanding €100,000 salaries as companies hunt for construction skills
Recruitment firm Hays says that demand for construction professionals was up 40% on a year ago.
COMPANIES ARE OFFERING as much as €100,000 to secure senior builders amid a lack of skilled construction staff.
Recruitment firm Hays has said that demand for construction and property professionals was up 40% in July compared to the same period last year.
It said that architecture was the fastest growth area during the month, with demand for architects up by 60%. Other professions in short supply include senior contract managers, quantity surveyors and engineers.
The company said that the increase in demand across the sector "is also reflected in the salaries currently on offer for experienced professionals".
"For example, senior contract managers with over 15 years' experience can now command salaries of €90,000 plus benefits annually, meanwhile experienced architects can expect salaries in excess of €55,000," it said.
Estimates supplied to Fora by Hays said that senior contract managers with 15 years' experience could actually command salaries of as much as €100,000 compared to between €80,000 and €85,000 during the same month in 2015.
The firm also estimated that a project manager with eight years' experience could earn a salary of as much as €75,000, up from between €65,000 and €70,000, and that quantity surveyors with six years' experience could get between €60,000 and €65,000, up from between €50,000 and €55,000.
Overseas interest
Hays said that there has also been strong interest from overseas. It said that during July it experienced a 35% month-on-month increase in the number of applications from Irish construction and property workers currently based in the UK.
It said that three-quarters of the UK-based applicants who were interviewed for roles in Ireland secured jobs.
Hays Ireland director Mike McDonagh said that July was "an exceptionally busy month for recruitment across the construction and property sector".
"The ongoing scarcity of commercial and residential property in Dublin has been central to this demand and has created an unprecedented growth in the hiring of skilled professionals such as architects, engineers and quantity surveyors," he said.
Lack of staff
More than 130,000 people were employed in the construction sector in the first quarter of the year, according to figures from the Central Statistics Office, up from a low of around 96,000 in early 2013.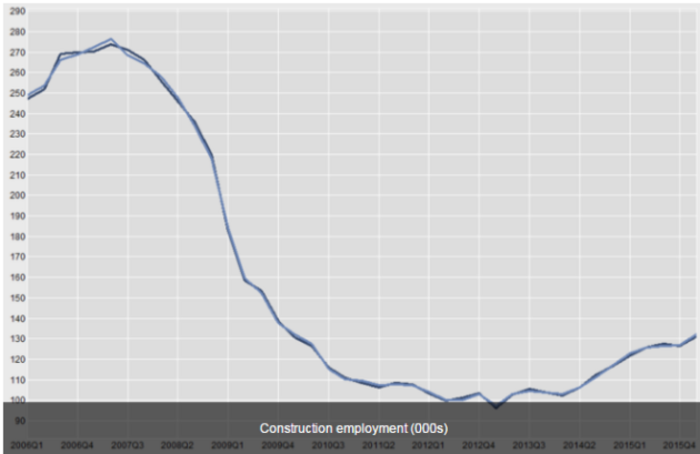 However, the current tally is less than half the more than 270,000 working in construction in 2007, just before the property bubble burst.
The figures from Hays comes after a study published in June found that almost two-thirds of construction firms were having problems recruiting people with the correct skills.
The proportion was a sharp increase on that recorded in last year's poll, when below half said they were finding it hard to source staff.
Many of the respondents to the annual PwC study, which polled 60 builders and developers across the country, said they were looking for individuals with managerial experience.
Another report from the skills and labour market research unit in Solas earlier this year found there had been a near-50% increase in demand for construction workers since 2014.