Conroy Gold's largest shareholder has moved to oust its 83-year-old founder
Richard Conroy has been with the company since it was set up in 1995.
CONROY GOLD HAS confirmed that its largest shareholder, Patrick O'Sullivan, has called for the removal of its 83-year-old founder, Richard Conroy, as a director of the exploration firm.
The Dublin-based company, which was set up by Conroy in 1995, is one of Ireland's most prominent gold exploration outfits.
For the past two decades, Conroy Gold has been exploring a 50km 'gold trend' stretching from Co Armagh to Co Cavan. Now it is working on the development of the Republic's first-ever gold mine at Clontibret, Co Monaghan.
Despite some promising results, O'Sullivan has led a push to oust half a dozen of the company's nine directors because he feels work on the mine has taking too long. At an emergency general meeting last Friday, the six directors were removed.
O'Sullivan is best known for his role in Showtime Cinemas, through which he controls a string of cinemas across the country including operations in Dublin, Limerick and Meath. He also has several property investments.
In an announcement to the Irish Stock Exchange this morning, Conroy Gold stated that it received a request on 8 August from O'Sullivan for another general meeting.
At this meeting, he has requested that company chairman Conroy and managing director Maureen Jones should be removed as directors.
O'Sullivan has also called to be appointed to the firm's board, alongside Paul Johnson and Gervaise Heddle.
The company has also received additional correspondence from O'Sullivan's solicitors requesting that Conroy Gold abstain from appointing new directors or issuing new shares before the general meeting has taken place.
The company has stated that it is considering this request with its legal advisers.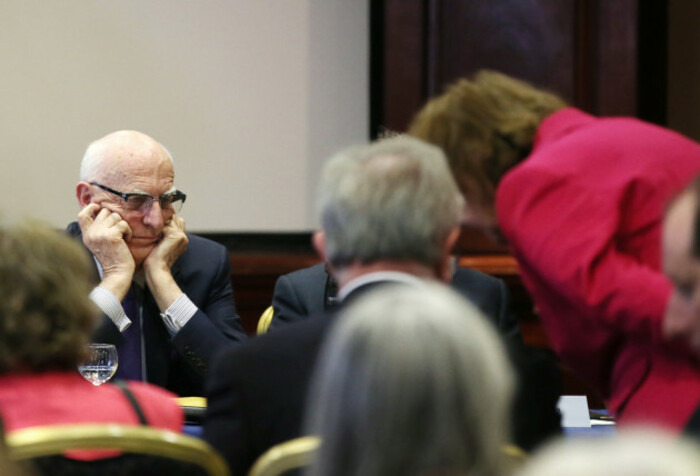 Source: Sam Boal/RollingNews.ie
Exploration
Conroy Gold has previously stated that there is a good chance of opening the mining facility in Monaghan in the next few years.
Last month, O'Sullivan told Fora that while Conroy Gold has lots of potential, the board failed to make enough progress on getting a mine open.
So far, the firm has found promising traces of gold at Clay Lake in Armagh, Glenish in Monaghan and Clontibret.
In 2013, Richard Conroy said that a mine could be established at Clontibret that could produce about 50,000 ounces of gold per annum – worth about €70 million.
The company has spent more than £12 million (€14 million) over the years on exploration and test work, but so far hasn't managed to get any significant amount of gold out of the ground.
With reporting by Paul O'Donoghue.
Sign up to our newsletter to receive a regular digest of Fora's top articles delivered to your inbox.
read more on