Employers haven't been this bullish about recruiting new staff since before the recession
A new survey of hiring plans showed every sector had a positive outlook.
IRISH EMPLOYERS HAVE reported their strongest hiring intentions since before the recession, with all sectors giving positive indications for future jobs growth.
The latest Manpower employment outlook survey, for the third quarter of 2016, showed its most bullish reading since mid-2007.
All 11 sectors involved in the poll of more than 600 employers reported positive net hiring plans, with those in the utilities sector giving the strongest overall indication that they intended to take on staff.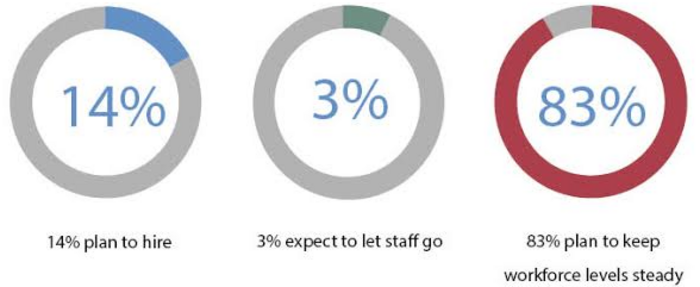 Source: Manpower
Three out of 10 employers in the electricity, gas and water industries expected to add staff in the next three months, while the restaurants and hotels sector was the next-most positive for jobs growth.
Those in the agri-business sector indicated the weakest hiring plans, although more employers still expected to recruit staff than the number that were likely to let workers go.
Meanwhile, the transport, storage and communications sector showed the biggest positive change in its hiring plans compared to the same time a year ago.
[embed id="embed_2"]
The bigger picture
The latest unemployment figures from the CSO showed the jobless rate fell to 7.8% in May, down from 9.6% a year earlier.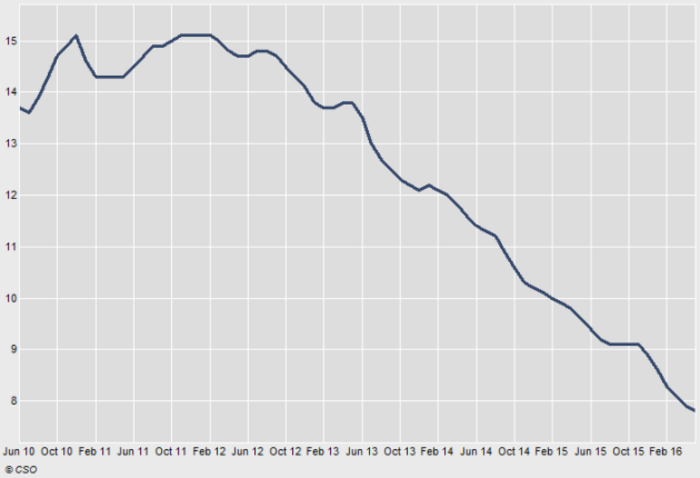 Source: CSO
However there remain wide disparities in the jobs outlooks for different parts of the country. Regional unemployment rates in the first quarter of the year ranged from 5.9% in the mid-east of the country to 12.5% in the southeast.
Employers in Dublin continued to have the strongest hiring plans, according to the Manpower survey, while businesses in all other regions except Ulster also showed significantly positive intentions.