These are all the Irish cities that are hiking business rates this year
Many councils have opted to increase commercial levies to shore up their budgets.
BUSINESSES IN URBAN hubs across Ireland face commercial rates hikes of up to 5% this year as many councils try to shore up their balance sheets with the extra revenue.
However a Fora analysis of the main metropolitan areas shows a wide range of approaches as the economy recovers, with several local authorities opting to keep rates on hold for traders.
Commercial rates are a property tax on business premises, and they account for a large chunk of Irish city and county councils' annual incomes. These rates are paid by the business that either owns or leases a commercial building.
They are calculated using a multiplier – set by the council – to a value for the property determined by the Commissioner of Valuation.
Businesses can appeal the valuation to an independent tribunal, which they can also appeal to the high court, however this process doesn't affect the council's multiplier – which is set as part of the authority's voted budget.
Going up
Dublin City Council
As part of its approved budget for 2017, elected members of Dublin City Council (DCC) voted to increase commercial rates by 0.78% in a move to help address the council's budget shortfall.
Last year, TheJournal.ie reported that DCC was facing a €15 million budget deficit and an increase in commercial rates was mooted to help balance the books.
The budget noted:
"All sources of funding are important, however, commercial rates are especially important. Dublin City Council services support commercial activity and so it is appropriate that commercial entities makes a contribution for their trading environment. This contribution must be appropriate and not at a level which dampens trade and removes potential for growth."
This is the first rate increase to commercial property rates by DCC councillors since 2009 and changes are effective of the January 2017.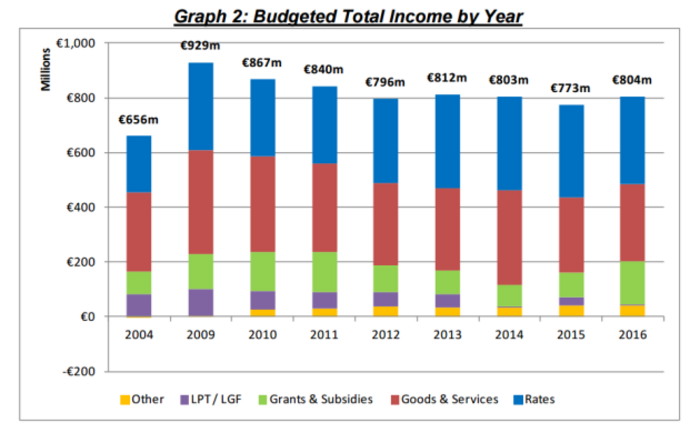 Source: Dublin City Council
Dún Laoghaire-Rathdown County Council
In its annual budget for 2017, Dún Laoghaire-Rathdown County Council also opted to increase commercial rates this year.
The council said it needed to fund additional services and counteract extra costs in 2017, which led to a 1.5% increase in commercial rates.
It said "all available options were examined" when trying to meet the need for a bigger budget.
The council also noted that commercial rates had previously gone down by 8.5% since 2010. This reduction in rates has resulted in a €5 million decrease in its revenue from commercial rates.
However, in a bid to offset the burden of the increase on small businesses, an SME Support Grant has also been created.
Under the scheme, businesses with rates bills below €10,000 per year will be able to shave 4% off the amount due. This group represents 72% of all businesses in the council area.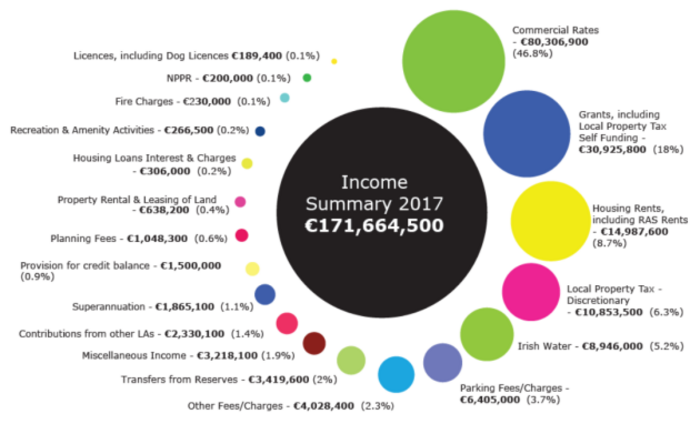 Cork City Council 
The council has increased its commercial rates by 1.25% for 2017.
The rate hike is the first increase in eight years and is lower than the 2.9% increase originally put forward by council staff.
The hike was approved by the city council to help offset its funding shortfall for the new year.
According to a spokeswoman for Cork City Council, the increase in commercial rates would address half the authority's €1.6 million funding deficit.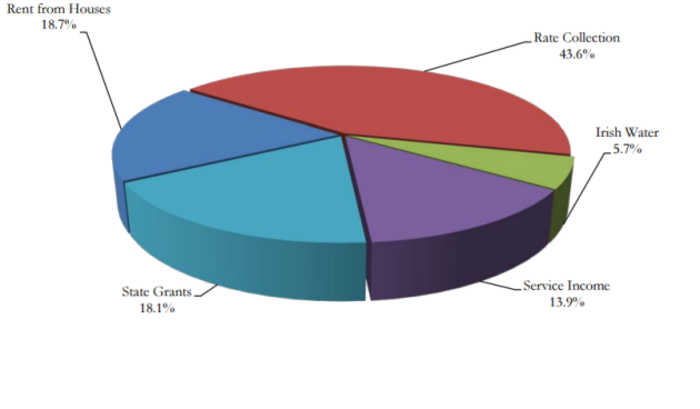 The rest of the shortfall will be made up in higher car parking fees and reduced spending on tourism promotion and housing.
A rates incentive scheme to address commercial rates arrears has also been introduced by the council. Ratepayers that have an annual rate liability below €4,000 and pay on time are entitled to a 3% reduction on their 2018 fee.
Limerick City and County Council
For 2017, the Limerick council has approved a 5% hike in commercial rates for businesses in both the city and county.
The increase was brought about after a big drop in commercial rates income over the past few years. This year, the council is expecting just over €51.6 million from rates – €7.65 million less than it was taking in during 2011.
Excluding Housing Assistance Payments (HAP), roughly one-third of all income for the local authority comes from commercial rates.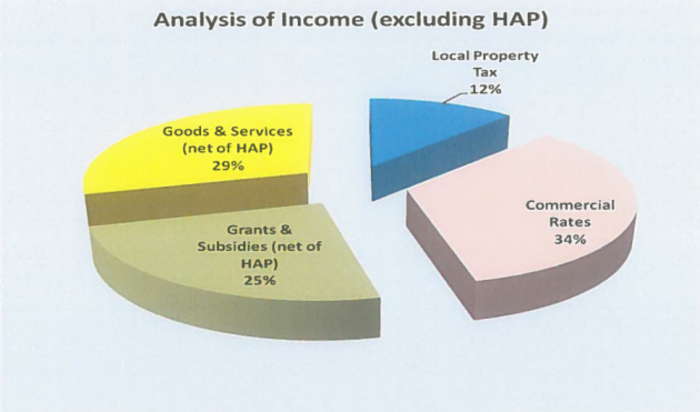 The council has also in place a SME rebate scheme to help smaller businesses to pay the rate.
Under the plan, businesses paying €20,000 or less in rates would be entitled to rebates of up to 9%. This accounted for around 90% of the rated properties in the council area, it claimed.
The council employs a separate scheme for tourism businesses that provides a 4% rebate for the firms whose rate charges are higher than the SME-related cap.
No increases
However not all councils covering metropolitan areas plan to hike their commercial rates this year, with both Fingal and south Dublin councils deciding against increases.
Fingal County Council has the lowest rate factor of all four Dublin local authorities, while it also has the highest compliance rate in the country for commercial rates at over 96% in 2015.
Waterford and Cork County councils are also not increasing commercial rates for 2017.
Up and down
Due to a lack of parity between the rates for Galway City and County Council and Ballinasloe Town Council, rates cannot be increased in the county until Ballinsloe's rate has been brought in line. This year, both councils have committed to bridge the gap by 50%.
Similarly, Louth County Council is currently amending its commercial fees system to move towards a common rate for the region.
Rates for businesses in both Dundalk and Drogheda have been reduced for 2017, while commercial levies are rising for those firms based outside the two hubs.
read more on