Over two years after a Brexit scare, forklift maker Combilift is forecasting double-digit UK growth
The Monaghan giant previously said duties could prompt it to move manufacturing to the North.
MONAGHAN-BASED FORKLIFT MAKER Combilift is projecting double-digit growth in the UK – two and a half years after suggesting it might shift manufacturing to Northern Ireland after Brexit.
Combilift is one of Ireland's largest indigenous manufacturers, employing about 600 people and recording an estimated turnover of about €235 million in 2018.
The company – which last year pumped €50 million, announced in 2015, into a global headquarters in Monaghan – generates about 25% of its sales in the UK, a figure that's likely to increase with Brexit, according to co-founder Martin McVicar.
After Britain leaves the European Union on 29 March, McVicar forecasts that demand for forklift trucks in the UK will likely increase.
"The demand for warehousing space is at a premium; a lot of companies are stockpiling components, like medical (products) or food," he said. 
The more stockpiling by British businesses, the more forklifts they'll need to shift products in and out of warehouses, McVicar suggested. 
"If you ask me, for the first quarter of 2019, I'm very confident we're going to grow our sales in the UK – by 10% to 15% – compared to the first quarter 2018, even with all that uncertainty out there."
According to McVicar, in the worst-case scenario, World Trade Organisation (WTO) tariffs could come into effect and result in a 4.5% tariff being slapped onto the price of imported forklift trucks and components.
"Even though it's a lot, we're still confident our products are innovative enough that we can charge our customers in the UK that extra 4.5% to cover the tariffs that are potentially going to go in place."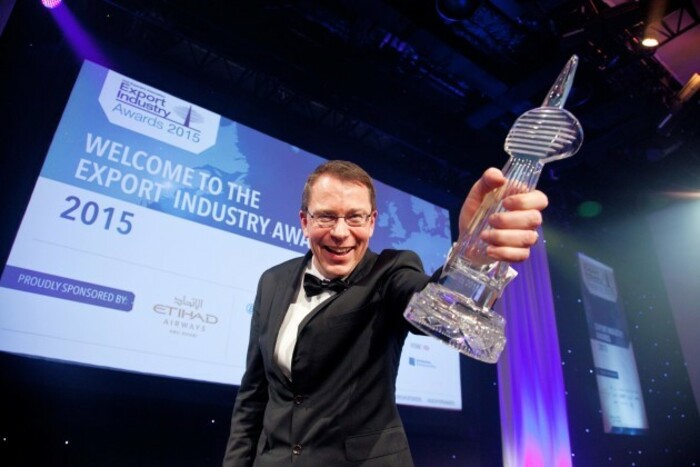 Source: Paul Sherwood
In the months after the 2016 Brexit referendum, McVicar had suggested that Combilift could move manufacturing across the border.
However, he said this week that such a drastic move is "not on our radar in the slightest".
Two and a half years ago, he said that if the UK brought in a 5% import duty, Combilift would consider migrating its manufacturing base to the North. Now that figure would have to be much higher:
"If you told me the tariff rating was going to be 25%, I might say yes, then it's a consideration, but at 4.5%, there's no reason for us to consider moving manufacturing."
Future-proofing
Combilift currently spends about 7% of its annual sales on research and development, mostly looking at electrifying vehicles.
Further into the future, the company is considering innovations such as self-driving machines.
"In the material handling sector, there's a market opportunity in automated vehicles because it's becoming more difficult to find skilled operators to operate any piece of equipment," McVicar said.
Combilift is one of more than 20 companies in a consortium behind a new apprenticeship programme launched today by government ministers and Enterprise Ireland. 
The industry-led apprenticeship is a three-year level six qualification focusing on the engineering and manufacturing sectors that aims to plug skills gaps facing Irish manufacturers.
"You can only learn so much from a text book or at college," said McVicar, who hopes apprenticeships will come to be seen as as viable an option for school-leavers as third-level education.
"One of the things that does concern me is, many people in Ireland, like mothers, fathers and guidance counsellors, think that an apprenticeship is really for the individual who cannot get a third-level place," he said
"We really need to change that perception. For us, apprenticeships are as good if not better than many third-level options."
Correction: A previous version of this article stated that Combilift planned to invest €40 million into its global headquarters. It invested €50 million in the facility, which opened last year.
Get our NEW Daily Briefing with the morning's most important headlines for innovative Irish businesses.