'Talent without ambition is just talent; if you've got the combination of both the sky is the limit'
Colman Walsh, the chief executive of the UX Design Institute, talks priesthood, ambition and triathlons.
COLMAN WALSH DIDN'T plan to start a business. In fact, the chief executive of the UX Design Institute originally wanted to be a priest. 
Walsh hasn't fulfilled those priestly ambitions, instead he has been busy growing his business – which was set up in 2013 and is on track to reach €2.5 million in revenue this year. 
'UX' design – or user experience design – is a methodology used to ensure that digital products are easy to use and fit for purpose and is used by tech giants like Google, Apple and Facebook.
The company provides professional diplomas in UX design, with 73% of its sales coming from overseas. In May, it announced a €1.5 million deal with UK online learning provider Learning People. 
UX Design Institute employs 10 people, and its turnover last year was €1.3 million.
In our weekly question-and-answer series, we spoke to Walsh about triathlons, ambition and micro-managing. 
Here's what he had to say:
What was your earliest or childhood ambition?
My earliest childhood ambition was to be a priest – my uncle was a priest and he lived in Australia. Whenever he used to come home I used to think that I wanted to be like him. Priesthood, combined with the Australian thing seemed to make it somewhat glamorous.
Is there one job that you would never delegate to anyone?
You've got to delegate in a business, or you end up in a business where the boss is micro-managing. I try to delegate as much as possible.
I do think there are certain things you can't truly delegate, like setting the company strategy, investor relations and being involved in the hiring of senior people. 
What is the greatest achievement of your life so far?
It's probably getting married, starting a family and keeping that show on the road in a relatively happy and healthy manner, while enjoying the ride along the way. 
Do you think ambition or talent matters more for success?
I think there has to be ambition. Talent without ambition is just talent, but an ambitious person with modest talents, if they work hard and have the drive, I think that could take people very far.
If you've got the combination of both, the sky's the limit.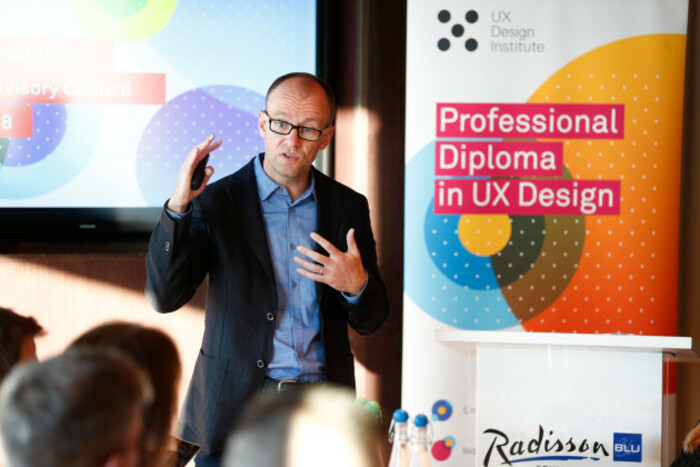 Source: Conor McCabe Photography Ltd
What was a big turning point in your life?
When we started this business back in 2013, I didn't know I was starting a business. I launched a training course for UX design back in 2013 and when that course sold out it kind of opened up a new world of opportunities in my mind.
Until then, I'd never seriously considered starting a business. After that moment, that was the path that I ran down – it became obvious that this is a viable thing. 
Who have you learned the most from in your career/life?
I have a mentor-investor who was also involved in the ed-tech space and ran a similar business to mine. He has been instrumental in helping me set the strategy, be more comfortable with taking risks and be more ambitious – and just generally being a sounding board.
Aside from your own, what industry do you find most interesting and why?
I'm fascinated by politics and always was. At the moment, it couldn't be a more interesting time to be into politics. 
[embed id="embed_3"]
What hobbies do you pursue when you're out of the office?
I like to participate a bit in triathlons over the summer. I spend most of the winter training for them, so that keeps me occupied and relatively fit. It definitely helps me stay sane.
In the past couple of years I've been getting into gardening which I find strangely therapeutic and relaxing. 
What's the one work skill you wish you had?
Numeracy, or more fluency with numbers. Everything from financial projections to looking at a profit and loss document to analytics data – they require a kind of facility with numbers that I don't think I have.
There's other parts of the business where I don't have to labour so much. I think it would definitely make my life a bit easier. 
Get our Daily Briefing with the morning's most important headlines for innovative Irish businesses.