'I distill things to vintage values. If you can keep your grandmother happy, you're onto a winner'
Coffeeangel founder Karl Purdy reflects on 15 years in business – and gazes into the crystal ball.
EVEN AFTER 15 years at the helm of Dublin coffee shop chain Coffeeangel, Karl Purdy still likes to muck in at the company's five outlets.
Before sitting down with Fora in the plush upstairs of Coffeeangel's Trinity Street headquarters, Purdy was spotted clearing out bin bags and quality-checking cups of brew being served at the ground-floor barista bar.
"I spend at least one morning a week behind the bar in one of the shops," he says. "Much to my team's dismay, I'm still there and I'm still pushing."
Often credited with lighting the fuse on Ireland's specialty coffee shop boom, Coffeeangel's unglamorous beginnings date back to St Patrick's Day 2004 when Purdy started selling cups of joe from a three-wheeled Piaggio van parked on Howth pier.
The business emerged from the wreckage of the Belfast-born entrepreneur's first venture in the Republic, a restaurant called Bond located on the corner of Beresford Place and Gardiner Street, which had been financed by the sale of Purdy's first coffee business in Northern Ireland.
"I took this restaurant in Dublin, not knowing really how wide the Liffey really was and the divide between north and south," he says.
"It was critically acclaimed. I had sommeliers and I had (acclaimed chef) Dylan McGrath working for me. Within two years it had failed and I was wiped out – €500,000 was gone," he adds.
Several factors went against Purdy, such as the disruptive Luas works at the time, but he chalks the failure down to an inflated ego – and not knowing how to run a restaurant.
"One of the business lessons from losing everything was, don't do anything you're not comfortable with. Don't change your business model to suit a premises. Keep things simple," he says.
It's a mantra that has helped Coffeeangel grow from one man and his van into a profitable, five-store operation that employs around 40 staff, most of whom work full-time.
Purdy says he maintains an "old-school" way of doing business: "There's nothing wrong with the whole butcher, baker, candlestick maker concept. Be good at one thing.
"There's no secret recipe to how I run my business. You walk into my shop, you look at my equipment, you look at my staff, you look at my workflow. There are no secrets."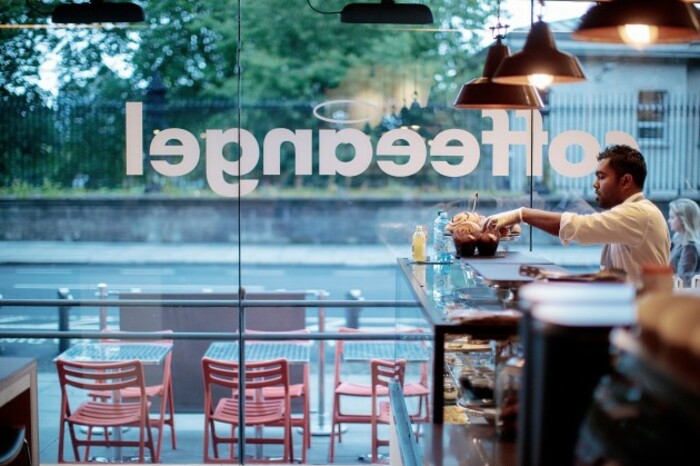 Source: Al HIggins
Perhaps the key weapon in Purdy's arsenal is longevity, which has helped him focus on the boring parts of the business – like rent increases, rising insurance premiums and rubbish collection – and avoid falling into the trap of chasing consumer fads.
"I have a fragile ego, I want you to be happy. I don't want you to say that I'm a terrible person and that I run a terrible business. I think it's important that people do feel special," Purdy says.
"What people generally notice is personal service… I tend to distill things back to vintage values. Your grandmother is never going to tell you to stop saying please and thank you. She's never going to tell you your bathrooms are too clean.
"I always think if you can keep your grandmother happy in terms of how you do things, then you're onto a winner."
Challenges
Ireland's coffee shop industry, especially in Dublin, has changed dramatically since the days Purdy sold coffee from a three-wheeler in Howth.
Mega chains like Insomnia and Starbucks have gained a stronger foothold in the capital and a swathe of independent rivals have sprung up, some of which were founded by ex-Coffeeangel employees like Colin Harmon of 3fe and Niall Wynn of Proper Order Coffee.
More recently, Bear Market opened a cashless store to much fanfare on South George's Street, a two-minute walk from Coffeeangel's Trinity Street store.
But Purdy seems undaunted by the rising number of competitors that could potentially steal his lunch: "I'm always excited to see someone new open. It's almost like a kick in the backside."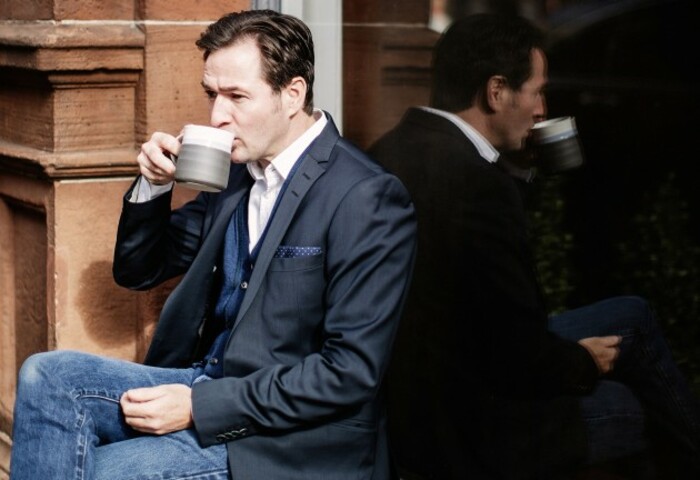 Source: Al Higgins
One of the biggest challenges facing Coffeeangel, like most other firms in catering and other industries, is finding and retaining staff.
Working in a barista bar is a demanding and not particularly high-paying job – the starting rate for Coffeeangel employees is around €10 an hour – so the company has looked at deploying staff incentives, especially for those who aren't pursuing a career in coffee.
For example, the company ran a successful series of free life coaching sessions for staff and will soon host ballroom dancing lessons, delivered by Coffeeangel's operations manager who happens to have won trophies for his moves.
"I'm of a different generation. We showed up for work, we were told what to do, how high to jump, and that was it," Purdy says.
"I have no problem with (offering incentives). My business is about change and adapting.  I'm just trying to find new ways to make employees' lives better."
Ambitions
Another puzzle Purdy is looking to solve is how to grow the business now that it is going further into its awkward teenage years.
"I'm not sure if we can be called a small business anymore, but we're definitely not a big business," he says.
"Certainly in the coffee world, there are very few businesses globally that have made that transition from five to 10 shops and still make people feel special. That's my next challenge."
While Purdy has no intention of turning Coffeeangel into the next Starbucks – the business has never taken on outside investment and has resisted previous offers to take the firm global – he hopes to someday double its footprint to 10 outlets.
To help aid that growth, Purdy has hired a financial mentor and spent the last two years building an in-house business intelligence system on Salesforce that collates data from an assortment applications that monitor sales, labour costs and other such data.
"It's kind of out of scale to the business we have now, but it will allow us to add more shops," he says.
It's likely one or two more Coffeeangel shops will open in Dublin over the next year, with the potential for a regional location much further down the line. But Purdy says expansion will be a slow process.
"It's a Rubik's cube. I love that challenge of turning the cube and seeing if I can get at least one side solid."
Get our NEW Daily Briefing with the morning's most important headlines for innovative Irish businesses.