'We didn't get the reaction there like in Europe': Why Clubs to Hire is pulling back from the US
The online golf club rental service is instead investing in its continental operations.
ONLINE GOLF GEAR booking service Clubs to Hire will focus on Europe after its initial foray into the US market fell flat.
The Irish company lets golfers book and collect clubs in other countries at the airport rather than pay high costs to airlines to transport their own equipment. It operates in 27 locations and has five stores in airports.
After launching in 2010 and gaining traction in Europe, it tried its hand at the US but it proved to be a difficult nut to crack, according to chief executive Tony Judge.
"We tried to recreate the same PR and exposure for the product in the US," he told Fora.
"We didn't get the reaction in the US like in Europe. It had, to be honest, become quite exhausting going over and back."
The Dublin-based company has, however, kept the door slightly ajar to the world's biggest market by keeping two locations running in Orlando and Phoenix, where it works with local companies that provide the equipment for golfing travellers.
"The feeling was we tested it," he said. "(The cities) trade quite well. The business we're getting into those locations is European clients going over there, it's not US clients booking Orlando or Phoenix."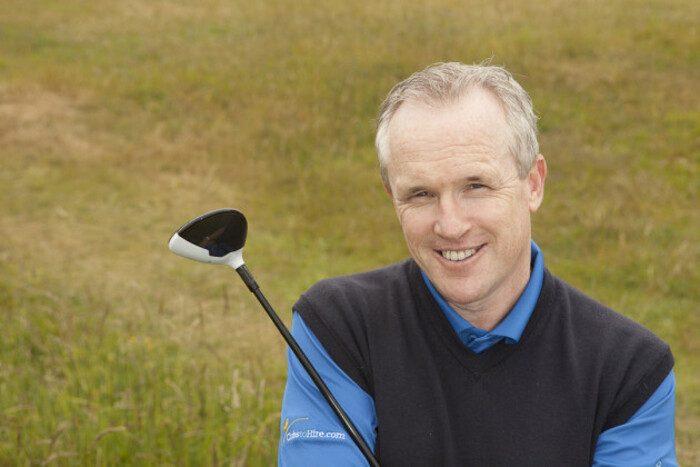 Source: Daragh McDonagh
Judge has a sound understanding of the golfing market as a former director of golfing at the Mount Juliet estate in Kilkenny, which hosted the Irish Open.
The attitudes of US golfers are quite different to Europeans, he said. While here many players are happy to rent, Americans are more likely to stick with their own clubs.
"We pulled back a bit and said let's leave these locations open. It's not to say we wouldn't look at the US (again)," Judge added.
The Dublin company, which has around 40 staff, recently pumped over $460,000 into the business' operations in Europe, an investment which included opening three new stores in airports in Alicante, Palma and Lisbon.
Its first store in Faro in Portugal, which opened in 2010, needed to be rebuilt after the airport constructed a new terminal. Its fifth store is in Malaga.
The company buys between 350 and 500 new club sets a year for its 27 locations.
Where Clubs to Hire doesn't have a physical stores, it uses "handlers" that arrange the pick-up and collection of clubs for golfers at the airport.
"We may reignite what we do in the US, but it would need to be on a partnership basis because we don't have the infrastructure over there to handle it from Ireland," Judge said.
The company is currently in talks with a large US golfing business, he added, and if that deal came through it would alleviate some of the costs around infrastructure and marketing to American golfers.
Rebounding
Clubs to Hire generates about €3 million in sales annually and recently notched up its 500,000th client.
"This year we're on target to do 75,000 to 80,000 sets collected," Judge said.
The autumn months ahead are its busiest so it expects to hit 10% to 15% growth in 2018 on last year. Portugal and Spain are the company's top locations for hire, with the bulk of its customers coming from Ireland, the UK, Germany and the Netherlands.
"We had a flat year in 2017," he added, putting the performance down to a lull in key UK trade due to the weak pound and Brits going on fewer golfing trips.
"We still managed to have a decent 2017, albeit not as good as previous years, but still up but not the growth that we saw."
The UK market is finally rebounding, Judge said, after many businesses in the golf travel sector saw a drop.
"I think there's a bit of readjusting going on in the UK in general, not just in tourism," he said.
"I'm hearing that (golf tour operators) had a tough 18 months as well. That tells me that either the UK golfer has pulled in his horns and is golfing at home, or they used to have two or three trips a year and then only doing 50% of the trips."
It has no immediate plans to open more physical stores but is regularly adding new locations with its 'handler model'.
The company is also exploring launching "micro-sites" where it will offer a slimmed down service in cities and locations that may not exactly be golfing hot spots but have some market potential.
Sign up to our newsletter to receive a regular digest of Fora's top articles delivered to your inbox.